Lola T60 and T61 car-by-car histories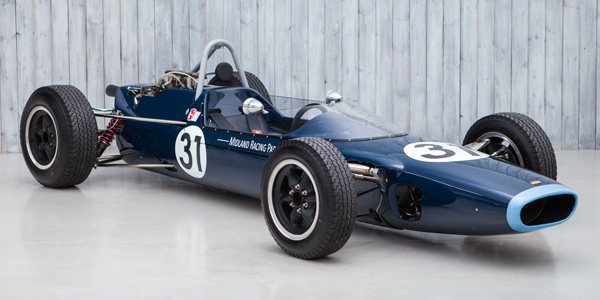 For the 1965 season, Lola built an all-new monocoque Lola Type 60 Formula 2 design for their principal customer Midland Racing Partnership. As Lola's first monocoque, the car followed the outline of the successful Lotus 25 and 33 designs.
As most of Eric Broadley's attention was on the Lola Type 70 sports car, the job of designing the Lola T60 fell to 25-year-old Tony Southgate, who had just rejoined Lola after a spell at Brabham working for Ron Tauranac. The full-length bathtub monocoque was made from folded and spot welded sheet steel, stronger than Lotus's aluminium-skinned and rivetted Formula 1 monocoques, but also heavier. However, the relatively high minimum weight limit specified for the new Formula 2 meant there was no need for aluminium, and Lotus also used steel for the Formula 2 Lotus 32. Southgate designed rocker-arm front suspension, again following the Lotus template, and at the rear it used a reversed bottom wishbone, single top link, and twin radius arms. A Hewland gearbox was fitted, and the cars used either Cosworth's SCA Formula 2 engine or BRM's new P80 engine which was being made available to selected teams.
Two cars were built for Midland Racing Partnership (MRP) at the start of the 1965 season, with chassis SL60/1 being raced by Richard Attwood and SL60/2 by Tony Maggs. After the first couple of races, SL60/2 was fitted with a BRM F2 engine, and was raced in this form by Maggs, Frank Gardner and others before being returned to Cosworth SCA power. A third car, SL60/3, was produced in time for John Surtees to race for MRP at Brands Hatch at the end of August 1965, and a customer car was produced for Eric Offenstadt. A fifth T60 was built in early 1966 as a Formula 3 car for Frank Lythgoe Racing and his driver Mike Beckwith.
MRP started the 1966 season with chassis SL60/3 having been upgraded to T61 specification as SL61/6 for Attwood, while Gardner drove Attwood's old T60/2. The old prototype SL60/1 was brought out briefly for Gardner to drive at Albi after David Hobbs had "tweaked" Gardner's usual car the previous weekend. MRP were unable to get new cars for 1967, as Lola's focus was on their partnership with BMW in F2 with the T100, and building T70 Mk 3s for Group 6. The partnership was dissolved in March 1967 and the cars sold.
Chassis
History
Current owner
Later in 1966 a batch of further updated Lola T62s were built, one of which was used in Formula 2 by Surtees, two more were sold to Italy for F3, and the other three were acquired by wheeler-dealers Robs Lamplough and Frank Williams.
Please contact Allen Brown (allen@oldracingcars.com) if you can add anything to our understanding of these cars.
Acknowledgements
I am most grateful to Rob Shanahan, Chris Townsend and the late David McKinney for their ground-breaking work on these cars; to Duncan Rabagliati and Richard Page at the Formula One Register, not only for their 1960s records, but also their outstanding book 'Monoposto Formula 1958 to 1976', and for kindly sharing their records of current historic racing; to owners and former owners Robs Lamplough, Roger Hurst, Rob Tweedie, Vic Franzese, Vic Nutter and James Denty for their assistance, and to Bryan Miller, Gerald Swan of Lola Heritage, Simon Hadfield and Alan Brown for additional information.
For more on the Lola T60s, see the Lola Heritage website, in particular Rob Shanahan's excellent article.
These histories last updated on .