Lola T80 car-by-car histories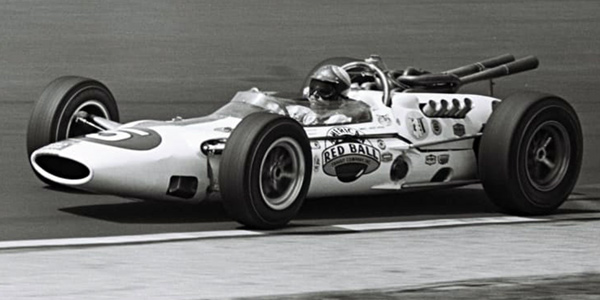 Lola created a brand new car for Indy racing in 1965, designed by Eric Broadley with assistance from a young Tony Southgate. Like the Lotus that inspired it, the Lola T80 was a monocoque fitted with the Ford quad cam engine. Three were built, for AJ Foyt, Lindsey Hopkins and JC Agajanian.
Both Foyt and Parnelli Jones, using Agajanian's car, tried out the T80s during practice for the Indy 500 but both preferred their second-hand Lotus 34s. Bud Tingelstad raced Hopkins' car in the Indy 500, having already taken fourth place in it at Trenton on its debut, and Al Unser took the Foyt car to promising ninth place. Neither Foyt nor Jones showed any interest in using the Lolas so, in July, John Mecom acquired Agajanian's car and ran it for Rodger Ward, who had left the Bob Wilke Leader Card team after the embarrassment of failing to qualify for the 500. Despite some early promise, the T80 suffered handling problems and the Foyt car was sold off to Michner Petroleum and the Lindsey Hopkins car to George O. Reves' Western Racing Associates in California. Bruce Jacobi wrecked the latter soon after, and Michner's was consumed by fire in 1968, leaving the Agajanian car as the only survivor. Michner's ambitious new team continued with Lola and ordered three new T90s for 1966.
If you can add anything to our understanding of these cars, please contact Allen Brown (allen@oldracingcars.com).
Chassis
History
Current owner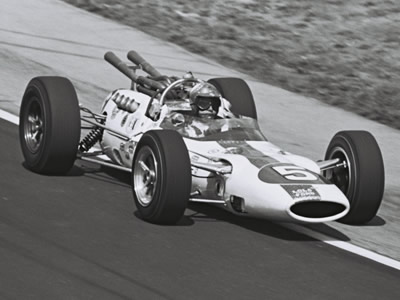 New to Lindsey Hopkins and raced by Bud Tingelstad at Trenton in 1965 as the #5 American Red Ball car, finishing fourth. Raced again by Tingelstad at the 1965 Indy 500 and several other 1965 races. Sold to George O. Reves and entered by Western Racing Associates as the #68 entry at Indy in 1966, driven by Ronnie Bucknum and Bruce Jacobi but did not qualify. Raced by Jacobi at Milwaukee the week after Indy but then crashed by him in practice at Langhorne the next weekend and wrecked. Nothing more was seen of either team or car and it is assumed that the Lola was destroyed.
Driven by: Bud Tingelstad, Bruce Jacobi and Ronnie Bucknum. First race: Trenton Speedway (R2), 25 Apr 1965. Total of 5 recorded races.
Wrecked 1966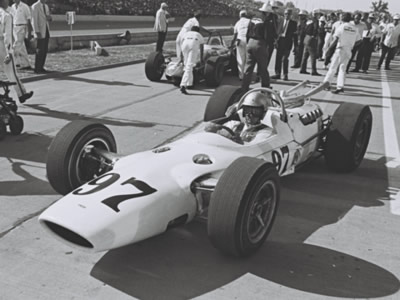 J.C. "Aggie" Agajanian bought a new Lola T80 for Parnelli Jones to try to qualify for the 1965 Indy 500 but Jones preferred his Lotus 34. The Lola was then acquired by the newly-formed all-star Mecom Racing Team of 26-year-old oil heir owner John Mecom, ex-Sheraton-Thompson chief mechanic George Bignotti and ex-Leader Card driver Rodger Ward. Ward raced the Lola from July onwards but his results were very poor. Lola's new T90s arrived early in 1966 and were instantly very competitive so the T80 was not seen in 1966 but is likely to have remained in the Mecom stable as a backup. Subsequent history unknown until acquired by Walt Goodwin in 2014.
Driven by: Parnelli Jones and Rodger Ward. First race: Indianapolis Raceway Park (R8), 25 Jul 1965. Total of 5 recorded races.
Walter Goodwin (USA) 2014
New to Sheraton-Thompson, the team owned by Shirley Murphy and William Ansted, with George Bignotti as chief crew and AJ Foyt as lead driver. Murphy and Ansted ran auto parts maker Thompson Industries, which was owned by hotel chain Sheraton. Sheraton-Thompson also had a Lotus 34 for Foyt and he preferred that car, so the Lola was raced at Indy 1965 by Al Unser as the #45 entry. It was not seen again that season. Tentatively identified as the car entered by Michner Petroleum in 1966 as their #34 entry for Larry Dickson, Used occasionally during 1966, 1967 and 1968 by Michner until the car was destroyed in the accident at Milwaukee in 1968 that claimed the life of Ronnie Duman. Norm Brown was driving the Michner Lola and was hit by Duman's car. Brown was trapped in the burning car for some time and was badly burnt. The Lola was destroyed.
Driven by: Al Unser, Jud Larson, Larry Dickson, Sammy Sessions, Mickey Shaw, Rick Muther and Norm Brown. First race: Indianapolis Motor Speedway (R3), 31 May 1965. Total of 7 recorded races.
Destroyed 1968
These histories last updated on .