Lotus 25 car-by-car histories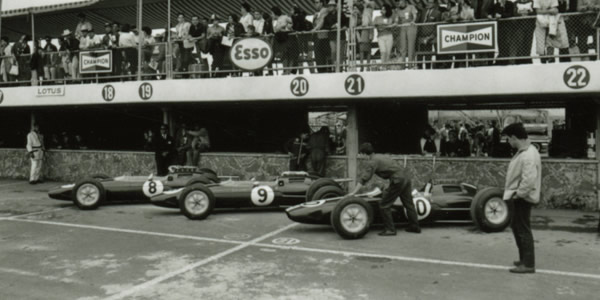 The first monocoque Lotus Formula 1 car, the Lotus 25 was driven by Jim Clark to his first World Championship in 1963. Clark won fourteen World Championship GPs across four seasons in Lotus 25s.
Such was the remarkable success of the Lotus 25, that Jim Clark won 14 World Championship races, using five of the seven cars built. Four of the seven were written off, but the three survivors were sold into private hands and continued to race for many years. Two of the car, R3 and R7, were sold to Reg Parnell Racing for 1964, and their Climax FWMV V8 engines were replaced with BRM P56 engines. When the 3-litre Formula 1 started, Parnell fitted R3 with a 2.7-litre Climax engine, and brought the car back out in 1967 with a 2-litre BRM engine before selling it to Peter Yock to race in New Zealand. Parnell also acquired R4 later in 1964, but that retained into Climax V8 engine. Of the four cars that did not go through Parnell's hands, R1, R2 and R5 were all written off, and R6 was sold to John Bonnier to use as a hire car, before it was given to his friend, the artist Jean Tinguely, who incorporated it into his installation Die fünf Witwen (The Five Widows).
Car
Total
Race
Starts
Grand
Prix
Starts
Grand
Prix
Wins
First Race
Present Location
6
4
Dutch Grand Prix
(20 May 1962)
Written off, French GP 1962
20
10
Grand Prix de l'ACF (French Grand Prix)
(8 Jul 1962)
Written off, Enna 1963
66
23
International Gold Cup
(1 Sep 1962)
John Bowers (UK) 2017
32
21
Natal Grand Prix
(22 Dec 1962)
Written off, Belgian GP 1965
7
2
South African Grand Prix
(29 Dec 1962)
Written off, Belgian GP 1963
31
17
Austrian Grand Prix
(1 Sep 1963)
Museum Tinguely Basel (Switzerland) 2017
26
14
Rand Grand Prix
(14 Dec 1963)
Unknown - not seen since 1965
Lotus 25 R5-R
(no races recorded)
United Kingdom 2017
In 2013, Lotus historian Doug Nye and Hall & Hall's Andy Willis reviewed the history of all the Lotus 25s and 33s, after realising that the car in the Donington Museum, long believed to be Lotus 25 R7, was actually a Lotus 33. Until this point, Lotus 33 R13 had been believed to be the car sold to Yock, which had then been in John Dawson-Damer's collection for many years until being bought by John Bower. Doug and Andy's review showed that car to be Lotus 25 R3. It then became clear that R4 was written off following Richard Attwood's accident in the Belgian GP in 1965, although it is likely that its surviving components would have been used on the Parnell team's other cars, in particular to build up the new Lotus 33 R13 which first appeared at the Italian GP later that season. The other change to the histories as a result of this work is that the fate of R7 is now unknown; it last raced at the Enna Grand Prix in August 1965, and was never seen again. It is possible that this is the Lotus 25-BRM wrecked by Rob Slotemaker in a test at Silverstone late in 1966, but this would have been more a year after its last appearance.
Please contact Allen Brown (allen@oldracingcars.com) if you can add anything to our understanding of these cars.
These histories last updated on .