Lotus 29 car-by-car histories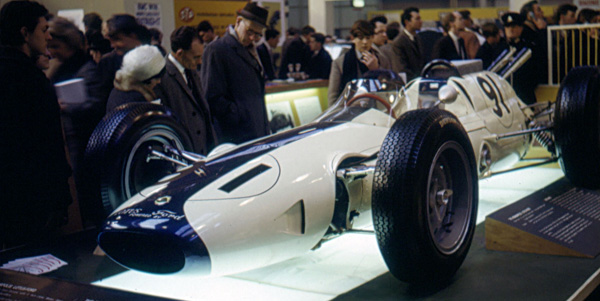 Lotus's first Indycar was a development of the Formula 1 Lotus 25, and fitted with a Ford Fairlane V8 engine rapidly developed by Ford. Jim Clark and Dan Gurney drove two 29s in the 1963 Indy 500, the Scotsman finishing second, and the cars completely dominated at Milwaukee later in the year.
In early 1962, Dan Gurney signed up to race at the Indy 500 in one of Micky Thompson's cars. Just ten days before the big race, he saw the arrival of Colin Chapman's stunning new Lotus 25 into Formula 1 at the Dutch GP, and encouraged the Lotus boss to accompany him to Indianapolis to watch the 500. Once Chapman saw the state of American racing car design, he knew a British design could easily win the race. Gurney also introduced Chapman to Ford, who happily provided a straightforward push-rod V8 engine based on their production 260 engine, intended to produce a reliable 325 bhp on Weber carburettors, compared with the 415 bhp then produced by the methanol-injected but ancient Offenhauser engine. Transmission was via a four-speed Colotti Type 37A gearbox.
Three Lotus 29s would be built, one for Lotus lead driver Jim Clark, one for Gurney and one backup. The "funny cars", as the Americans called them, had far less power from the stock block Ford than the roadsters with their Offenhausers, but the more advanced design of the Lotus really showed its value in the corners. Right from the start, a 29 could go round the Speedway's Turn 1 at 142 mph compared with the best roadster at 138 mph. At its first Indy test, the 29 ran at over 150 mph, only the second time that had been done, and confidence for the race was high. What had not been expected was that there was still development potential in the archaic roadster design and Parnelli Jones had got JC Agajanian's Watson-built roadster up to nearly 152 mph. The roadster, known as Ol Calhoun, was two years old but, as Motor Sport would later comment, "nobody was more determined to prevent the European dog from cocking its leg in Gasoline Alley than Parnelli Jones". Jones took pole and led the race but the thirsty roadsters had to stop for fuel more often and after 67 laps, Clark led the race from Gurney. Jones was fortunate to be able to come in for his second and third stops under yellow flags so led Clark as the race entered its final stages. Seeing that the roadster was dropping oil, which the drivers had been told before the race would result in disqualification, Clark backed off and held station. However, the chief steward, Harlan Fengler, decided it was water coming out of the roadster and let it continue, even when two cars skated off after sliding on the 'water'. So the roadsters won again; Clark and Chapman had to settle for second.
Three weeks later, Clark and Gurney were back in the 29s for the Tony Bettenhausen 200 at Milwaukee, and qualified first and second, Clark topping off a dominant display by leading from start to finish, with Gurney finishing third. They also qualified 1-2 at Trenton, but both retired with broken oil lines. Of the three cars built, Gurney had damaged his intended race car during practice at the Speedway. That car was returned to England for repairs, and when it got back it was sold to Lindsey Hopkins for Bobby Marshman to drive in 1964. After Marshman crashed at Milwaukee in June, damaging the car, Hopkins acquired the ex-Clark car to replace it, only for Marshman to be tragically killed in it while tyre testing at Phoenix in November. Meanwhile, the original prototype, the car Gurney had raced in 1963, was given to Ford as a promotional car. It was donated to the Motor Speedway Museum and remains in the collection. The car from Marshman's Milwaukee accident was rebuilt by Jerry Alderman for Al Miller to race, and also survives.
Please e-mail Allen at allen@oldracingcars.com if you can add anything to these histories.
Chassis
History
Current owner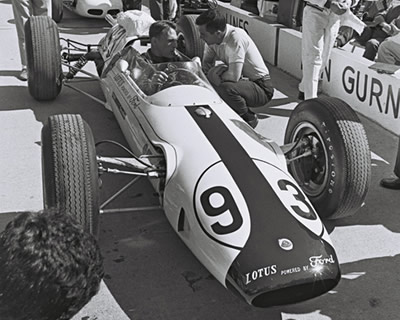 New for Dan Gurney at the 1963 Indianapolis 500, entered as #93. Gurney finished 7th. Then raced again by Gurney at Milwaukee in August where he finished third, and at Trenton in September where he retired. The car was then given to Ford and was used as a promotional car for some years, before being donated to the Indianapolis Motor Speedway Museum, where it was displayed in the #92 colours of Jim Clark's sister car. The car was present for the Goodwood Festival of Speed in June 2013. On display again at the Festival of Speed in July 2013. In the Indy museum in May 2015, displayed alongside the #6 Lotus 34. In 2018, the museum announced a plan to restore the car to its correct livery. The progress of this project can be followed on its Facebook page.
Driven by: Dan Gurney. First race: Indianapolis Motor Speedway (R2), 30 May 1963. Total of 3 recorded races.
Indianapolis Motor Speedway Museum (USA) 2019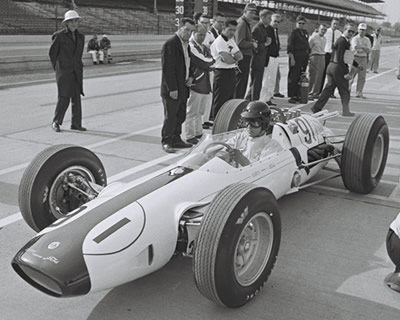 New for Dan Gurney at the 1963 Indianapolis 500, entered as #91, but crashed during practice. Repaired by Lotus in England and sold to Lindsey Hopkins who entered it as the #51 Pure Oil Firebird car for Bobby Marshman during 1964. Crashed by Marshman at Milwaukee in June and replaced with the sister car, 29/3. After Marshman wrecked 29/3, both damaged cars were sold to Jerry Alderman who had 29/2 rebuilt by his chief mechanic Carroll Horton as a runner. It was raced at Indy in 1965 by Al Miller as the #74 car and finished fourth. Raced again during the 1965 season and returned to Indy one last time in 1966 where Miller crashed it. Alderman then withdrew from racing, and the Lotus was taken over by Horton, together with Ford's entire stock of Lotus 29 components. He formed his own team for 1967, and the damaged Lotus 29 was rebuilt as a show car for team sponsors the Stewart-Warner Corporation. Legend has it that it was then sold to "Nelson Carr" for "libre racing", presumably Formula A in the local SCCA Cal Club Region, but no results for Carr have ever been found.
Acquired by Jim Toensing (Newport Beach, CA) 1976 and partly restored before sold to a UK consortium led by Tom Candlish (Burnham, Bucks) in 1991. Fully restored in England, and first raced in historic events in 1995. Acquired by Richard Drewett some time in the next few years, and used in UK hillclimbs, including several times at the Goodwood Revival. Some time between 2003 and 2006, Drewett sold his Lotus 70 to the Barber Vintage Motorsports Museum (Birmingham, AL), and his Lotus 29 is thought to have gone at the same time. It was fully restored for the museum by Classic Team Lotus to Gurney's #91 colours. Driven by John Surtees in a Gurney parade at the 2012 Goodwood Revival. Still on display in the Barber Museum in May 2023.
Driven by: Dan Gurney, Bobby Marshman and Al Miller. First race: Indianapolis Motor Speedway (R3), 30 May 1964. Total of 3 recorded races.
Barber Vintage Motorsports Museum (USA) 2023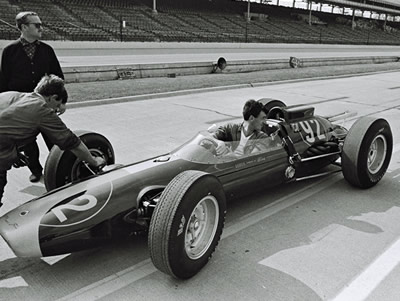 New for Jim Clark at the 1963 Indianapolis 500, entered as #92. Clark qualified fifth and finished second. The team returned for the Milwaukee race in August which Clark dominated, winning from pole position. Also raced by Clark at Trenton in September but he retired. Later sold to Lindsey Hopkins to replace 29/2 crashed by his driver Bobby Marshman at Milwaukee in June 1964. Raced by Marshman for the rest of the season. Crashed at Phoenix late November 1964 during tyre testing and destroyed by fire. Marshmann later died from his burns.
Driven by: Jim Clark and Bobby Marshman. First race: Indianapolis Motor Speedway (R2), 30 May 1963. Total of 7 recorded races.
Destroyed 1964
Acknowledgements
Nobody was really keeping track of these three cars after they were first sold off, and there has been some confusion about the way 29/2 and 29/3 were used, and which one had survived. One very useful source, kindly supplied by Tom Glowacki, is the Winter 1976 edition of Old Car Illustrated which carried an article by Joe Henning about two cars recently acquired by Jim Toensing. It tells the story of a kid skateboarding up Toensing's driveway to tell him about an old racing car left rusting in a field near Riverside Raceway. Toensing acquired the car, and soon figured out that it was the missing Lotus 29 that Carroll Horton had ended up with. That 1976 story said that the car had suffered "several crashes as a formula road race car", which would indicate Formula A in the Cal Club Region. An article in Classic and Sportscar November 1995, also kindly provided by Tom, says that it was raced by Nelson Carr before "passing to" Toensing in 1976. That article takes the story forward by saying that Toensing and former Indy 500 mechanic Bill Fowler started a restoration of the car, but it was still incomplete when it was sold to Historic Cars Ltd, a consortium led by Tom Candlish, in 1991. Then Sid Hoole rebuilt the chassis, Stuart Mathieson the engine, and Hall & Fowler the gearbox. It was first raced at the Coys Historic Festival at Silverstone in July 1995.
Thanks to Tom Glowacki and to Tom Schultz for their help with these histories.
These histories last updated on .