Lotus 33 car-by-car histories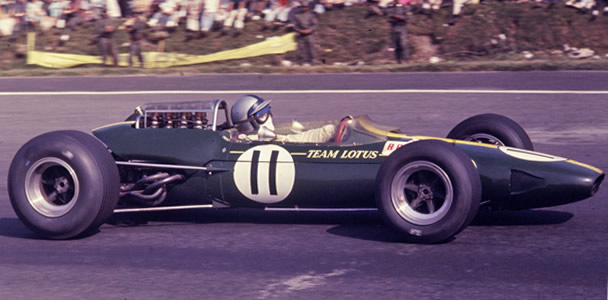 The successor to the Lotus 25, the Lotus 33 took Jim Clark to his second World Championship in 1965. Clark later won five races in the last of the 33s to win the 1967 Tasman Cup.
After two seasons of using the Lotus 25s, Team Lotus introduced a revised model, the Lotus 33, during the 1964 season. The car was designed around Dunlop's new 13-inch tyres, and was generally slimmer, lighter and stronger than its predecessor. Two cars, R8 and R9, were built to this pattern. For 1965, Lotus introduced a further revision to the 33, using using single-plane straight inner skins, a much simpler method of construction, and built R10 and R11 for works use that season. Jim Clark won Grands Prix during 1965 in chassis R9, R10 and R11. A further car, R13, was supplied to Reg Parnell Racing later in 1965, replacing an older Lotus 25 that had been wrecked at the Belgian GP. In 1966, chassis R14 was built to use a 2-litre BRM V8 engine, as the development of the BRM H16-powered Lotus 43 had not progressed as well as expected. The missing number in the sequence, R12, was the Lotus 39 Tasman car.
Only R10 was written off, but with the change of formula in 1966, the other cars were quickly sold off. Chassis R8 was sold to Dickie Stoop in 1965 for Paul Hawkins to drive and dropped in the harbour at Monaco in 1966. After repairs, it was sold to MGM for a planned film, and then passed via Jo Siffert to Sweden's principal museum of modern art, the Moderna Museet in Stockholm, where it is rightly regarded as a work of art. Chassis R9 passed via MGM and Siffert as well, as well as a couple of Swiss hillclimbers, before being sold to the Schlumpf brothers for what became the French national motor museum. R11 was sold to Mike Fisher in the US, and used in Formula A before spending decades in a private collection. The Parnell team's R13 was used as a F2 car, and then started being converted to the BRM V12 engine for F1, before the project was dropped and the car sold to Tom Wheatcroft for his museum. This car was believed to be a Lotus 25 until 2013. The final car, R14, was given to Coventry Climax's Leonard Lee, and was later sold to the Caister Castle Museum. All five have remained in the same ownership for decades, and none have been used in historic racing, so are unusual in their level of preservation.
Car
Total
Race
Starts
Grand
Prix
Starts
Grand
Prix
Wins
First Race
Present Location
12
7
BARC Aintree 200
(18 Apr 1964)
Moderna Museet Stockholm (Sweden) 2017
26
14
German Grand Prix
(2 Aug 1964)
Schlumpf Collection (France) 2017
3
1
Rand Grand Prix
(12 Dec 1964)
Written off, Race of Champions 1965
27
17
Gran Premio di Syracusa
(4 Apr 1965)
Private Collection (UK) 2017
17
11
Italian Grand Prix
(12 Sep 1965)
United Kingdom 2017
16
7
British Grand Prix
(16 Jul 1966)
Caister Castle Museum (UK) 2017
Lotus 33 R10-R
(no races recorded)
Private Collection 2020
In 2013, Lotus historian Doug Nye and Hall & Hall's Andy Willis reviewed the history of all the Lotus 25s and 33s, after realising that the car in the Donington Museum, long believed to be Lotus 25 R7, was actually a Lotus 33. Until this point, Lotus 33 R13 had been believed to be the car sold to Yock, which had then been in John Dawson-Damer's collection for many years until being bought by John Bower. Doug and Andy's review showed that car to be Lotus 25 R3. It then became clear that R4 was written off following Richard Attwood's accident in the Belgian GP in 1965, although it is likely that its surviving components would have been used on the Parnell team's other cars, in particular to build up the new Lotus 33 R13 which first appeared at the Italian GP later that season.
Please contact Allen Brown (allen@oldracingcars.com) if you can add anything to our understanding of these cars.
These histories last updated on .