Lotus 42 car-by-car histories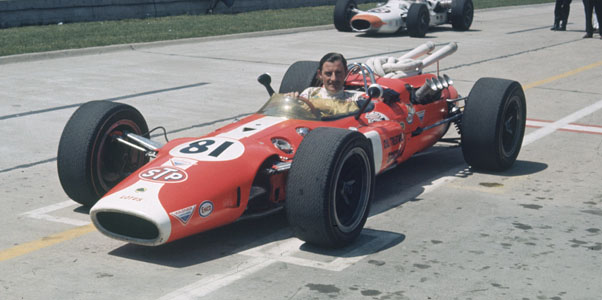 The Lotus 42B was originally designed as an Indianapolis car but would do most of its racing in F5000. After its intended BRM H16 engine was abandoned, a Ford V8 was fitted to the first Lotus 42, which Graham Hill raced at Indianapolis in 1967. The second car was converted to Formula 5000 specification for Bill Brack.
Designed by Maurice Phillippe, who had replaced Len Terry as Lotus Chief Designer in May 1965, the Lotus 42 was built at the same time as the 1966 F1 Lotus 43 and both cars were intended to use BRM's monstrously complex H16 engine. BRM had convinced Colin Chapman that the 4.2-litre Indianapolis version would be the same size as the F1 version, but would generate 650 bhp, 130 more than the claimed output of the 1966-specification Ford V8. Weight was expected to be 425 lbs, a little more than the Ford, but when the first unit finally appeared it was a massive 140 lb heavier. The difference in weight between a Ford and a BRM was almost exactly the same weight as Jim Clark!
The 42 and 43 were expected to be interim models, as Keith Duckworth was already at work on the Cosworth DFV, so Philippe's brief was to use as much componentry as possible from three existing models: the Lotus 38 Indy car, then in production for customers at Lotus Components; the dreadful 1964 Lotus 30 sports car; and the 1965 Lotus 40 sports car, famously described by Richie Ginther as a Lotus 30 with ten more mistakes. The monocoque of the 42 and 43 followed the form of Terry's Lotus 38, with a full 360º stressed section around the driver's legs, and the engine was attached to the rear bulkhead as a stressed member. Front suspension was based on the Lotus 33. It was all BRM could do to produce enough engines for their own F1 cars, and Chapman soon conceded that the Indy version would not appear in time for the 1966 Indy 500. The chassis was dusted off and updated at the start of 1967, and a first BRM engine was fitted in time for a test at Snetterton in May 1967, but the engine failed after two laps and the project was abandoned. At the end, the prototype P96 had generated 585 bhp, not bad but nowhere near what was promised, but had torsional vibration problems that were never cured. The F1 version of the H16 would soon be abandoned as well, despite winning one race in the back of a Lotus 43.
The only 42 to be shipped to America for the 1967 Indy '500' was quickly fitted with a Ford V8. Graham Hill, the 1966 Indy '500' winner, drove the renamed '42F' but retired after 23 laps. Neither 42 would be run by Team Lotus again. After the '500'. the unused second car, now designated 42B/2, proved hard to sell and eventually passed to Dave Lazenby's Lotus Components Ltd. From there it would be sold via Robs Lamplough to Bill Brack for 1969 Formula A. The 42F remained in the US and stuck around even longer, eventually going to Brack as a show car. Both cars are still in existence.
Please note that previous versions of this page were titled "Lotus 42B", but that gave the impression the text only covered a later modified version of the Type 42. Although the two cars were numbered 42B/1 and 42B/2, it is simpler to refer to this model as the Lotus 42.
Chassis
History
Current owner
Built for 1966 Indy 500 but not used. Updated for 1967 Indy 500. Converted to Ford engine before leaving for Indy and renamed 42F/1. Team Lotus for Graham Hill Indy 1967: qualified 31st, retired early and classified 32nd. The car was then taken to Canada for permanent importation into the US and offered for sale. It then sat at Indy until sold to Bill Brack, owner of the sister car 42B/2, in January 1969 - but not picked up until June. After using it as a show car with a dummy Chevrolet V8 engine, Brack sold 42B/1 to Robs Lamplough (the reverse trip that 42B/2 took) and it has since disappeared into a private collection. It was still in the private collection in May 2021.
Driven by: Graham Hill. First race: Indianapolis Motor Speedway (R3), 31 May 1967. Only one recorded race.
Private Collection (UK) 2021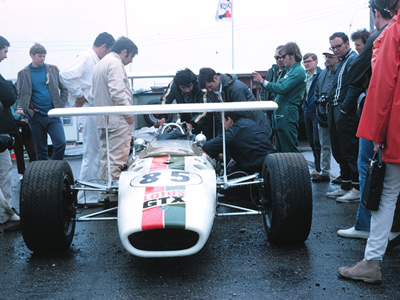 Built for 1967 Indy 500. Team Lotus: unused and not even shipped to US. Remained in England through 1967 and then sold to Lotus Components in early 1968. Robs Lamplough bought the car but, unlike his two Lotus 43s, he quickly sold the 42B on to Canadian racer Bill Brack. Jo Marquart designed revised suspension for the car, and Lotus Canada mechanic Barry Sullivan installed a 5-litre Chevy V8 at Hethel. Brack acquired Castrol sponsorship for 1969 and the car was known as the 'Lotus GTX'. Driven in the 1969 Canadian Formula A Series (six races: two wins, a third and three retirements; third overall in championship) and the SCCA Continental Championship (six races: two DNS and four starts; only one finish: 16th at Elkhart Lake in July). Crashed heavily at Lime Rock 1 Sep 1969 and the car was 'a skip job'. Brack rented Al Pease's 1968 Lola T140 for the rest of the season and apparantly sold the Lotus "for scrap" in Toronto.
There must have been some exaggeration as the car was raced by John Dickinson (Toronto, Ontario) in two Gulf series races in 1970. Dickinson then advertised the car in "perfect condition" in February 1971. History then unknown until 1974, when it was raced it at least once in SCCA Nationals by Allen Secrest (Dover, Ohio). It was later acquired by collector Chuck Haines. In 1990, Carl Hungness enumerated Haines' collection, and mentioned the Lotus 42 driven by Hill in 1967. About the same time the article appeared, Haines sold the 42 to a private collector in Virginia in 1990. The collector still owned the car in August 2021.
Driven by: Bill Brack, John Dickinson and Allen Secrest. First race: Brands Hatch (UK R2), 7 Apr 1969. Total of 18 recorded races.
Private Collection (USA) 2021
Please contact Allen Brown (allen@oldracingcars.com) if you can add anything to our understanding of these cars.
Sources
Sources used for this page include Andrew Ferguson's Team Lotus (especially pp168, 230) published in 1996 and Formula 1 Register Fact Book: Formula 5000 1968-1971. Many thanks to Bruce Smith for his recollections and photographs of 42B/2, and to Gerr Measures and Walter Goodwin for additional information. Note that the way to tell these two cars apart is that the first monocoque was fabricated with a mounting point for a bottom rear radius rod, but the second car was built without.
These histories last updated on .