March 74A car-by-car histories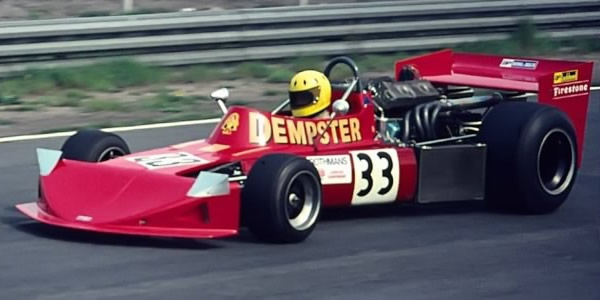 After the poor performance of the 73A, March did not have a production F5000 car for 1974, but built two F1-based cars to order for Dempster Developments. The first car led on its debut in the hands of the talented Mike Wilds, but results thereafter were disappointing.
The Dempster Developments team of Colin Phillips and Colin Bennett just had time to test their first 74A at Goodwood on the Wednesday before the opening round of the F5000 series, and ex-F3 driver Mike Wilds settled in quickly. Despite overheating problems in practice, Wilds ran very well at that first race, overtaking F5000 star Brian Redman on his way to a fine second place. The pattern was almost exactly repeated in round 2 at Mallory , with the Englishman again second after overheating problems in practice. This put the March into an unlikely championship lead, but Wilds faded badly as the season wore on. A second car was built for Ian Taylor but his sponsorship money did not materialise and this car was taken over by Wilds, only to be wrecked at Thruxton at the end of May. The team quit F5000 before the end of the season to take Wilds into F1 with a drive at Ensign. The surviving 74A was raced by Mick Hill in 1975, and then found its way to the US, turning up in the hands of Tom Jones, who still owns it to this day.
Thanks to Wolfgang Klopfer who found the adverts that pieced together the movements of the surviving car. Thanks also to the enthusiasts at the former "F1 Rejects" website for their biography of Tom Jones, to Tom Jones himself, and to Adam Ferrington for supplying March factory records.
If you can add or correct anything, please contact Allen Brown (allen@oldracingcars.com).
Chassis
History
Current owner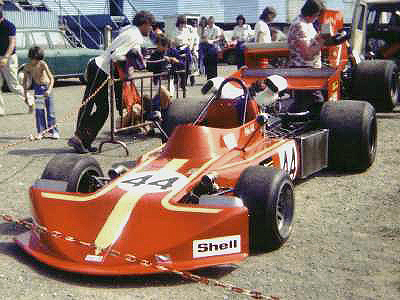 Dempster Developments UK 1974: for Mike Wilds at R1 (second), then retubbed for R2 (second). Tested by Taylor prior to R3 Silvestone 6 Apr. For Wilds at R3 (sixth) then replaced by newer 74A/2 and returned to Bicester. Probably for Wilds again after destruction of 74A/2: three or four races (R10, R11, R13?, R14). To Mick Hill UK 1975 - Bill Blackledge (then based in Jamaica) 1976 and then via John Gunn Feb 1977 to Tom Jones: raced in Can-Am 1977 (2 races), SCCA FA 1978, Can-Am 1979 (2 DNS), Can-Am 1980 (1 DNS); retained 2010.
Driven by: Mike Wilds, Ian Taylor, Mick Hill, Thomas C. Jones and Patrick Garmyn. First race: Brands Hatch (UK R1), 16 Mar 1974. Total of 26 recorded races.
Tom Jones (USA) 2010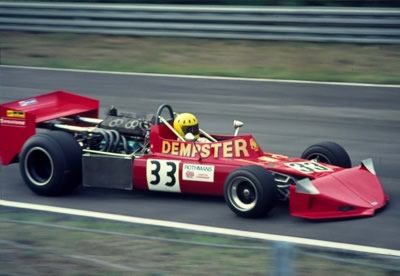 Dempster Developments UK 1974: entered for Ian Taylor alongside Wilds at R3 but left in the transporter after Taylor's sponsor did not appear. For Wilds at R4 Oulton Park Good Friday 12 Apr (retired), R5 Brands Hatch (pole position), R6, R7 and R8 Thruxton (crashed while lapping Tony Dean's Chevron and "extensively damaged"). Autosport report the "huge" accident on page 2 (Autosport 30 May 1974) and Wilds wrist and leg injuries, also mentioning that Dempster "have a spare chassis, originally intended for Ian Taylor". Three weeks later, the same publication mentions that Wilds is recovering and "hopes to return ... driving the back-up Dempster March". It is safe to assume that 74A/2 was written off in this accident and Wilds continued in 74A/1.
Driven by: Ian Taylor and Mike Wilds. First race: Oulton Park (UK R4), 12 Apr 1974. Total of 4 recorded races.
Destroyed 1974
In July 1975, a March 74A was advertised in Autosport from a London (Feltham area) telephone number: "complete rolling chassis, all new parts and tub etc".
A note on chassis number identification
The chassis numbers used here are taken from March factory records and provided by Adam Ferrington.
| Chassis | Customer | Colour | Date |
| --- | --- | --- | --- |
| March 74A/1 | Demptser | Red/Gold | 12 Mar |
| March 74A/2 | Demptser | Red | 5 Apr |
These histories last updated on .