March 76A car-by-car histories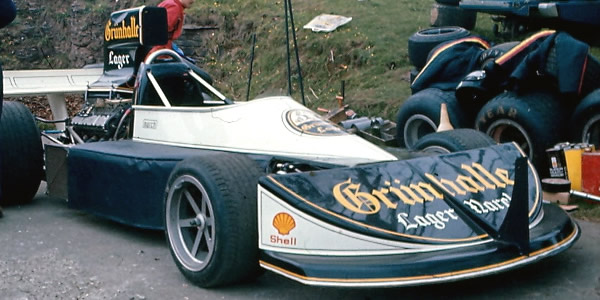 F5000 Marchs were only built to order after 1973 and two orders arrived for 1976, one from US importer Doug Shierson and one from UK hill climb specialist Chris Cramer. Alan Jones won one race in the US F5000 series.
The last production March F5000 car had been the disappointing 73A after which the company had just a single customer in 1974 and in 1975. The latter car, the 75A, had been equipped with a 3.4-litre Cosworth V6 and driven by Alan Jones, had proved highly competitive in the UK. So for 1976 Doug Shierson bought an updated car in another attempt to break Lola's domination of the US F5000 series. Alan Jones drove the car at Watkins Glen after damaging his regular Theodore Racing Lola T332 in practice and won on its debut but even Jones did not seem convinced by the car and its only other start was when Maurizio Flammini drove it at Riverside at the end of the season. It raced for some time in Can-Am before disappearing in the direction of Texas.
In the UK, Chris Cramer's car would use the Cosworth V6 again and looked fantastic in its Grünhalle livery but only picked up a single win, at Barbon Manor in May. Substantially revised by Mike Pilbeam for 1977 and later by Brian Martin for 1978, the car continued to be competitive with Cramer picking up three second places in 1977 and five more in 1978. It continued in sprints and then libre for many seasons.
If you can fill any gaps or have news of the long-lost US March 76A/2, please contact Allen Brown (allen@oldracingcars.com).
Chassis
History
Current owner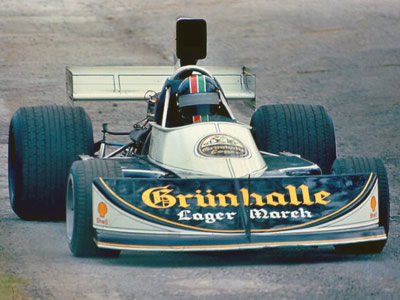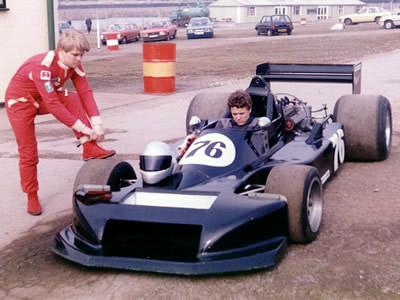 For Chris Cramer and fitted with 3.4-litre Cosworth-Ford GA V6 engine for British hill climbs. Cramer British Hill Climb Championship 1976, 1977, 1978 - Paul Edwards: British Sprint Championship 1979 (6 Run-Offs); updated to 78A specification: British Sprint Championship 1980 (5 Run-Offs) - Nigel Bigwood: British Sprint Championship 1981 (6 Run-Offs), 1982 (7 Run-Offs and one win at Lydden Hill in May 1982) - Tim and Tony Barry 1983: raced by Alan Kayes at Mallory Park libre 19 Jun 1983 (retired); Brands Hatch libre 14 Aug 1983 (2nd); run by Tony Barry at Brighton Speed Trials 10 Sep 1983 (3rd). Later run by Tony Barry at Mallory Park Sprint round 28 Jun 1986 (8th). Retained by the Barry brothers 2005 and raced by Tim in the HSCC Derek Bell Trophy. In December 2012, the car was nearing the end of what Tim called "a protracted rebuild including an extensively refreshed tub" and returned to racing in 2014. Raced by Tim Barry at the 2014 Oulton Park Gold Cup meeting but crashed heavily. It was still at Tony Barry's home awaiting its rebuild in November 2020.
Driven by: Chris Cramer, Paul Edwards, Nigel Bigwood, Allan Kayes, Tony Barry and Tim Barry. First race: Prescott (R1), 4 Apr 1976. Total of 93 recorded races.
Tim and Tony Barry (UK) 2020
For Doug Shierson using monocoque 'M76A:01' and gearbox DG300-445 and fitted with 5-litre Bartz-Chevrolet for US F5000 series. Run by Sid Taylor and driven by Alan Jones. First run at Silverstone 9 Jun 1976. Jones won on his debut at Watkins Glen on 11 Jul but drove a Lola T332C at the next race and the March was handed over to Bruce Allison, who failed to start. The car reappeared back in Shierson's possession at Riverside on 17 Oct, driven by Maurizio Flammini. The Italian qualified 13th but retired early from both his heat and the final with mechanical problems. To Dean Dietrich: raced in Can-Am 1978 (4 races); Can-Am 1979 (4 races). Dean recalls selling the car to someone in Texas but does not remember the name. Subsequent history unknown.
Driven by: Alan Jones, Bruce Allison, Maurizio Flammini and Dean Dietrich. First race: Watkins Glen (US R3), 11 Jul 1976. Total of 12 recorded races.
Unknown
Acknowledgements
Sources include "Uphill Racers" by Chris Mason and "A Record of the RAC British Hill Climb Championship by Paul Sheldon and Duncan Rabagliati. Adam Ferrington kindly provided details from March records. Thanks also to Alan Cox, Jeremy Jackson and Michel Hewitt for supplying pictures.
These histories last updated on .