March 781 car-by-car histories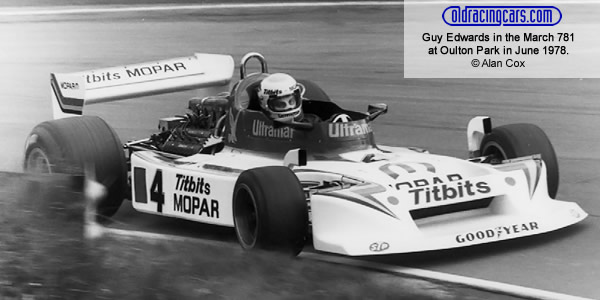 March left Grand Prix racing after 1977, but built customer F1 cars in 1978, the March 781. Both ended up with RAM Racing for the British F1 Championship.
March's customer cars were based for much of the 1970s on the 1971 Formula 2 712M monocoque, and even March's 1972-1974 Formula 1 cars were part of this family. For 1975, Robin Herd designed a wider monocoque for use in F1 and F2, but by 1977 this was falling a long way behind its F1 rivals, and in F2, March had actually reverted to the older style of monocoque for the 1977 works March 772P. Herd produced a very new monocoque design for the 1978 cars, distinguished by a pressed aluminium front bulkhead produced by Superform Metals Ltd, upright cockpit, and front radiator, cooling reverting to the front after four years of using side radiators. The Formula 2, Formula 3 and Formula Atlantic cars all shared this monocoque in 1978, and it would be retained for the non-ground-effect 1979 models. The F2 782 sold in huge numbers, and March were also approached by RAM Racing, who had run a pair of March 761s in Grands Prix in 1977 for F & S Properties, and now wanted a new car for Guy Edwards, to replace the March 75A updated to 761 specification that he had raced in the Shellsport G8 championship. A new high-profile British Formula 1 championship was starting in 1978, backed by the Aurora AFX slot car brand, and Edwards had lined up sponsorship from Ultramar, Titbits and Mopar. March built a low-cost Formula 1 car by using the new 1978 monocoque with a rear end derived from the 761/771 F1 cars. It could not have been competitive in Grand Prix, especially as its F2-sized 16-gallon fuel tank was only good for about 100 miles, but was ideal for the "second division" British F1.
After Edwards' car was shown to the press on 17 March, a second car was ordered by Jack Kallay, with the intention that Geoff Lees would drive it in one or two GPs. It was briefly tested at Goodwood by Patrick Neve, and then taken to Zolder in the forlorn hope that he would be allowed to enter his home Belgian GP on 21 May. After Bernie Ecclestone turned it away, it was next seen at the Aurora race at Thruxton the following weekend where Lees put it on the front row, alongside Edwards' sister car, and rocketed away into a huge lead until a fuel problem forced him into the pits. It was reported at the time that the fuel tank was undersized, but the problem was later revealed to be faulty fuel tank breathers. Lees' impressive performance prompted Kallay to arrange a works F2 drive for him, and the 781 passed to RAM Racing for Bruce Allison to drive. At its first race, at Oulton Park, Edwards took it over after he binged his original 781 in practice and went on to win. Allison won the next race in 781/1 and Edwards won again at Thruxton in September in 781/2, but this was not enough to overcome Tony Trimmer's McLaren M23 in the title race.
Car
Total
Race
Starts
Grand
Prix
Starts
Grand
Prix
Wins
First Race
Present Location
13
Aurora AFX British F1 Championship Round
(16 Apr 1978)
Unknown - last seen at auction in 1998
6
Aurora AFX British F1 Championship Round
(29 May 1978)
Switzerland 2020
RAM Racing acquired Fittipaldi F5As for the 1979 season, and the 781s were sold off, 781/1 to stuntman Val Musetti and 781/2 to inexperienced Austrian Gerd Biechteler. Musetti's car was run for him by Brian Lewis Racing, but Musetti was very unimpressed by the car, and moved to Theodore Racing instead. Musetti's car slowly dissipated over the next 15 years, as everything of value was stripped off it for various other projects. It is probably still out these somewhere, but is one of the rare F1 cars that OldRacingCars.com cannot trace. The sister car was preserved for many years in Walter Grell's idiosyncratic car museum at Rheinfelden in Switzerland, and has now been beautifully restored.
NB. An earlier version of this page showed Gerd Biechteler having bought 781/1, and Val Musetti having bought 781/2. Study of photographs and of Marcus Pye's original race reports in Autosport shows that this was incorrect, and that Biechteler had the ex-Guy Edwards 781/2 with its wider rollhoop, and Musetti had the ex-Bruce Allison 781/1. Allison and Edwards had swapped cars from the Mallory Park race in July 1978 onwards. Pictures of the ex-Biechteler car in Switzerland in 2010 showed that it still had the wider rollhoop.
These histories last updated on .