March 811 car-by-car histories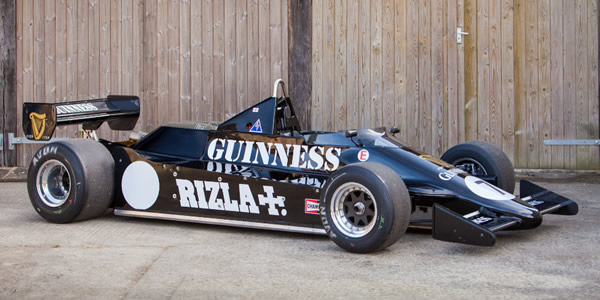 The March 811 was built by March for customer RAM Racing to use in F1 in 1981. The production version of the car was too flexible for the forces being generated, and a complete redesign by Adrian Reynard was introduced for Derek Daly at the British GP
RAM Racing had run a pair of Williams FW07Bs in F1 in 1980, but for 1981 approached March Engineering to produce a new design for the team. March had not built a true F1 car since 1977, and even that had been based on a 1975 design, so Robin Herd decided to base his new design on RAM's existing Williams FW07s. Paul Brown was put in charge of the design, and he specified a relatively strong aluminium honeycomb for the prototype car, but when the first production cars, 811/RM02 and 811/RM03, were built, a lighter (and cheaper) honeycomb was substituted. The resulting monocoques were far too weak, but tests in the UK before the first race were too short to reveal the problem. When RAM Racing got out to South Africa for the first Grand Prix, the downforce generated simply bent the sidepods. The cars had a second skin added, but this just added weight problems to their stiffness issue.
Two new cars, 811/RM04 and 811/RM05 were produced in time for the Belgian GP, but nobody who worked on the project will admit to having designed this "Mk 2" car. No 2 driver Eliseo Salazar took his sponsorship money off to Ensign, but Derek Daly continued alone and results improved slightly, the Irishman starting to qualify for races at last. Adrian Reynard was then employed by RAM Racing to engineer the car, and he produced a shorter and lighter "Mk 3" 811 with a more rounded nose, 811/RM06. Daly raced this car to the end of the season, with backing from Guinness and Rizla.
Car
Total
Race
Starts
Grand
Prix
Starts
Grand
Prix
Wins
First Race
Present Location
(Argentinian Grand Prix)
(12 Apr 1981)
Unknown
1
South African Grand Prix
(7 Feb 1981)
Written off, Brazilian GP 1981
2
1
South African Grand Prix
(7 Feb 1981)
Unknown
2
2
Spanish Grand Prix
(21 Jun 1981)
Switzerland 2018
10
British F1 Championship Round
(9 Apr 1982)
Used to reconstruct 821/8
10
6
British Grand Prix
(18 Jul 1981)
France 2023
March 811/RM05-R
(no races recorded)
United States 2021
Two 811s were acquired by Colin Bennett and Val Musetti for British F1 in 1982, and these were later fitted by Bennett with sports car bodywork for the Can-Am series. One of them was wrecked in Can-Am by John Graham, and was later rebuilt on a March 821 monocoque for Walter Lechner to use in Can-Am and then Interserie racing. The other Can-Am car, Arnold Glass's 811/RM06, remained in the US where it was eventually rebuilt back to F1 specification for historic racing. Two of the early season tubs were used to build up cars in the UK for historic racing, appearing from 1988 onwards. These two cars use the chassis plates from 811/RM04 and 811/RM05, and although both can be regarded as genuine 811s, the exact identities of the monocoques they use remain to be determined.
Please contact Allen Brown (allen@oldracingcars.com) if you can add anything to our understanding of these cars.
These histories last updated on .