Matra MS10 car-by-car histories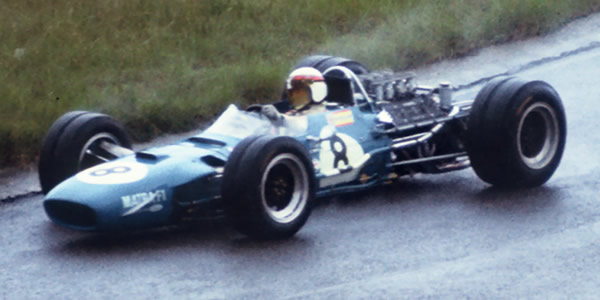 Matra's first definitive F1 car was the Matra MS10, fitted with a Cosworth DFV engine and supplied to Ken Tyrrell for Jackie Stewart to race. Stewart very nearly won the 1968 title in this car.
The MS10 was born out of two initiatives, the new French state-owned ELF oil company's sponsorship of a Matra F1 project, and Ken Tyrrell's desire to put Jackie Stewart in a Cosworth DFV-powered car for 1968. Stewart was regarded as one of F1's top talents, currently being wasted in the unreliable BRM H16 cars, and Matra could see his potential to give them the instant results they wanted in F1. Bernard Boyer designed the MS10 and it followed Matra practice of using aerospace construction methods in the construction of its monocoque. The monocoque was halfway between the open "bathtub" and enclosed "full" monocoque by having a monocoque scuttle enclosing the inboard front springs. Rear suspension was orthodox outboard, but the DFV was only partly stressed, using engine bay truss tubes alongside the engine. One unusual feature was its bagless fuel tanks which allowed far greater torsional rigidity. One of the Matras being demonstrated in 2017 still does not have bag tanks, but uses the polymer resin coated aluminium tanks with which it was built 37 years earlier. It leaks a little of course, but it is remarkable that it is still usable.
As well as the DFV-powered MS10, Matra also built a very similar MS11 design to take its own V12 engine. The MS11 carried fuel in the engine bearer horns that enclosed the unstressed Matra engine, but the MS10 neither had nor needed these. Both designs included an additional fuel cell between driver and engine. The first car to appear was MS10-01, which was raced by Jackie Stewart at the Race of Champions, where its overweight sports car wheels and uprights caused problems. Stewart was then injured in a F2 race, so Jean-Pierre Beltoise drove a new, lighter MS10-02 at the Spanish GP, leading the GP until a pit stop. With the MS11 ready for the Monaco GP but Stewart still not fit, Johnny Servoz-Gavin drove the MS10 in the Principality, qualifying on the front row and leading from the start until a brush with the barrier broke the Matra's transmission. Stewart returned for the Belgian GP, and led until a stop for fuel, finishing fourth. The MS10's first victory came at Zandvoort, aided by Dunlop's superior wet weather tyres, and Stewart would later win the German GP, the Oulton Park Gold Cup, and the US GP. This put him in contention for the title, but at the Mexican GP some of the tank sealing polymer broke away and clogged a fuel pump. However, it was clear that if Stewart had not missed two races at the start of the season, the championship may well have been his.
The MS10s were used briefly at the start of 1969, when Stewart won in South Africa, and were then retired. When Sylvain Floirat was owner of Matra during the 1970s, a large number of Matras were acquired from the factory by Antoine Raffaëlli, a Bugatti enthusiast and close friend of Floirat's grandson. This collection included both MS10s, and the cars were on display in Raffaëlli museum at Paul Ricard until 1984, when they moved to a new museum, the Musee de l'Automobiliste, at Mougins, opened by Raffaëlli and his partner Adrien Maeght. The two MS10s were sold in the late 1990s into private hands, MS10-01 moving to Abba Kogan's huge collection of Matras, and MS10-02 being acquired by Bruno Perrin.
Car
Total
Race
Starts
Grand
Prix
Starts
Grand
Prix
Wins
First Race
Present Location
7
6
Race of Champions
(17 Mar 1968)
Private Collection 2019
12
10
Spanish Grand Prix
(12 May 1968)
Bruno Perrin (France) 2015
Please contact Allen Brown (allen@oldracingcars.com) if you can add anything to our understanding of these cars.
These histories last updated on .