Matra MS80 car-by-car histories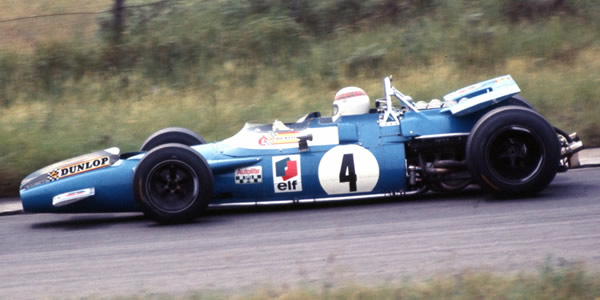 Bernard Boyer's bulbous 'coke bottle' Matra MS80 was the dominant F1 car of 1969, Jackie Stewart winning five GPs in the MS80s, and wrapping up both drivers' and constructors' titles at the Italian GP.
Given the success of the 1968 MS10, Boyer made a surprisingly large number of changes in the 1969 MS80. The fuel cell behind the driver, which had proved insufficiently stiff, was removed and the fuel concentrated in sidepods by the driver's hips, giving the car the car its slightly pregnant appearance that popularised the "Coke bottle" shape over the next few seasons. The rocker arm front suspension of all previous Matras was replaced with Brabham-style outboard springs, and parallel link suspension as used on Len Terry's 1968 BRM P126 was adopted at the rear. The Matras' overall construction and detailing were, as usual, impeccable. The first MS80 was ready for the South African GP, but Ken Tyrrell preferred to use the proven MS10, with which Jackie Stewart won the race. Stewart then raced the MS80 at the Race of Champions, winning again, and then won the Spanish GP in MS80-01 with teammate Jean-Pierre Beltoise finishing third in the new MS80-02. Stewart then won in Holland, France and Britain, becoming progressively more dominant with each race, and led much of the German GP before Jacky Ickx got past and won in his Brabham BT26. The Scotsman also led most laps of the Italian GP, beating Jochen Rindt's Lotus 49B to the flag by less than a car's length. His victory clinched his first World Championship, and also a first constructors' title for Matra.
The championship was won, but Matra had to share part of the glory with Ford's Cosworth DFV engine, and this was now to cause problems. Matra had done a deal to use Chrysler's Simca engines in their road cars, and this meant severing links with Ford in F1. Matra refused to update the MS80s for 1970 regulations, which required bag tanks instead of Matra's polymer resin coated aluminium tanks. Matra would build the MS120 range of cars for F1 in 1970, but they would be powered by Matra's latest V12 engines, not the Ford-badged DFV. Ken Tyrrell and Jackie Stewart decided to buy cars from the ambitious new March Engineering instead, while secretly planning the first Tyrrell F1 car for 1971.
Of the two MS80s, Matra retained MS80-01 in the museum at Romorantin, and it remains in highly original condition. The second car went to Antoine Raffaëlli with the MS9, both MS10s and an MS11. This car was in poor condition, and was extensively restored after being sold in the early 1990s. It remains in French ownership, but ran at Goodwood's Festival of Speed in 2009, and has been demonstrated by Jackie Stewart at other events. A third monocoque was built in 1969, but was not needed as neither car suffered any accidents. It was built up into a complete car by Jean-Paul Humbert's Matra specialists EPAF, and was shown for the first time at Retromobile in 2007. The car passed into English ownership in 2008, and joined Abba Kogan's Matra collection in 2011.
Car
Total
Race
Starts
Grand
Prix
Starts
Grand
Prix
Wins
First Race
Present Location
11
10
Race of Champions
(16 Mar 1969)
Musée Matra (France) 2023
10
9
Spanish Grand Prix
(4 May 1969)
France 2014
Matra MS80-"03"
(no races recorded)
Private Collection 2019
For more on the Matra MS80, see Mark Bisset's excellent article 'Matra MS80 Ford...' on Primotipo.
Please contact Allen Brown (allen@oldracingcars.com) if you can add anything to our understanding of these cars.
These histories last updated on .