Matra MS9 history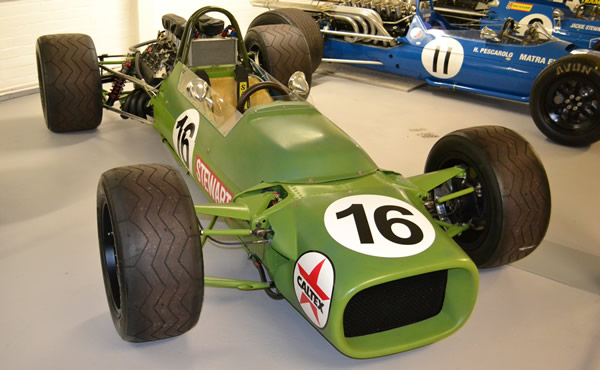 Built as a test and development car late in 1967, the Matra MS9 raced just once, when Jackie Stewart drove it at the 1968 South African GP. Before the next GP, Matra replaced it with the purpose-built Matra MS10.
Ken Tyrrell had first joined forced with Matra when he ran Matra MS5s in Formula 2 with BRM P80 engines in 1966, the final season of the 1-litre Formula 2. Jackie Stewart and Jacky Ickx were the drivers. For 1967, the neat monocoque MS5s were fitted with Cosworth FVA engines, and then MS7s were introduced in mid-season, at which point Stewart became a regular race winner. Also that summer, the Cosworth DFV F1 engine appeared for the first time, and Stewart, who was already losing confidence in BRM's overcomplicated H16 F1 engines, was very keen to have DFV power in 1968. He couldn't have that at BRM, but he could if he and Ken Tyrrell formed a F1 team together. Tyrrell quickly negotiated a deal with Ford to get hold of DFVs for 1968, and then approached Matra. With one of the best drivers in the world on offer, it did not take Matra long to decide to build a version of the their planned F1 car to take a Cosworth V8, instead of Matra's own V12.
There was little time before the start of the 1968 season, so Matra built a test and development car using a modified MS7 chassis, and fitted with a Cosworth DFV. The resulting MS9 was a fairly orthodox monocoque with two pontoons linked at the footbox, by a dashboard bulkhead, and by a further bulkhead behind the driver. A tubular frame continued rearwards to contain the engine, as the MS9 had originally been intended to test a variety of engines. The Cosworth DFV engine was bolted to the rear bulkhead and drove through a Hewland DG300 gearbox. The front suspension was along Lotus 49 lines with rocker arms and inboard springs; outboard springs were used at the rear. Uprights and hubs were from Matra's MS630 sports car range. As a test car, it did not have a full fuel capacity. The car was completed on 18 December, and tested briefly at Montlhéry before being sent out to South Africa for the Grand Prix on 2 January 1968. Such was the rush, it was still painted in green primer when it arrived, and its green ugliness was soon componded by the need for an oversized front radiator, and an extra water tank and cooler. Despite everything, Stewart was second fastest in the first practice session, and started third on the grid. He ran second behind Jim Clark's Lotus 49, but a broken conrod put him out after 38 laps.
The MS9 was only used once more, for a test session at Albi, before it was put aside. It reappeared many years later when it was restored by Didier Castello's Antic Auto Racing in Gonfaron, France in 1992 and 1993. By 1998, it was on display in the Manoir de l'Automobile, the Lohéac, Brittany, museum of Michel Hommell. Some time between 2005 and 2007, it joined Abba Kogan's collection of Matras, and was restored to the green livery in which it raced. It then remained on display in the Donington Museum until the end of 2013.
Car
Total
Race
Starts
Grand
Prix
Starts
Grand
Prix
Wins
First Race
Present Location
1
1
South African Grand Prix
(1 Jan 1968)
Private Collection 2019
Please contact Allen Brown (allen@oldracingcars.com) if you can add anything to our understanding of these cars.
These histories last updated on .