McKee Mk 11 history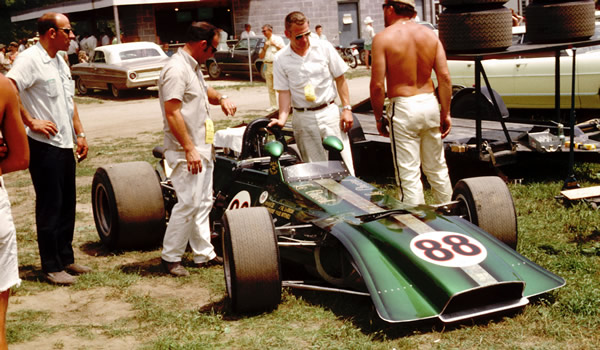 After the McKee Mk 8 had proved a capable car in Formula A, Can-Am constructor Bob McKee also built a one-off USAC car for wealthy Chicago racer Hamilton Vose III, powered by a 5-litre Chevrolet V8.
Little is known about the McKee Mk 11. It was reported to be of monocoque construction, unlike the spaceframe Mk 8, and had "revolutionary sliding pillar rear suspension". The car proved unsuccessful in 1968, failing to start either of its two race appearances and retreating to Central Division Formula A racing at the start of 1969. It was comprehensively wrecked eight laps into its belated Indy racing debut in September that year. Such was the severity of the accident, not to mention the uncompetitiveness of the car, it is unlikely that much was salvaged.
If you can add to our understanding of these cars, or have photographs that we can use, please email Allen at allen@oldracingcars.com.
Thanks to Road America historian Tom Schultz for the use of his photograph of the car.
Chassis
History
Current owner
New for Hamilton Vose III (Chicago, IL). The car first appeared at the Mosport Park Indy car race in June 1968 but was off the pace in practice and did not qualify. He was also at the Riverside Indy car race in December but again did not start. Vose then used the car in Formula A in 1969, racing in Regional and National events in Central Division, before trying the Pro events at Road America, Brainerd and Mosport in July and August. He then tried his hand at USAC racing again with the Brainerd Indycar race in September. He made the race, there only being 15 starters, but just after he was lapped by David Hobbs going down Donnybrook Speedway's main straight, Vose tried to tuck in behind Hobbs' Valvoline Finley and lost control of the McKee, flipping end over end several times before the car ended up at the fence while its nosecone landed in a tree. Vose emerged from the cloud of dust and walked back to the pits. The Mk 11 was never seen again.
Driven by: Hamilton Vose. First race: Blackhawk Farms, 6 Jul 1969. Total of 5 recorded races.
Wrecked 1969
These histories last updated on .