McLaren M15A car-by-car histories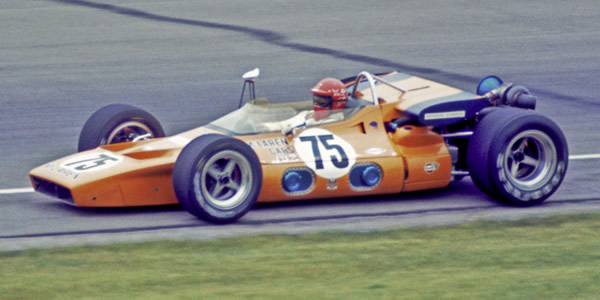 McLaren's first Indy car, the McLaren M15, was due to be driven in the 1970 Indy 500 by Denny Hulme and Chris Amon, but despite Hulme showing very good early speed, he incurred serious burns in one of the cars, and neither driver started the race. Peter Revson later led the California 500, but the team's attention quickly turned to a new design.
In 1968, Bruce McLaren and fellow Kiwi Denny Hulme were paired together in the McLaren F1 team, and in the all-conquering McLaren Can-Am team, and also, at Goodyear's behest, in the Shelby American Indycar team. The turbine-powered Shelby was abruptly withdrawn before the start of qualifying when the engine's legality was questioned, and Denny Hulme transferred to a works Eagle, in which he finished fourth. A year later, in another works Eagle, Hulme ran as high as second before retiring, and this proved the trigger for the McLaren team to start their own Indycar project. The car was entirely orthodox, owing some ideas to the Lola T150 series cars which were then proving very effective, but using the rear suspension and transmission from McLaren's M8-series Can-Am cars, and McLaren's usual front suspension geometry. The tub was very wide, to accommodate enough fuel for the thirsty 159 ci (2.65-litre) turbocharged Offenhauser engine. The tub was similarly straightforward, with 16-gauge aluminium sheet riveted to three fabricated steel bulkheads. Hewland's four-speed LG500 gearbox was used.
The first car was completed in November 1969 and taken to the Indianapolis Motor Speedway for testing, where Hulme quickly got up to 168 mph, and Bruce to 162 mph. The car was very light by Indy standards, weighing in at 1350 lbs when first built, and although it gained 100 lbs as extra features were added during development, designer Gordon Coppuck recalls that they were the lightest cars at the 1970 Indy 500. Hulme immediately set one of the fastest time in practice, and despite having to take time out to fly back for the Monaco GP, he was the seventh fastest runner by 13 May, when a USAC-mandated fuel filler mechanism sprayed fuel over both driver and engine, which quicky set alight. Hulme's hands were very badly burnt, and he was out of racing for many weeks. Teammate Chris Amon had already dropped out, having found he could not adapt to this form of racing, so two replacement drivers had to be found. Bobby Unser caused a stire by running a few laps in Amon's car before McLaren settled on Peter Revson and Carl Williams, who safely qualified the cars. Williams finished ninth. A week after the event, Bruce McLaren was killed in a testing accident.
Two of the M15As were sold to Gordon Johncock after the Indy 500, but the third was retained and was raced by Revson at Ontario Motor Speedway's California 500 in September. Revson led the race in the later stages, but a slop final pit stop dropped him down to fifth at the finish.
Chassis
History
Current owner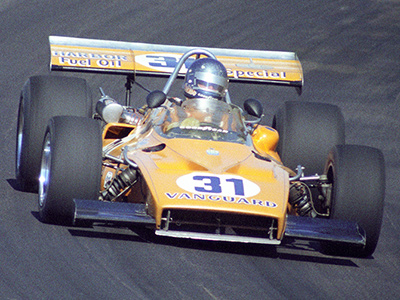 The prototype M15 was the #79 backup car at Indy in 1970 and was the car Hulme was using when a petrol leak led to a fire in which he was badly burnt. As M15/2 and M15/3 were sold to Gordy Johncock, this must be the car used by Revson in the Ontario 500 and then sold to John Mahler for 1971. Mahler raced it through the 1971 and 1972 seasons before it was retired. Mahler later sold the car to collector Chuck Haines (St Louis, MO) and it was sold by him to the UK in the mid/late 1980s. This may be the car that was later owned by John Foulston (Dunsfold, Surrey), boss of high-flying IBM computer leasing company Atlantic Computers, who bought Brands Hatch, Oulton Park and Snetterton from Eagle Star in May 1986. Foulston was killed testing a M15 at Silverstone on 29 September 1987.
Driven by: Denis Hulme, Peter Revson and John Mahler. First race: Ontario Motor Speedway (R12), 6 Sep 1970. Total of 6 recorded races.
Wrecked 1987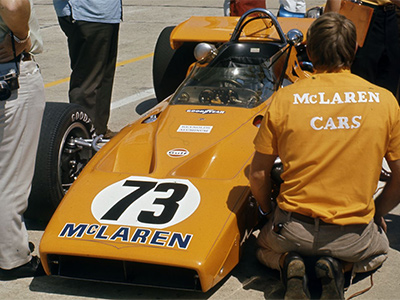 This was the #73 race car for Denny Hulme at Indy in 1970 and taken over by Peter Revson after Hulme withdrew. Then sold to Gordon Johncock and raced three times before being wrecked at Michigan when the center of the right rear wheel broke and the car spun into the wall. The chassis damage was repaired by Johncock's chief crew Duane Glasgow but it was not raced again. Sold at the end of 1970 to Dave Paul (Berrien Springs, MI) but he did not have an engine for it and sold it a few years later. In 1985 it was sold by Jim Mann (Elkhart, IN) to Bill Wiswedel (Holland, MI) and he still had the car in 2010. Sold by Bill in March 2019 to John Stafford (Chicago, IL). The car was then shipped to the UK for restoration.
Driven by: Denis Hulme, Peter Revson and Gordon Johncock. First race: Indianapolis Motor Speedway (R4), 30 May 1970. Total of 4 recorded races.
John Stafford (USA) 2019
Chris Amon's planned car for the 1970 Indy 500 was taken over by Carl Williams when Amon withdrew. It was sold to Gordy Johncock after the 500 and became his main car after M15/2 was wrecked at Michigan. Sold to Rolla Vollstedt for 1971 and raced for him by Johncock and Denny Zimmerman in 1971 and 1972. This car was later acquired by Tom Black (Portland, OR) and sold by him to the UK. Believed to be the car acquired from collector Nick Mason by McLaren International, restored and put on display in the Donington Collection. Still in the Donington Museum in September 2018, just before it closed.
Driven by: Carl Williams, Chris Amon, Gordon Johncock and Denny Zimmerman. First race: Indianapolis Motor Speedway (R4), 30 May 1970. Total of 8 recorded races.
McLaren Racing Limited (UK) 2018
Johncock damaged one of his two cars when he slammed into the wall at Michigan in July 1970, but he continued to race his other M15 until the end of 1971, by which time it was being run by Rolla Vollstedt, who then entered it a couple of times for Denny Zimmerman. Meanwhile, the car that the works had retained was sold to John Mahler, who raced it a few times in 1971 and 1972. This appears to be the car in which John Foulston was killed while testing at Brands Hatch in 1987.
McLaren Engines Inc
The M15 Indy car project was run from McLaren's new permanent base in the US, established In December 1969 in Livonia, a suburb of Detroit, Michigan, chosen for being central to the seven Can-Am race circuits and the Indianapolis Motor Speedway. The facility was managed by Colin Beanland, and in 1970 included engine builders George Bolthoff, Kiwi John Nicholson - later the founder of Nicholson McLaren Engines in England - and Lee Muir, who later became Shadow's main engine builder.
Sources
Detailed descriptions of the M15 appeared in Motoring News 13 Nov 1969 p2 and Autosport 13 November 1969 pp31-32. McLaren's US operation was featured by Bill Gavin in Autosport 16 Aug 1970 pp30-31.
Please contact Allen Brown (allen@oldracingcars.com) if you can add anything to our understanding of these cars.
These histories last updated on .