McLaren M16C car-by-car histories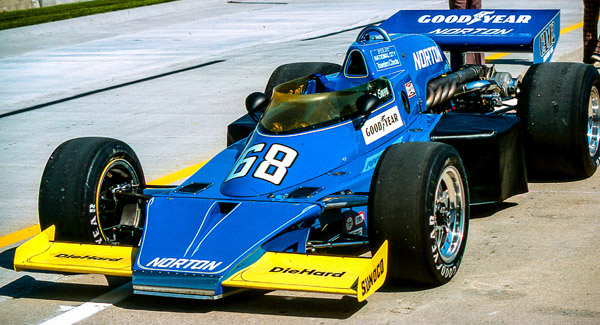 The McLaren M16C was the most successful of the M16 variants, with works driver Johnny Rutherford winning eight races in M16Cs, including both the Indianapolis 500 and the Pocono 500 in 1974.
After the M16-series cars had won three of the six 500-mile races held since their debut, the basic design was refined further for 1973 with the M16C, distinguished by a slimmer headrest fairing and a slightly lower and wider monocoque. The five fuel cells of the M16B were reduced to four, allowing for a five-gallon oil compartment in the left side of the monocoque, and the monocoque ended behind the driver's seat with the Offy mounted as a stressed member. Suspension geometry was unchanged from the original M16 and transmission was via a Hewland LG Mark 2 gearbox.
Note that numbers of races shown for each car may not be correct as we do not (yet) know exactly how backup cars were used as short track cars. The Team McLaren backup in 1974 and 1975 has been identified, and good progress has been made for Penske Racing, but the details of Salt Walther's cars are still being worked through. All the cars have small detail differences that allow them to be identified, but finding photographs from every single race is a challenge.
If you can add to our understanding of these cars, or have photographs that we can use, please email Allen at allen@oldracingcars.com.
Chassis
History
Current owner
This history is a result of the collaborative research of Allen Brown and Simmo Iskül, with additional information from Michael Ferner, restorer Duncan Fox, owners Aaron Lewis and Chuck Haines, and researchers 'gbl', Luis Mateus, Tom Schultz and Gerry Measures. Thanks also to Glenn Snyder, Richard Deming, Ian Blackwell and Dave Reese for their photographs.
These histories last updated on .