McLaren M22 car-by-car histories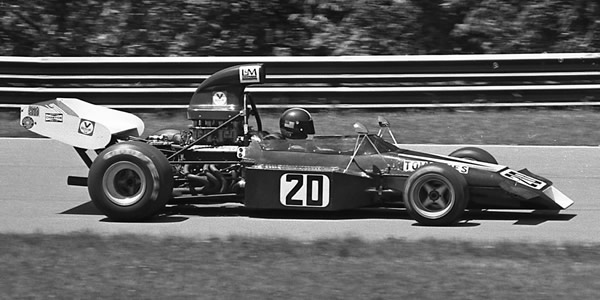 The McLaren M22 was Trojan's F5000 offering for 1972, and the last from the partnership of McLaren and Trojan. Its brightest moment was its debut, where Teddy Pilette finished third in VDS's example.
The first car to be called a M22 was the ex-Brian Redman M18, which was taken over by the McLaren factory and updated with stronger rear suspension and raced by David Hobbs in the Tasman series. This M18/22 won the Adelaide race, and may have given McLaren a false sense of making progress. VDS took over this car for Teddy Pilette to drive in the British series until the first "real" M22 was ready. Rather than being based on the F1 M19, as was rumoured, the M22 was little different to the M18, the only changes being repositioned front suspension pick-up points, 13 in rear wheels, and a McLaren F2 type nose. Poor Pilette could make no sense of it and VDS soon abandoned it. A second car was delivered to Allan Lader in the US who had wrecked his M18, but he promptly crashed the M22 before he had even raced it. A new M22 rolling chassis was advertised by Trojan in November 1972 and this is presumably the M22-3-72 that went to Tom Jones in the US for 1973. McLaren's interest in customer cars was clearly cooling fast, as was their relationship with Trojan, and these would be the last Trojan-built McLarens.
My thanks to Harry Ingle and Tom Jones for their memories of their M22s and to Chris Townsend, Gerr Measures and Wolfgang Klopfer for their help constructing these histories. All and any further help would be gratefully received. Please email Allen at allen@oldracingcars.com if you can add anything.
Chassis
History
Current owner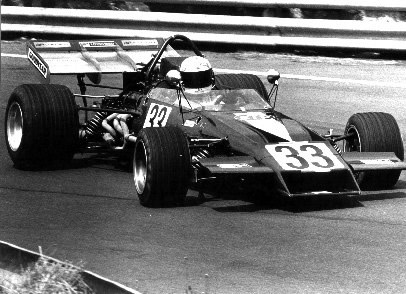 Racing Team VDS for Teddy Pilette in the latter latter half of 1972. Pilette drove the ex-David Hobbs interim M18/M22 for the first six races of the season, achieving two second-place finishes, and moved over to the new M22 at the Oulton Park Gold Cup late May. However, the new car did not appear to be a step forward and VDS dropped out of F5000 to concentrate on Interserie. When the team returned in October, Pilette was again driving the M18/22.
VDS ordered Chevrons for 1973 but the M22 had a handful of outings before these were delivered. Its final race was Oulton Park 13 May 1973 where VDS No 2 Chris Craft finished down in 11th. The car was then said to be sold.
It was bought from VDS from a Team Willems who tested at Nivelles but did not race the car. Willems sold it to hillclimber Tony Gillet (Gembloux, Belgium) who raced it in Belgian and Luxembourg hillclimbs in 1975 and 1976 until it was badly damaged in an accident at Trôs Marèts in 1976. Gillet bought a Lola T400 to replace the McLaren and it remained unrepaired until bought many years later by Harald Seitz. Still with Harald in May 2015.
Driven by: Teddy Pilette and Chris Craft. First race: Oulton Park, 29 May 1972. Total of 5 recorded races.
Harald Seitz (Belgium) 2015
Allan Lader US 1972. Lader had been racing a M18 leased from Evan Noyes but crashed it repeatedly. The Motoring News report on R6 Road Atlanta 20 Aug 1972 says that "Lader eliminated the latest M22 during a testing session", but shortly afterwards press reports said that Lader would race the car at Lime Rock, and photographs from that race show that he did, despite Competition Press calling it an M18. Lader was also present at the final race, at Riverside, but did not start. Many years later, in 1990, an advert for M22-3-72 noted that the spares from M22-2-72 "which was crashed by Lader" were with the car. Actually, as we'll see, the accident referred to was a different one.
Lader sold the M22 to Bob McKaughn (Hickory, NC) for Harry Ingle (Charlotte, NC) to drive in 1973. Power came from a Bud Moore (Spartanburg, SC) Ford engine, replacing the Chevrolet that Lader had used. Harry recalls that the car was M22-2-72 which matches other information on the Lader car. Ingle first raced it at Riverside 29 Apr 1973 (qualified 23rd; stops after R5 until R9). After engine problems slowed the (Uncle) Ed Zink-led team in the early races, Ingle qualified 12th at R3 Michigan and at R5 Watkins Glen Then, at R6 Elkhart Lake, Ingle had a big accident cracking a couple of ribs and reducing the car to what Autoweek called 'a throw away'.
Even a second major accident was not completely fatal for this M22 and Ed Zink traded the remaining componentry to fellow M22 racer Tom Jones for a Formula B Chevron. Harry returned to Supervees and took his FSV Z-11 to victory in the 1973 Runoffs. Then he went fishing for a couple of years…
Driven by: Allan Lader and Harry Ingle. First race: Lime Rock (US R7), 4 Sep 1972. Total of 6 recorded races.
Wrecked 1973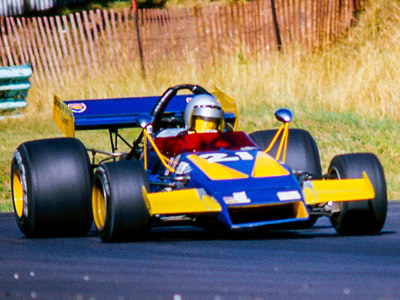 Bought by Tom Jones in the autumn of 1972 from Fred Opert. The car had arrived from as a pallet of parts including a bare aluminium tub, effectively a kit, and was assembled by Jones and his father.
Raced in US 1973 (Mid-Ohio, Watkins Glen, Road Atlanta and Pocono with a best finish of 11th at Pocono); US 1974 (Mid-Ohio, Mosport Park, Watkins Glen and Elkhart Lake with a best of ninth at Mid-Ohio)
Jones then sold the car to the father of Vic Todia (Parma Heights, OH) who raced in SCCA and 'Pro' events in 1976 and then SCCA events in 1977 and 1978. It was reported to have been parked in a barn until acquired by Len Arnold (Greeley, Colorado) 1989 who restored the car and sold it to McLaren collector Harry Mathews in November 1990. Mathews still had the car in 2001 but at some point before 2007 sold it to Kiwi Tony Roberts (Auckland, New Zealand) to race in the 2007/08 F5000 Tasman Revival series. In 2009, Roberts sold it on to Tim Rush (Feilding, NZ), who raced it in the 2010 Revival series. Raced by Tim Rush at Sydney Motorsport Park 1 Sep 2013, the first round of the 2013/14 Formula 5000 Australia Cup Series. Damaged at the Gulf NZ Festival of Motor Racing at Hampton Downs in January 2015. Raced by Rush in the 2017/18 Tasman Revival series. Still with Rush in October 2019.
Driven by: Thomas C. Jones and Vic Todia. First race: Mid-Ohio (US R4), 3 Jun 1973. Total of 15 recorded races.
Terry Rush (New Zealand) 2019
These histories last updated on .