McLaren M24 and McLaren M24B car-by-car histories
Based on the Formula 1 McLaren M23, the 1977 Indy McLaren M24 was the most successful car of the next three seasons, scoring more podium finishes than any other model of car. McLaren's lead driver Johnny Rutherford won eight races in his M24s and M24Bs.
In 1975, the Vel's Parnelli team had built an Indy version of their Parnelli VPJ4 Formula 1 car, reducing the capacity of its 3-litre Cosworth DFV engine down to the USAC regulation 2.6 litres, and adding a turbocharger. Once Parnelli's small engine team, led by Larry Slutter, had the resulting Cosworth DFX engine running well, Al Unser won three races in 1976, and Cosworth then moved in to take over the project. The first customers for the new engine were McLaren Cars, who saw the opportunity to replace their successful but ageing M16-series design, which was powered by the ancient, heavy, bulky and temperamental Offy engine, with a new design based on the highly successful Formula 1 McLaren M23. McLaren's own engines were built by Gary Knutson and his team at McLaren Engines in Livonia, MI. The first M24 was completed and tested during 1976, but exactly when is unclear. McLaren lead driver Johnny Rutherford claimed in an interview in mid-September 1976 that it had already been completed and tested at Ontario, Michigan and Milwaukee, and in December 1976 even said that the car had been present at the 1976 Indy 500, but the first definitive mention of it testing was at a Goodyear tyre test at the Indianapolis Speedway on 21 October 1976. This is consistent with Greg Denny recalling collecting the first monocoque from the McLaren F1 team at the time of the US GP at Watkins Glen two weeks earlier. The second car was also completed before the end of 1976 and delivered to Penske Racing, who would be running cars for Mario Andretti and Tom Sneva.
McLaren's Indy team, run by Tyler Alexander, ran just one car in 1977, for Rutherford, and he and the M24 were immediately successful, taking pole position at each of the opening four races of the 1977 season and winning the second race at Phoenix. Sneva then won the third race at Texas World Speedway in Penske's M24 and took pole at the Indy 500. Rutherford won three more races later in the season, and Sneva won the Pocono 500 on his way to the USAC title. Penske built their own cars for 1978, but McLaren built up one new M24B for Rutherford in 1978, and built a second for him in 1979, when Budweiser took over from First National City Travelers Checks as the team's main sponsor. Rutherford won two races with the M24B in 1978 and won the two races at Atlanta in April 1979 before Budweiser pulled their sponsorship at the end of that year, and McLaren withdrew from Indy racing.
If you can add to our understanding of these cars, or have photographs that we can use, please email Allen at allen@oldracingcars.com.
Chassis
History
Current owner
Identifying the McLaren M24s in 1977
Although the histories of the eight or nine M24s and M24Bs are reasonably well understood, information about chassis numbers is both sparse and inconsistent. The best known M24 was a car run by Jerry O'Connell's team for Wally Dallenbach and then Tom Sneva from 1978 to 1980, which was known as "Ol' Hound". An article on the car in 1981 referred to it as M24-005, but when the car was stripped by Paul Diatlovich after an accident in 1981, Diatlovich retained the chassis plate which says M24-001. The same article refers to another of the works cars as M24-003, so it seems clear that McLaren used chassis 001 and 003 during 1977, and Penske had 002 and 004. If McLaren later had 005, then it may have been a late 1977 car, or an early 1978 car, as the first M24B, widely reported to be chassis M24B-001, was new for the 1978 Indy 500. Rutherford then received another M24B, reported to be M24B-002, for the 1979 Indy 500. The eight and final car in this series, chassis M24B-003, is believed to have been delivered new to the O'Connell team in 1979 after one of their M24s was wrecked by Tom Sneva during the 1979 Indy 500. However, exactly how chassis numbers relate to the cars raced is still being investigated.
Chassis
History
Current owner
Johnny Rutherford's 1977 #2 Team McLaren entry at the 1977 Indy 500. Photographs show that It was then used at Ontario and Trenton later in 1977. It was then Rutherford's intended backup (#4T) at the 1978 Indy 500, which he raced after he was unable to use his primary M24B. It was crashed at the very end of practice at Milwaukee in June 1978, after which the M24B was used for the first time. This car is likely to have been kept for short track or road racing later in 1978, and is believed to be the car used for the twin 125-mile races at Atlanta Motor Speedway in early 1979.
Its later history is not yet confirmed, but see 'the Wysard car' in 1980 and 'the Vern Schuppan car' from 1981 onwards.
Driven by: Johnny Rutherford. First race: Indianapolis Motor Speedway (R5), 29 May 1977. Total of 14 recorded races.
Unknown
McLaren M24s in 1978
During 1977, Penske had built a copy of the McLaren M24, known as the Penske PC5, at the company's base in England, and for 1978 the team built an evolution of this, the Penske PC6. As a result, the two M24s were no longer needed, and were sold to Dayton-Walther. McLaren sold one of the Rutherford cars to Jerry O'Connell's Sugaripe Prune team, and O'Connell recruited Wally Dallenbach to drive it during 1978. This is the car that the team later called Ol' Hound, but whether it was chassis 001 or 005 remains unresolved.
McLaren retained chassis 003 for Rutherford in 1978, plus whichever of 001 and 005 was not Ol' Hound, and then built a new McLaren M24B for him to drive at the Indy 500. There was a change of personnel in the McLaren team, as 28-year-old Australian Steve Roby took over from as crew chief. Roby had previously worked for Surtees, Graham Hill, and Brabham in Formula 1. Tyler Alexander remained in overall charge of McLaren's Indy operation.
Chassis
History
Current owner
The Team McLaren spare car at Indy in 1977 (#12?) went to Jerry O'Connell for Wally Dallenbach to drive in 1978. This was the #6 Sugaripe Prune car driven by Dallenbach throughout 1978, and was then Tom Sneva's car in the first few races of 1979. By this time, the team knew this car as "Ol' Hound". It was Sneva's #32 (appeared as #1) spare car at Indy in 1979, and then became his main car after Indy as his new 1979 car had been wrecked. However, Sneva had a newer car as well, so exactly how it was used is still to be determined.
This car was kept for 1980 and rented out to Vern Schuppan for the Indy 500, but Schuppan did not qualify it, and it was used in the race by Sneva, who had crashed his first-choice Phoenix. Used again by Sneva later in 1980, often in preference to the repaired Phoenix. Then to Tony Bettenhausen Jr's Promini Veal team for 1981 but crashed in practice at Riverside in August, and heavily damaged. The monocoque was sold to Joe Hunt in 1982 to allow Phil Krueger to repair Hunt's M24-copy Penske PC5. The resulting car was crashed and extensively damaged during Indy qualifying.
The Krueger car was acquired by Chuck Haines in 1994, and remained with him until October 1997, when it was acquired by its one-time driver Vern Schuppan. In June 2015, it was sent to New Zealand to be restored. The restoration was still progressing at Hitech Motor Sport (Drury, New Zealand) in February 2020.
Driven by: Wally Dallenbach, Tom Sneva, Johnny Parsons Jr, Vern Schuppan, Tony Bettenhausen II and Phil Krueger. First race: Phoenix International Raceway (R1), 18 Mar 1978. Total of 44 recorded races.
Vern Schuppan (New Zealand) 2020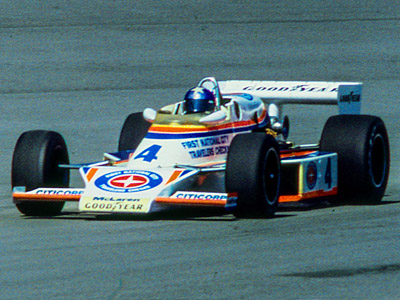 Johnny Rutherford's intended #4 Team McLaren entry at the 1978 Indy 500 but not run. First used at Milwaukee and Pocono in June 1978 (Autosport 6 Jul 1978 p29) and presumably used for the rest of the season. Definitely used at Ontario (Autosport 14 Sep 1978 p21), Silverstone (Autosport 5 Oct 1978 p19) and Brands Hatch (Autosport 12 Oct 1978 p21). This was presumably Rutherford's backup car during the 1979 season, and is believed to be the car he raced at Trenton in June, at Trenton again in August, and at Michigan in September. It is also likely to have been the #94 car raced by Don Whittington at Ontario's California 500 in September.
Driven by: Johnny Rutherford and Don Whittington. First race: Milwaukee Mile (R7), 18 Jun 1978. Total of 19 recorded races.
Unknown
McLaren M24s in 1979
For 1979, McLaren sold a second M24 to Jerry O'Connell, keeping just M24-003 as a backup car to Rutherford's existing M24B-001, and his new-for-1979 M24B-002. Dallenbach returned to Patrick Racing Team, which would have new Penske PC6s for 1979, and his place in the O'Connell team was taken by Tom Sneva, who had just won back-to-back titles with Penske but had been inexplicably dropped by Penske at the end of the year. The two ex-Penske M24s, chassis 002 and 004, remained with Dayton-Walther for 1979.
The newer of Sneva's M24s was heavily damaged when Sneva crashed during the Indy 500, and it is reported by former O'Connell crew member Paul Diatlovich to now be "a flower pot on Jerry O'Connell's ranch". The team's original M24, Ol' Hound, then became Sneva's main car again, but the team acquired another M24, believed to be chassis M24B-003, later in 1979.
Another new M24 appeared for 1979, built up by mechanic Roger Flynn for Warner Hodgdon from "a box of parts we purchased from Penske".
Chassis
History
Current owner
McLaren M24s in 1980
The McLaren team pulled out of Indy racing after 1979, and Tyler Alexander moved back to the F1 team. He would return to Indy racing in 1983, after he and Teddy Mayer were bought out of their positions in the new McLaren International by Ron Dennis following the 1982 season, and their Mayer Motor Racing came close to winning the 1984 title with, of all people, Tom Sneva. Meanwhile, both Rutherford and McLaren crew chief Steve Roby moved to Jim Hall's Chaparral team for 1980, where Rutherford would win the 1980 Indy 500 and the CART championship in the ground-effect Chaparral 2K.
Only one of McLaren's cars was sold prior to the 1980 season. The newer of the two M24Bs was sold to John O'Hanlon, and entered by his O'Hanlon Lil Cheaper liquor chain. The older M24B was kept by McLaren as a display car, and the one remaining M24, chassis M24-003, is believed to have been retained until later in the 1980 season when it was leased to Herb & Rose Wysard for Vern Schuppan and Pete Halsmer to drive at two races. The two ex-Penske M24s split up, the ex-Sneva 004 remaining with Walther, and the ex-Andretti 002 being sold to Tom Franz, who failed to qualify it for the 1980 Indy 500. Of the three cars with O'Connell, one M24 had been wrecked in Sneva's 1979 Indy 500 accident, a second, Ol' Hound, was retained by O'Connell as a backup for Sneva, and the newest car, believed to be M24B-003, was sold to Billy Engelhart, who made the field for the 500.
Jerry O'Connell had bought a brand new Phoenix for Tom Sneva to drive at the 1980 Indy 500, and after he safely qualified that, the team's backup M24, Ol' Hound, was hired to Vern Schuppan for $40,000. However, Sneva then wrecked the Phoenix when a tyre blew later in practice, so rather than reclaim Ol' Hound from Schuppan, O'Connell hired the ex-works M24B from John O'Hanlon for the race. Just when all seemed settled, Schuppan was unable to qualify Ol' Hound, so Sneva took over that car instead, leaving O'Hanlon feeling a little "used".
Chassis
History
Current owner
Herb & Rose Wysard of Wysard Motor ran a Wildcat Mk 2 for Vern Schuppan in Indy racing in 1979, with sponsorship from Thomas W. Barrett III. In mid-1980, Wyard is understood to have leased a McLaren M24 from McLaren, who had withdrawn from Indy racing after the 1979 season. This was raced by Schuppan at Ontario in September 1980, and then by Pete Halsmer at Phoenix.
This is thought to be the M24 that Schuppan then acquired for his own Indy project in 1981. See 'the Vern Schuppan car'.
Driven by: Vern Schuppan and Pete Halsmer. First race: Ontario Motor Speedway (R9), 31 Aug 1980. Total of 2 recorded races.
Unknown
McLaren M24s in 1981
Of the three works M24s, one had been wrecked in Sneva's accident at Indy in 1979, O'Connell's faithful Ol' Hound was sold to Tony Bettenhausen for 1981, and the one M24 McLaren had retained, M24-003, was sold to Vern Schuppan for 1981. Of the two Penske cars, Don Mergard bought Tom Franz' ex-Andretti 002 and George Walther still had the ex-Penske/Sneva 004. Of the three M24Bs, McLaren had still retained the ex-Rutherford 1978 M24B for show purposes, John O'Hanlon teamed up with Bill Tempero to run his ex-Rutherford 1979 M24B during 1981, and Billy Engelhart retained the ex-O'Connell/Sneva M24B.
Chassis
History
Current owner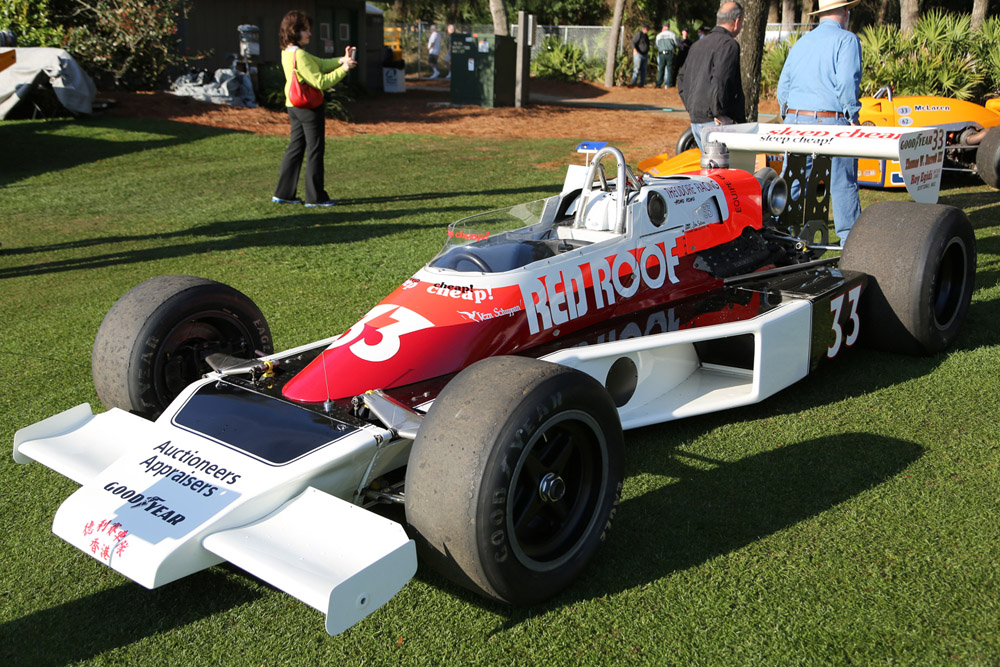 Vern Schuppan acquired a McLaren M24 from McLaren, and a single Cosworth DFX engine from Cosworth, and entered the car for the Indy 500 in 1981. The car owner was Len Immke (Columbus, OH), a car dealer and co-founder of Wendy's, and his son Jim Immke, who continued with Schuppan as he moved into team ownership. His car was described in the Hungness yearbook as being "Johnny Rutherford's back-up car in 1978", which might mean it was his unused M24B, but could also mean that it the team's last remaining 1977 car. Schuppan qualified in 18th position, and finished in a remarkable third place. He raced the car again later in the season, but soon replaced it with a new March 81C. Schuppan later sold this car to Tom Malloy, and it is now said to be chassis 003, which is consistent with it having been a 1977 McLaren team car. This car was seen at the Amelia Island Concours in 2014, immaculately restored to Schuppan's 1981 livery. On loan to the World of Speed Museum (Wilsonville, OR) in June 2016. Seen in Malloy's collection in February 2019 and in March 2022.
Driven by: Vern Schuppan. First race: Indianapolis Motor Speedway (R1), 24 May 1981. Total of 5 recorded races.
Tom Malloy (USA) 2022
McLaren M24s in 1982
The final competitive appearances of the M24 series of cars came at the Indy 500 in 1982, where three were present. Billy Engelhart was back with his ex-O'Connell/Sneva M24B, and Teddy Pilette attempted to qualify Don Mergard's Chevrolet-powered M24-002, but neither were successful. The third M24 present at the Speedway was harder to recognise, the tub from Ol' Hound having been resuscitated by Phil Krueger to repair Joe Hunt's Penske PC5. The resulting car, described as a "Krueger Penske/McLaren", was crashed heavily during qualifying, bringing the racing careers of the M24s to an end.
Unresolved McLaren M24s today
Although the histories of the McLaren M24s are by no means complete, it is now possible to sketch out the likely histories of the nine cars:
M24-001: McLaren/Rutherford 1977 - Jerry O'Connell 1978 ... Vern Schuppan
M24-002: Penske/Andretti 1977 - Walther - Franz - Mergard ... Roscoe Museum
M24-003: McLaren/Rutherford 1977-1978 - Wysard 1979 - Schuppan 1980 - Tom Malloy
M24-004: Penske/Sneva 1977 - Walther - Penske Racing Museum
M24-005: McLaren/Rutherford 1977-1978 - Jerry O'Connell 1979 - destroyed 1979
M24B-001: McLaren/Rutherford 1978-1979 ... Sotheby's 2017 ... Rob Dyson
M24B-002: McLaren/Rutherford 1979 - O'Hanlon 1980 ... McLaren Racing
M24B-003: O'Connell 1979 - Billy Engelhart 1980 - Don Devine - Jeff Urwin
Hodgdon: Warner Hodgdon 1979-1981 ...
That leaves only the Warner Hodgdon car unknown today. It also only leaves one car that exists today with no established history.
Chassis
History
Current owner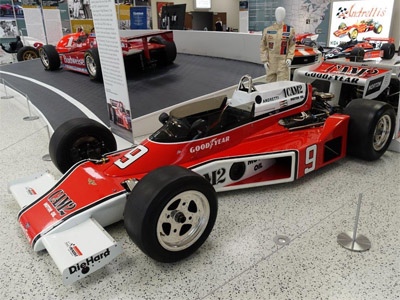 In May 2019, the Indianapolis Motor Speedway Museum hosted an exhibit featuring Mario Andretti's Indy cars. Included was a car owned by Jeff Urwin and restored to the livery of Andretti's 1977 car. This car was displayed at the St Louis Auto Show in January 2020, on loan from Jeff Urwin. It was at Rick Duman's workshop in January 2023, so presumably still owned by Urwin.
Jeff Urwin (USA) 2023
Acknowledgements
My thanks to Luis Mateus, who did much early work on these cars, Simmo Iskül, who has done his usual excellent job examining his enormous archive of photographs to find distinguishing features in the cars, Michael Ferner, and 'gbl', another colleague who prefers his valued contributions to remain anonymous. Thanks also to ex-McLaren Engines engineer Greg Denny, and to Chris Spehert, who has put a lot of work into researching these cars, and travelled to Roscoe, Illinois, in July 2020 to identify the ex-Andretti chassis 002. We are grateful for the contributions made via Facebook by former McLaren mechanic Steve Roby, and former Jerry O'Connell crew member and then H&R Racing chief mechanic Paul Diatlovich, who stripped Ol' Hound after Bettenhausen's accident at Riverside in 1981 and retained the chassis plate. Jan Shaffer's article on Ol' Hound in the 1982 MIS race program has proved very useful. Thanks also to former owner Billy Engelhart who helpfully commented on Facebook in 2013 that his old car was "M24B McLaren Cosworth S/N 003".
These histories last updated on .