McLaren M2B car-by-car histories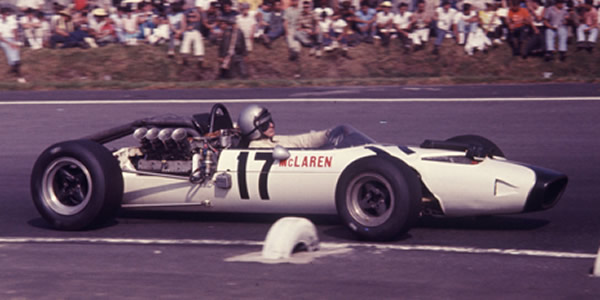 Robin Herd designed the McLaren M2B for McLaren's first season in F1, but its Ford engine was underdeveloped, and with sports car racing a higher priority for Bruce McLaren, the car was not often raced.
Robin Herd was undoubtedly a brilliant engineer. After a double first from Oxford, he worked as a design engineer on the Royal Aircraft Establishment's Concorde project at Farnborough before joining McLaren to design his first racing car at the age of just 26. He opted to use Mallite, a laminate composite material formed of end-grain balsa between two sheets of duralumin, an Aluminium-copper alloy. The material had astonishing torsional rigidity, but could not easily be formed into the double-curvature shapes then common in racing car design. Herd's first design, the M2A Firestone test car, used Mallite throughout, but the following F1 design, the M2B, only used Mallite for the internal skins and lower bodywork. A greater problem for McLaren was to find a suitable engine for the new 3-litre Formula 1, and their first choice was a modified version of Ford's quad-cam Indy car engine, which would be reduced from its normal 4.2 litres. This was catastrophic: over-valved and over-ported for this application, not to mention deafening, with an exhaust system described by Autosport's John Bolster as being "of heroic proportions", and only 300 bhp could be nursed from it. An oil leak caused Bruce McLaren's retirement from the Monaco GP, and a rethink in the engine department was clearly needed. A V8 Serenissima sports car engine was found and fitted to one of the M2Bs in time for the Belgian GP, but that ran its bearings so could not start. With Le Mans and the Ford GT40s then the priority, Bruce McLaren next aired the McLaren-Serenissima at the British GP in July, and was rewarded with an encouraging sixth place. The team then focused on getting the Ford engine to work properly, and the M2B returned at Watkins Glen in October, where Bruce again ran well, lying fourth at half-distance before finishing a place lower. The engine was now showing some promise, and McLaren qualified sixth in Mexico, but the Ford overheated during the race, dropping him out of contention. McLaren would look for simpler options in 1967.
The two M2Bs were both sold off to Ken Sheppard, and one was fitted with a 3-litre Coventry Climax 'Godiva' engine for 1968, but did not start a race. It was later modified for F5000 with an Oldsmobile engine, but an exhaust pipe fell off and it did not start then either. Tom Wheatcroft bought both M2Bs and one languished in his cellar for decades. Both have now been immaculately rebuilt by Hall & Hall.
Car
Total
Race
Starts
Grand
Prix
Starts
Grand
Prix
Wins
First Race
Present Location
2
2
United States Grand Prix
(2 Oct 1966)
United States 2017
2
2
Monaco Grand Prix
(22 May 1966)
Private Collection 2019
The Serenissima engine
Motoring News reported that the Serenissima engine fitted to the McLaren at Spa was a "3-litre V8 unit with twin camshafts per bank, two valves per cylinder, two plugs per cylinder, twin-cam-shaft-driven distributors, and four double-choke downdraught 42IDF2 Weber carburettors" and claimed approximately 290 bhp for it.
Please contact Allen Brown (allen@oldracingcars.com) if you can add anything to our understanding of these cars.
These histories last updated on .