McLaren M3A car-by-car histories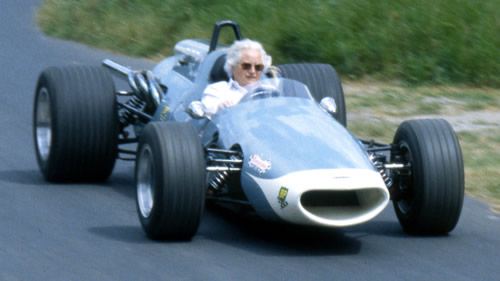 After the success of McLaren's M1A sports cars, Bruce McLaren was persuaded that the basic design could equally be used for a single-seater. The resulting McLaren M3A used Traco Oldsmobile or Shelby Ford engines and was used mainly in libre and speed events.
The M3A has become known as the "whoosh-bonk" car, after Bruce McLaren's description of the development process from his rough pencil drawings of the frame to the finished article. The first chassis was built by McLaren's genius metalworker 'Welder John' Thompson largely as an experiment and it was the second chassis that was delivered to Ron Smith for Patsy Burt of PMB Garages Ltd to drive in speed events in 1967. The prototype was sold to Swiss hillclimb specialist Harry Zweifel and embarked on a very successful career in events right across Western Europe. Both were fitted with 4.4-litre Traco-developed Oldsmobile F85 aluminium V8 engines, as used in the Group 7 McLaren M1A. A third car was later completed with a 4.7-litre Ford engine to be used by MGM as a camera car during the filming of "Grand Prix" in 1966.
The three cars led very different lives, Burt's car staying in British speed events, Zweifel's working its way around the mountains of mainland Europe and the ex-MGM car becoming one of South Africa's first F5000 cars. Burt's M3A/2 has now been sold and has appeared recently at Goodwood but the South African car was broken up and now only exists as a set of components in New Zealand. The third car remained in storage in France from 1972 until 2010.
If you can add to our understanding of these cars, or have photographs that we can use, please email Allen at allen@oldracingcars.com.
Chassis
History
Current owner
Harry Zweifel (Glarus, Switzerland) bought the first McLaren M3A, already equipped with a 4.5-litre Traco Oldsmobile V8 engine, to use in hillclimbs across Europe. His first outing is believed to have been the new course at Lorentzweiler in Luxembourg in April 1966 but such were Zweifel's travels that it may well have appeared earlier. Later in the season, he replaced the original engine with a 4960cc version and retained the car in this form for 1967. Sold to Peter Boner (Pontresina, Switzerland) and used in Swiss national events in 1968 and 1969, but now it seems with the original 4450cc engine. Then to Pierre Soukry (Strasbourg, France) and used in French hillclimbs but also in several F5000 races in 1970. Retained for 1971 but crashed by Soukry at Col de l'Aubisque in May 1971 and not seen again. Soukry replaced it with a pukka F5000 McLaren M10B for 1972, and sold the McLaren to Max Peleman (Pindères, south-western France). Max's brother François Peleman planned to use the car in hillclimbs, but this did not happen, and the car remained in storage until 2020, when it was advertised.
Driven by: Harry Zweifel, Peter Boner and Pierre Soukry. First race: Lorentzweiler, 12 Apr 1966. Total of 23 recorded races.
Max Peleman (France) 2021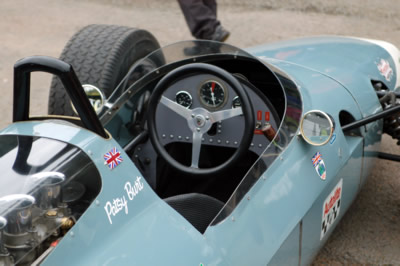 Built for Patsy Burt (Surrey) and used in hillclimb and sprint events from 1966 to 1970. As well as dozens of Ladies Awards, Burt won the Brighton Speed Trials outright in this car in 1968 and also used it to take a number of national quarter-mile and half-mile speed records at Elvington airfield, Yorkshire, in 1967 and 1968. She also competed in European events in the M3A, notably at St Ursanne-Les Rangiers, Sierre-Montana-Crans and Faucille in 1966. In 1970, she competed in the new RAC British Sprint Championship and won the title, the first woman to win a British national motor sporting title. She retired after 1970 and the McLaren was also retired and sent on loan to the Donington Museum where it remained for many decades. After Burt's death in 2001, the car was sold by Ron Smith, Burt's manager, mechanic and later husband, via H&H Auctions in November 2008. Sold to Julia de Baldanza (Cheltenham, Gloucestershire) and raced by her at Goodwood in July 2010. On display at Retromobile in February 2016. Run by de Baldanza at the Chateau Impney Hillclimb in July 2016. On display at the Chantilly Arts & Elegance in 2019.
Driven by: Patsy Burt. First race: Loton Park (R1), 23 Apr 1966. Total of 26 recorded races.
Julia de Baldanza (UK) 2019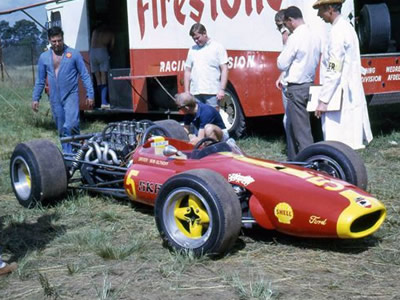 The third McLaren M3A was fitted with a 4.7-litre Ford V8 and sold to MGM to be used as a camera car during the 1966 F1 season for the film "Grand Prix ". It therefore "started" many Grand Prix during 1966, but did not participate officially in a race until 1967 when it was bought by David Bridges and raced by Brian Redman at the Easter Monday Mallory Park meeting. Then sold to Ken Shepperd and entered for Robin Darlington in libre racing through the rest of 1967 until wrecked in an accident at Silverstone in September. Remains sold to David Olthoff in South Africa and completed using parts from his McLaren M1A sports car for the new Formula A class in South African racing. Raced by Bobby Olthoff in 1968 and 1969, then reportedly sold to Fred Cowell but subsequent history unknown. Max Warwick (Australia) later acquired the M1A and got the wheels of the M3A with it. These parts went to Tony Roberts and Duncan Fox of Group 7 Sportscars Ltd (Whitford, New Zealand) who later acquired the corners from South Africa but learnt that the frame had been cut up and the tubing used for other projects. Duncan has measurements from M3A/2 for a long-term project to reconstruct the car.
Driven by: Brian Redman, Robin Darlington and Bob Olthoff. First race: Mallory Park, 27 Mar 1967. Total of 26 recorded races.
Remains with Tony Robert and Duncan Fox (New Zealand) 2014
These histories last updated on .