McLaren M7D history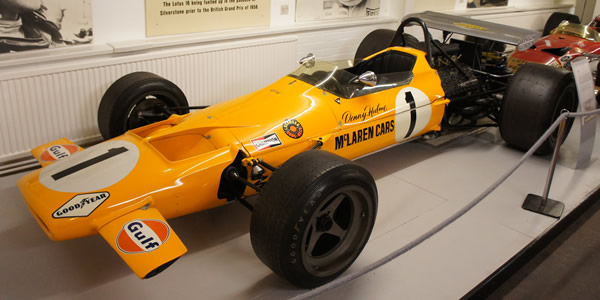 A derivative of McLaren M7A Formula 1 car built to fit the Alfa Romeo V8 engine, the McLaren M7D was only a development car, and its record in F1 was dreadful.
McLaren did a deal with Alfa Romeo's Autodelta to run a car in F1 in 1970 powered by the Alfa Romeo 33/3 V8 engine that Carlo Chiti's Autodelta had developed for sports car racing. Very few changes were made to fit the engine, which was small enough to fit neatly into the back of the McLaren chassis. Autodelta nominated Andrea de Adamich to drive, the Italian having been a regular member of Autodelta's sports racing car team in 1969 and 1970. The Tipo 33/3 was launched in 1969, having a 2993cc 90-degree V8 engine with light alloy construction, twin overhead camshafts per bank of cylinders, and four valves per cylinder. Lucas fuel injection was used in 1969, but this was replaced by a Bosch system in 1970 when it was claimed that a reliable 425 bhp was being generated, fanciful though that seems.
The M7D was ready for the Spanish GP, where de Adamich went very well in practice, and was unlucky not to start. The grid had ten places for seeded drivers and only six for the other 12 competitive cars, and de Adamich's 13th fastest time was just 0.05s too slow. At the Monaco GP, he again set the 13th fastest time but the same system left him 0.1s too slow to qualify. The new M14D, an Alfa-powered car built on a M14A chassis, was used at the Dutch GP, but de Adamich was back in the M7D at the French GP, where he qualified 16th of 20 starters to give the M7D its first race start. The race itself was not a success by any measure, as a water pipe kept coming adrift and he lost a total of nine laps in the pits. He qualified the M7D again for the British GP, but a leaking bag tank was discovered before the race and was again a non-starter. De Adamich was given the M14D back for the rest of the season. The M7D was seen once more at a GP, when Nanni Galli, another Autodelta favourite, was given the chance to try to qualify for the Italian GP, but after camshaft trouble he was last but one in practice, only 0.02s quicker than the Bellasi.
Car
Total
Race
Starts
Grand
Prix
Starts
Grand
Prix
Wins
First Race
Present Location
1
1
French Grand Prix
(5 Jul 1970)
Private Collection 2019
Autodelta's first season of Formula 1 had been hugely disappointing, partly through bad luck in qualifying, but mostly through unreliability. Despite strenuous efforts in sports car racing, there had been precious little progress in that arena either. Chiti was not discouraged by the lack of success, and planned to take his engine to the March F1 team for 1971.
McLaren advertised two M7A rolling chassis in August 1970, one with a 37-gallon tank and the other, suspiciously, with a 45-gallon tank. The latter car was sold to Tom Wheatcroft for his collection, but when his team restored it and tried to fit a Cosworth DFV, they found the engine mountings did not match. Some years later, a measurement of the fuel tank confirmed that it was indeed the M7D. The car was on display in the Donington Museum as a M7A until Tom Wheatcroft's death and remained there after its sale to a French collector.
Please contact Allen Brown (allen@oldracingcars.com) if you can add anything to our understanding of this car.
These histories last updated on .