McNamara T500 car-by-car histories
The German McNamara company produced a series of Indy cars for the STP team and its driver Mario Andretti in 1970. Although the T500 was too new to be competitive at the Indy 500, Andretti took pole in one at Milwaukee a week later and then won at Continental Divide the next month.
Following Andy Granatelli's first Indy 500 win in 1969, thanks to Mario Andretti in Clint Brawner's 1968 Hawk, a blazing row between Granatelli and Lotus boss Colin Chapman over the failure of the Lotus 64 marked the end of STP's relationship with Lotus. Granatelli would need to find a new car constructor for 1970, and there was no obvious candidate. STP's European representative was Bill Dunne, previously team manager of Eagle's recently defunct F1 operation, and he was given the task of finding somebody who already had experience of Indy car design. He found that in a rather unlikely place, the Bavarian village of Lenggries in the foothills of the German Alps, where McNamara Cars were building successful small formula cars. The company's designer was 28-year-old Jo Karasek, who had worked at Lola in England for five years on the company's successful Indy cars and on the Formula 5000 Lola T140. The company was run by Francis 'Mac' McNamara, an American expat born in Galesburg, Illinois in 1938, and raised by his grandparents in Bloomington, Indiana, just fifty miles south of Indianapolis Motor Speedway. He had been a lieutenant in the US Green Beret special forces in Vietnam, then was posted to Germany, where he left the army in May 1968 and settled in Lenggries. It was there that he founded McNamara Cars and created his first Formula Vee car, which was very successful, followed by a Formula 3 McNamara Mk 3 for 1969. Dan Hawkes designed these early cars, but after his death, Karasek joined the firm from Lola.
Granatelli row with Chapman was the only falling out after Andretti's Indy 500 win as he also fell out with Brawner and Jim McGee over the allocation of both credit and prize money and they left to set up their own operation. Andretti's chief mechanic in Indy racing in 1970 would be Vince Granatelli, Andy's brother, but just to confuse matters, Vince Granatelli Jr, Andy's son, was named as chief mechanic on the Formula 1 March 701 that Andretti would be driving with STP sponsorship in Europe.
The original plan was to build four of the new McNamara T500s: the first specifically for the new Ontario superspeedway, the second for Indianapolis, the third for short tracks, and the fourth for road courses. However, after Andretti had wrecked the first car at Indianapolis on 11 May, he raced the second car in the 500 and also at the Milwaukee Mile a week later, after which the crashed car was rebuilt for road courses and was used at Continental Divide.
If you can add to our understanding of these cars, or have photographs that we can use, please email Allen at allen@oldracingcars.com.
Chassis
History
Current owner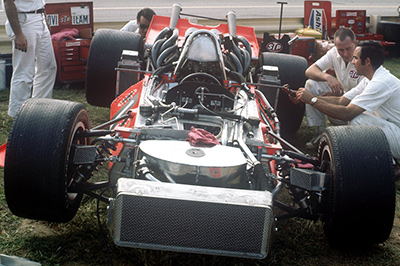 New for Mario Andretti at the 1970 Indy 500 as the #1 STP entry. The car arrived late and did not get on track until 11 May, but crashed almost immediately when a universal joint broke and Andretti used a newer car for qualifying and the race. It was rebuilt to road racing specification with a 255 ci Ford engine and used by Andretti at Continental Divide in late June, where he won. Its last known appearance was at Indianapolis Raceway Park in July, when the radiators had been repositioned from the side to the back of the sidepods. It was damaged during the race when Andretti collided with Scooter Patrick's Eisert. In 1977, McNamara loaned a number of their show cars to different institutions and a #1 car, believed to be this one, was noted as being retained at STP Headquarters. Subsequent history unknown.
Driven by: Mario Andretti. First race: Continental Divide (R7), 28 Jun 1970. Total of 2 recorded races.
Unknown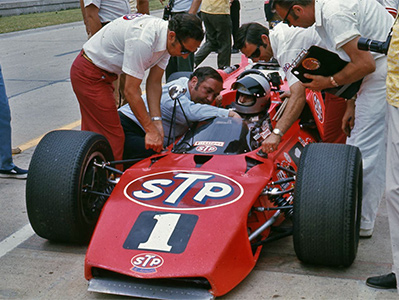 New for Mario Andretti at the 1970 Indy 500 as the #1 STP entry, replacing the car crashed during practice on 11 May. This second car got on track on Thursday 14 May, two days before qualifying began, and set times in the 166 mph range. He then qualified on the Saturday in eighth place with a speed of 168.209 mph. The car was not handling well during the race due to a jammed half-shaft and Andretti could only finish sixth. Cured of this problem, the car was "perfect" in practice at Milwaukee a week later and Andretti snatched pole position, but was pushed down during the race and finished fifth. Andretti used the repaired prototype on road courses and the old Hawk on short ovals so this car was next seen at Ontario in September, where the engine failed, then at Trenton where the suspension broke, and finally at Phoenix when he lost control of the McNamara during practice and struck the barrier on the main straight, wrecking the car.
Driven by: Mario Andretti. First race: Indianapolis Motor Speedway (R4), 30 May 1970. Total of 4 recorded races.
Wrecked 1970
New for Mario Andretti as the #40 STP entry at the Ontario's California 500 in September 1970, but arrived too late for practice. It differed from earlier cars in having a lower, flatter nose with the radiator venting through the top of the nosecone. The monocoque pontoons were lengthened either side of the engine, and the secondary radiators that had sat behind the pontoons were moved higher and further forward to sit alongside the driver's shoulders. There is no sign of this car again in 1970 or in 1971, but it is possible that it was the heavily modified car used as a backup at the 1972 Indy 500.
Driven by: Mario Andretti. First appearance: Ontario Motor Speedway (R12), 6 Sep 1970.
Unknown
Later appearances by McNamara T500s
McNamara produced a completely new design for 1971, the McNamara T501, so the 1970 T500s were not expected to be used again. However, when the relationship between STP and Andretti became so strained after the 1971 Indy 500 that Andretti and his chief mechanic Jim McGee were effectively running an independent STP-sponsored operation, the Granatellis initially bought Grant King's team to run as STP's #20 and #40 entries, and then looked again at the older McNamara T500s as a potential additional #60 entry. One of the older cars was rebuilt and fitted with a Plymouth-Weslake engine, quite possibly the same car that had been used with a Gurney-Weslake engine in 1970. Unfortunately, it did not last many laps, being wrecked at Ontario on its first day of practice.
In 1972, the Granatellis again returned to one of the 1970s McNamara T500s and reworked its aerodynamics to act as a backup car at the Indy 500. The car only got on track after STP's Lola T270 was wrecked and proved far too slow to qualify.
Chassis
History
Current owner
In mid-August 1971, STP tested a "new, specially designed McNamara chassis" at the IMS fitted with a 318ci Plymouth V8 engine, the same powerplant the team had used in 1969. Photographs show that it was a 1970 McNamara 500. Jim Malloy was slated to drive the car in the Tony Bettenhausen 200 at Milwaukee on 15 August as the #60 STP entry but the oil tank split when the engine was fired up and it did not get on track. Three weeks later at Ontario's California 500, the driver of the #60 was John Cannon, a road racing specialist who was yet to qualify for an oval Indy race. Soon after arriving for practice, the Canadian lost control of the car in Turn 1 and spun into the wall. Team director Vincent J. Granatelli determined that the car was too badly damaged to be repaired.
Driven by: Jim Malloy and John Cannon. First appearance: Milwaukee Mile (R9), 15 Aug 1971.
Wrecked 1971
The STP team had a McNamara with Ford engine as its #20 entry at the 1972 Indy 500. The car had completely redesigned bodywork bearing little relation to its 1970 appearance, but its 1970 outboard suspension appeared unchanged. The bodywork was inspired by the team's new Lola T270, with straight high sides channeling air to main radiators on top of the sidepods at the rear of the car, and vertical vanes on the nose. It was not used at first during practice as the team focused on the new #40 Lola T270 for Art Pollard, but after Pollard crashed on 16 May, the McNamara was prepared and tested for the first time by Dick Simon late on the afternoon of Friday 19 May, just two days before final qualifying. Andy Granatelli's brother Vince Granatelli announced plans to qualify the "two-year-old" McNamara in place of the wrecked Lola, which Pollard had already qualified. Jigger Sirois tried the car on Saturday, lapping in the region of 166 mph, but in a year when the quickest cars were recording 191 mph and all the 33 qualifiers would beat Peter Revson's 1971 track record of 178.7 mph, that would be nowhere near enough. STP then took a share in Page Racing's 1970 Eagle to ensure STP had some representation in the field. Bob Harkey also drove the McNamara but after Jerry Karl blew the Ford engine on Sunday, the car was withdrawn and STP focused on getting the #40 Lola repaired. It was the last appearance of a McNamara at an Indy race. In 1977, McNamara loaned a number of their show cars to different institutions and this car, restored back to its bodywork on 19 May, was noted as being retained at STP Headquarters. Subsequent history unknown. At some point the car was acquired by Jim Gilmore and was repainted in Gilmore Foyt #14 livery as a show car. It was sold at one of the Gilmore Estate auctions to Bob McConnell (Urbana, OH). Sold by McConnell to Tony O'Neill (Piltdown, East Sussex) in May 2022.
Driven by: Bob Harkey, Jerry Karl, Jigger Sirois and Dick Simon. First appearance: Indianapolis Motor Speedway (R3), 27 May 1972.
Tony O'Neill (UK) 2023
How many McNamara T500s were built?
Although five cars are shown here, it is likely that these only represent three separate entities. The first T500, which we can call '1', was the one Andretti crashed in practice for the Indy 500 and this was replaced with a second T500 ('2') that was Andretti's car for much of the season until it was wrecked in practice for the final race. A third T500 ('3') appeared at the Ontario 500 but was late arriving from Germany and did not get on track. Meanwhile, '1' had been rebuilt after Andretti's accident and was used successfully on road courses. The V8 engine in this car hints that it may have been the car the Granatellis brought out briefly in August 1971, only for it to be wrecked at Ontario. That may have left only the Ontario car ('3') in one piece, suggesting that it was the car revamped for the 1972 Indy 500.
In 1977, STP loaned or donated 19 or 20 of their show cars to various institutions. Three McNamaras were listed at that time, and two of those appear to have been T500s, one in largely original specification and the other apparently the rebodied 1972 car. Both were then shown as being retained at STP Headquarters, then in Fort Lauderdale, Florida, but later moved 20 miles north to Boca Raton. This headquarters closed after STP was purchased by Union Carbide Corp in July 1985, and the fate of the remaining show cars is unknown.
Sources
My thanks to 'Mac' McNamara for his recollections, to marque expert Prof Dr Peter Schroeder, to Simmo Iskül and 'gbl' for their help identifying the McNamaras used by STP between 1970 and 1972, to Indy Museum curator Jason Vansickle for information on the STP show cars, and to Brad Edwards of First Turn Productions, Motor Trend Group and Walter Wible for the use of their photographs. There is a detailed article on McNamara and the T500 in Motoring News 22 Jan 1970 p9. Prof Dr Peter Schroeder's book 'McNamara Racing' (published by VIEW GmbH, Bonn, 2015; ISBN 978-3-945397-03-9) is highly recommended and tells the story in more detail and with greater insight than can be told here.
If you can add to our understanding of these cars, or have photographs that we can use, please email Allen at allen@oldracingcars.com.
These histories last updated on .