Mongoose 1967 Indy car-by-car histories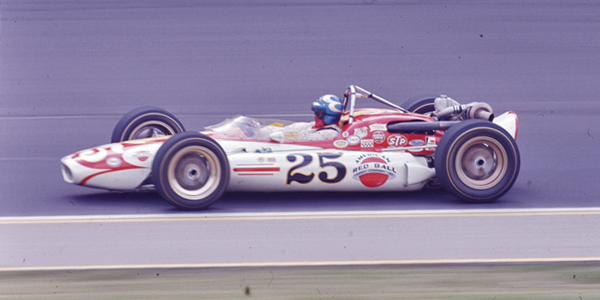 Dave Laycock's first Indy car was based on a F1 Brabham BT11 that had been bought by Gene White to be copied. Four were built and Lloyd Ruby won first time out in Gene White's own car.
After the success of Mario Andretti's Hawk in winning the 1965 and 1966 USAC championships, the Brabham design on which the Hawk was based was seen in Indy circles as potential Lotus-beater. Gene White was a major Firestone dealer and set up an Indycar team for 1967 with Firestone's backing. After an idea that he would get cars direct from Brabham fell through, White bought a three-year-old F1 Brabham BT11 and gave his new chief crew Dave Laycock the job of copying it in time for the first race of the season. The first car to be completed was sold to Vel Miletich but the second was completed just in time for the season opener at Phoenix in April where driver Lloyd Ruby took pole position and led every lap in the unpainted Mongoose. Despite suggestions that the new car had a "GW" chassis designed by Gene White, Competition Press was under no illusions. CP's USAC Editor Dave Overpeck described the car as "a Brabham chassis by Indianapolis mechanic Dave Laycock" and "virtually identical to the Clint Brawner-built machine Mario Andretti drove to two straight national titles". Unlike the monocoque designs from Lotus, Lola and Gerhardt, the Mongoose-Brabham was a spaceframe chassis with symmetric suspension which was believed to give these cars greater flexibility and better traction.
Four cars were built in time for the Indy 500: two for Gene White's team; one for the new team formed by California car dealer Velko "Vel" Miletich and former 500 winner Parnelli Jones; and a fourth for GCR Racing, a team set up in 1966 by astronauts Gus Grissom and Gordon Cooper, and another former 500-winner Jim Rathmann. If you can add anything to these histories, please contact Allen Brown (allen@oldracingcars.com).
Chassis
History
Current owner
Acknowledgements
This history is a result of the collaborative research of Allen Brown, Michael Ferner, Luis Mateus, Gerry Measures, Simmo Iskül and others.
These histories last updated on .