Mongoose 1967 Indy car-by-car histories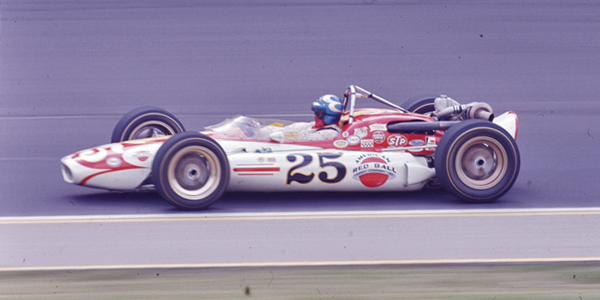 Dave Laycock's first Indy car was based on a F1 Brabham BT11 that had been bought by Gene White to be copied. Four were built and Lloyd Ruby won first time out in Gene White's own car.
After the success of Mario Andretti's Hawk in winning the 1965 and 1966 USAC championships, the Brabham design on which the Hawk was based was seen in Indy circles as potential Lotus-beater. Gene White was a major Firestone dealer and set up an Indycar team for 1967 with Firestone's backing. After an idea that he would get cars direct from Brabham fell through, White bought a three-year-old F1 Brabham BT11 and gave his new chief crew Dave Laycock the job of copying it in time for the first race of the season. The first car to be completed was sold to Vel Miletich but the second was completed just in time for the season opener at Phoenix in April where driver Lloyd Ruby took pole position and led every lap in the unpainted Mongoose. Despite suggestions that the new car had a "GW" chassis designed by Gene White, Competition Press was under no illusions. CP's USAC Editor Dave Overpeck described the car as "a Brabham chassis by Indianapolis mechanic Dave Laycock" and "virtually identical to the Clint Brawner-built machine Mario Andretti drove to two straight national titles". Unlike the monocoque designs from Lotus, Lola and Gerhardt, the Mongoose-Brabham was a spaceframe chassis with symmetric suspension which was believed to give these cars greater flexibility and better traction.
Four cars were built in time for the Indy 500: two for Gene White's team; one for the new team formed by California car dealer Velko "Vel" Miletich and former 500 winner Parnelli Jones; and a fourth for GCR Racing, a team set up in 1966 by astronauts Gus Grissom and Gordon Cooper, and another former 500-winner Jim Rathmann. If you can add anything to these histories, please contact Allen Brown (allen@oldracingcars.com).
Chassis
History
Current owner
Mongoose 67
'the Gene White #25 car'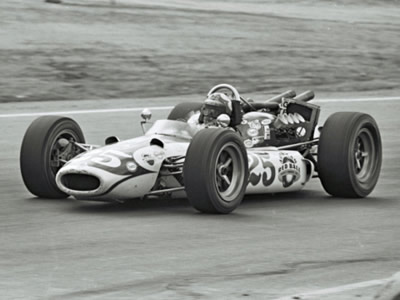 One of two of the new 1967 Dave Laycock Mongoose cars retained for the Gene White team and entered as the #25 for Lloyd Ruby. First raced at Phoenix in April when it had not even been painted and won the race. Thereafter the #25 American Red Ball entry for Ruby using both Ford and Offy engines. Retained for Ruby for the first few races of 1968 before becoming the #6 entry for Bobby Grim at the 1968 Indy 500. Rebuilt with a Chevrolet stock block engine and next seen as Gene White's #52 Wynns entry for Charlie Glotzbach at the 1969 Indy 500. Glotzbach did not attempt to qualify. Last raced as Ruby's Chevrolet-engined car at the Indianapolis Raceway Park road circuit in July 1969, the distinctive twin scoops on the nose of the car being visible in photographs. Subsequent history unknown.
Driven by: Lloyd Ruby, Bobby Grim and Charlie Glotzbach. First race: Phoenix International Raceway (R1), 9 Apr 1967. Total of 21 recorded races.
Unknown
Mongoose 67
'the Vel's Parnelli #26 car'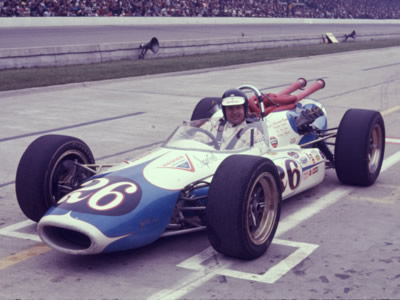 New to Vel Miletich and Parnelli Jones' new team where it was built up by chief crew George Morris and fitted with a Ford V8. Entered for George Snider as the #26 Vel's Ford Sales car at Phoenix in April 1967. Acquired Wagner Lockheed Brake Fluid backing for the Indy 500 (where Lloyd Ruby relieved Snider after 17 laps) and then became the #20 entry after Indy for Arnie Knepper. Knepper was badly burnt at Langhorne in an accident that severly damaged the team's backup Lotus 34, and was out of racing for several months. Joe Leonard was recruited to drive the Mongoose for the rest of 1967. George Morris built a new copy of the 1967 Mongoose for 1968 as their #9 entry but photographs show that the original Mongoose was the team's #29 car at the 1968 Indy 500 for George Snider. It then evidently became the #9 entry for Leonard and John Cannon later in the season. Then remained with the Vel's Parnelli team until 1998 when it was sold at auction, still in its 1968 livery, still wearing #9, and with decals on the side of the car that were an exact match for the Mongoose's last race at Riverside in 1968. The car was sold to Bob McConnell (Urbana, OH). Still in McConnell's collection in October 2014. On display at the Historic Indycar Exhibition in May 2016.
Driven by: George Snider, Lloyd Ruby, Frank Secrist, Arnie Knepper, Joe Leonard and John Cannon. First race: Phoenix International Raceway (R1), 9 Apr 1967. Total of 19 recorded races.
Bob McConnell (USA) 2016
Mongoose 67
'the Gene White #52 car'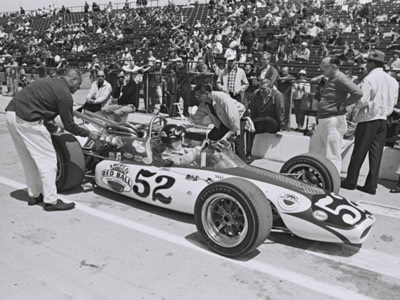 One of two of the new 1967 Dave Laycock Mongoose cars retained for the Gene White team and entered as the #52 American Red Ball car for Lee Roy Yarbrough. Yarbrough topped 160 mph in practice for the 1967 Indy 500 but crashed on 12 May causing "extensive damage" to the car. It was not seen again and is not believed to have survived.
Driven by: Lee Roy Yarbrough. First appearance: Indianapolis Motor Speedway (R3), 31 May 1967.
Wrecked 1967
Mongoose 67
'the Astronauts car'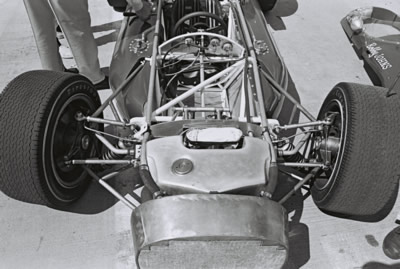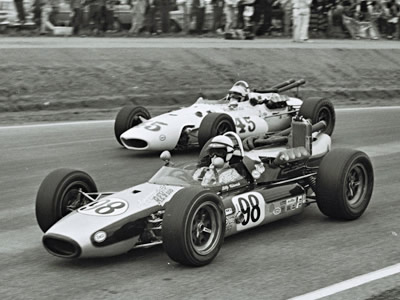 New to the G. C. R. team managed by Jim Rathmann and backed by two US astonauts. Entered as the #71 at the 1967 Indy 500 but crashed in practice by Bobb Johns. Reappeared as Milwaukee later in the year as the #76 for Gary Congdon when it had been converted from Offy to Ford power. Then sold to J.C. Agajanian and entered as the #98 Agajanian REV 500 for Billy Vukovich at Riverside at the end of the season. Retained as the #98 entry for Vukovich through 1968 except at the Indy 500 where it was the #97 entry for Gary Bettenhausen. Retained again for 1969, again as the #98 for Vukovich when it was used with Ford, Offy and Chevrolet engines. Retained again for 1970 but now as the #97 entry as the Agajanian team had a new Wolverine car as the #98. It appeared yet again in the middle of 1971, when it was raced twice by John Martin as the team's #97 entry. Then unknown until it was bought from Bob Jongbloed by an unknown owner as a "Brabham" but still wearing a USAC registration tag '71 - 97'. Identified by Dave Laycock from photographs as a 1967 Mongoose. Sold it 2012 to Butch Gilbert (Westley, CA) who started a restoration of the car to its 1969 livery. Gilbert died before the car could be completed, and his widow Sharon Gilbert sold it to Mike Moss in 2017. Mike plans to fit an Offy engine, and complete the restoration to its 1969 livery.
Driven by: Bobby Johns, Gary Congdon, Billy Vukovich, Gary Bettenhausen, Bruce Walkup, Johnny Parsons Jr, Ralph Liguori and John Martin. First race: Milwaukee Mile (R14), 20 Aug 1967. Total of 32 recorded races.
Mike Moss (USA) 2017
Acknowledgements
This history is a result of the collaborative research of Allen Brown, Michael Ferner, Luis Mateus, Gerry Measures, Simmo Iskül and others.
These histories last updated on .