Morris 1968 Indy history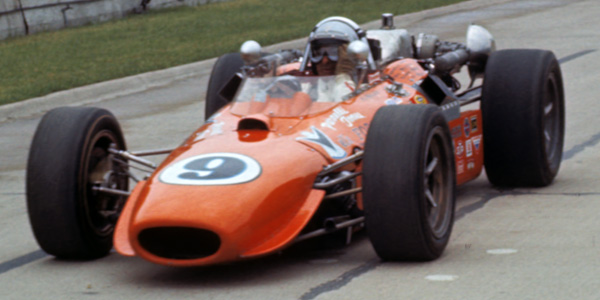 George Morris was chief crew for Vel Miletich and Parnelli Jones' new team in 1968, when he built a copy of the team's 1967 Mongoose for driver Joe Leonard to race in 1968. The car was soon abandoned and Parnelli Jones acquired a Lotus 56 for Leonard to drive instead.
George Morris was a native of Louisville, Kentucky, and moved to Indianapolis in 1954 as a 23-year-old to be a racing driver, but met with little success and as a father of nine, had to take work as a mechanic to make ends meet. His first time as a crew chief at the Indy 500 came in 1966 when he was chief mechanic for George Walther's Dayton Steel Wheel team that had entered a Gerhardt for Carl Williams, and then he moved for 1967 to the new team set up by Vel Miletich of Vel's Ford Sales in Torrance, California. Miletich did a deal with the Gene White team to get one of the new Brabham-copy Mongoose cars that White's chief mechanic Dave Laycock was building, and Morris worked with Laycock to build up those cars. The Mongoose was run initially for George Snider, but later for Arnie Knepper and then for Joe Leonard. An older Lotus 34 was also in the stable for some short track races, but the Mongoose proved very effective, Knepper and Leonard posting a string of top-six finishes.
Morris remained crew chief for the team in 1968 when Miletich teamed up with Parnelli Jones, and Morris built up a copy of the Mongoose for the new season. Leonard drove this new 'Morris 68' in the first few races of the season as the team's #9 entry. Jones had retired from championship racing by this time but he still raced at the 500, and had nearly won in 1967 in Tony Granatelli's 'STP Turbocar' turbine. Rule changes had strangled that car, so a disillusioned Jones dropped out during practice at the 1968 Indy 500, offering Leonard to Granatelli as his replacement. Leonard promptly crashed the turbine, but Granatelli offered him a drive in one of the STP Lotus 56s, as a replacement driver was needed after Mike Spence had been killed. All this manoeuvring left the new Morris without a driver, so Al Miller took over the drive, but did not make an attempt to qualify.
Leonard went back to driving for the Miletich/Parnelli team after the Indy 500, but photographs show that he raced the 1967 Mongoose at Mosport in June. Parnelli then acquired a Lotus 56 from STP, and Leonard drove that for the rest of the season. For 1969, Morris was replaced as chief mechanic by George Bignotti, as Jones and Miletich took over the Bignotti operation with their modified Lola T150s and ace driver Al Unser. Both the 1967 Mongoose and the 1968 Morris copy were retired from competition and remained in storage with the VPJ team for many years until an auction in 1998 where one of them was sold. The car sold appears to have been the Mongoose, after which the Morris was restored for the VPJ Collection museum by Phil Reilly into the #26 livery used by the Mongoose in 1967. The whole VPJ Collection was acquired by the Indianapolis Motor Speedway Museum in 2012, and the Morris is believed to be in storage in the basement.
Chassis
History
Current owner
New for Joe Leonard to drive for Vel Miletich and Parnelli Jones at the start of 1968 as the #9 Vel's Ford Sales entry. It was believed to be the car used by Leonard at Hanford, Stardust International, Phoenix and Trenton, but photographs have now established that the team's older Mongoose was used all of these races. After Leonard moved to the STP team, the Morris was driven by Al Miller in practice for the Indy 500 but he did not start a qualifying run. It was not seen again that season. It was retained by the team until their surplus material was sold at auction in 1998. Photographs from the auction clearly show that the Mongoose was sold off, so it appears that the car retained in the VPJ collection and restored as their 1967 Mongoose was actually the Morris. Acquired with the rest of the VPJ collection by the Indianapolis Motor Speedway Museum in May 2012. Presumably sold with the rest of the VPJ collection to the Indianapolis Motor Speedway Museum in May 2012.
Driven by: Joe Leonard and Al Miller. First race: Hanford Motor Speedway (R1), 17 Mar 1968. Total of 3 recorded races.
Indianapolis Motor Speedway Museum (USA) 2012
Acknowledgements
Information on the Morris cars is remarkably sketchy, and many thanks to Michael Ferner for initially decyphering its existence, and to Gerry Measures and Jerry Entin for background information, and to Simmo Iskül and 'gbl' for their asistance understanding its racing record. And thanks to Brad Edwards at First Turn Productions LLC for the photograph. The restored car was featured in the book The Cars of Vel Miletich and Parnelli Jones by Jim Dilamarter and Ren Wicks Jr., published by Dalton Walton Fine Books in July 2013, but that book states clearly that it is the Mongoose.
These histories last updated on .