Parnelli VPJ4 car-by-car histories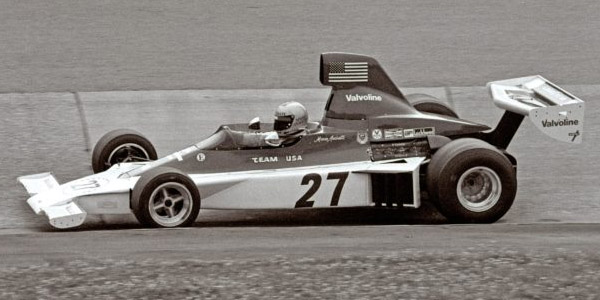 After achieving success in Indy racing, Parnelli Jones and Vel Miletich moved into F1 in late 1974. Despite some early success, the team was unable to find sufficient sponsorship and withdrew after 18 months.
Vel Miletich was a very successful Ford dealer in Torrance, California, and a long-time friend of Indy 500 racer Rufus Parnelli Jones. A significant part of Jones' income came from testing Firestone tyres, and he formed a company with Miletich to sell Firestone's road tyres, beginning a very important and highly lucrative relationship. The pair also set up their own Indy team in 1968, running a Mongoose at first, then a Lotus 56, and then buying John Mecom's former operation for 1969, which included driver Al Unser, chief mechanic George Bignotti, and a pair of Lola T150s. Bignotti built new "Colt" variants on the Lola theme for 1970 and 1971, after which Parnelli hired Team Lotus designer Maurice Philippe to create a new car, named the Parnelli VPJ1, for the 1972 season. In 1974, after three generations of Parnelli Indycars, the team embarked on a Formula 1 project, with Philippe designing the Parnelli VPJ4 as a development of his Lotus 72 concept, which was still highly successful. The car was slim and light, with a wedge shaped monocoque, chisel nose and radiators at the rear of the sidepods. Torsion bar suspension and inboard brakes were used all round. Mario Andretti would drive the F1 car as well as the team's Eagle Indycars and F5000 Lola T332. Before the car even raced for the first time, Firestone announced its withdrawal from Indy racing and major formula racing, removing a significant part of Parnelli's budget. Brown & Williamson remained as title sponsor through their Viceroy tobacco brand.
The VPJ4 made its debut at the Canadian GP in 1974, Andretti qualifying 16th after various teething problems, and running well in the race to finish seventh, just a quarter of a second outside the points. At Watkins Glen for the US GP two weeks later, Andretti was fastest of all after the first qualifying session, a magnificent performance by the team and its new car. After an accident in the second session, he lined up third on the grid but the Parnelli wouldn't start, and although he eventually got away from the grid, he was disqualified for outside assistance.
The team only ran a single car in 1975, and tried using old Firestone rubber at the opening race before swapping to Goodyears. Andretti finished seventh in Brazil, again narrowly missing out on the points, then qualified very well in sixth place in South Africa, and then qualified fourth in the abortive practice session in Spain. The race at Montjuich Park turned out to be a catastrophe, but Andretti was second in the early laps, and then led after James Hunt's Hesketh spun off, spending nine laps in the lead before its suspension gave way as the result of an earlier collision. After retiring early in Monaco and then skipping the Belgian GP to do the Indy 500, Andretti finally got his first points in the Parnelli when he finished a well-deserved fourth in Sweden. More points followed with fifth place in the French GP, but the Parnelli was now only able to qualify in mid-grid, and that was the team's last good finish. A modified car arrived for the US GP in October, with a revised nose and new rear suspension gemometry which included replacing the torsion bars with coil springs, as Lotus had done mid-season on the Lotus 72E. Andretti qualified fifth in this car but a rear suspension bracket broke early in the race.
After toying with the idea of a Formula 5000 car at the start of 1975, Parnelli had built an Indy version of the VPJ4, numbered VPJ6, which used a turbocharged 2.6-litre version of the Formula 1 engine. This was used by Al Unser at the Indy 500, but only in practice, and in July Parnelli fired Philippe, who had been on the receiving end of particularly barbed criticism from Unser, and then closed down the Indy team after the Pocono 500. Andretti and Unser continued to race Viceroy-backed Lolas in F5000, and the F1 team also continued, but without Firestone's money, budgets were tight. The F1 project was almost abandoned when Viceroy withdrew their sponsorship in October 1975, but in February 1976, Miletich decided to try again, and a completely revised VPJ4B was rushed out to the South African GP, the 'B' specification featuring coil spring suspension all round. Andretti retired once again, but he had run as high as eighth during the race. The same car was used at the Long Beach GP, but Andretti could only qualify 15th and after the car again retired early, the project was finally brought to an end. Andretti moved to Europe full time, and joined the Lotus F1 team, which proved a good choice. Philippe freelanced for a couple of years before joining Tyrrell and designing the Tyrrell 008. Parnelli regrouped very effectively by employing a junior McLaren engineer called John Barnard as their new designer to join ex-Lola team manager Jim Chapman and ex-McLaren chief mechanic Hughie Absalom, and entered Barnard's VPJ6Bs for Al Unser in Indy racing and a Lola T332 for him in F5000, the veteran winning races in both categories in 1976.
All three VPJ4s remained with the Parnelli Jones operation for many years. The first chassis has been on display at the Indianapolis Motor Speedway Museum, and the third car was sold and has been used regularly in historic racing.
These histories last updated on .