Peat-Lola 71 history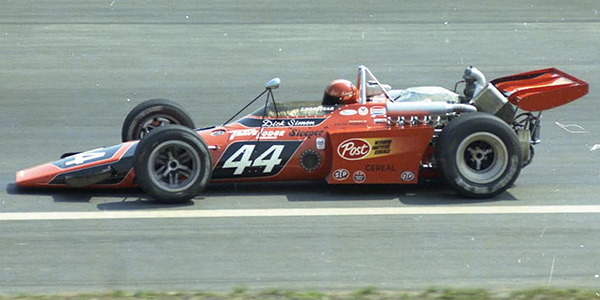 Built during 1971 for Dick Simon by Wally Peat, the Peat-Lola was Simon's regular Indy car during 1972, and then moved into supermodified racing, where it ran successfully well into the 1980s.
After a successful season of Formula A in 1969, Salt Lake City's Dick Simon turned to Indy racing after the SCCA season finished, and appeared at three races for Rolla Vollstedt's team. Although he was unable to start any of those three races, Simon bought the team's 1967 Vollstedt chassis and raced it through the 1970 season, picking up some impressive results, the most notable of which was a fortuitous third-placed finish at the 1970 California 500 at Ontario, where much of the field retired. He ended the season in a remarkable tenth place in the USAC points table, entitling him to run as #10 in 1971, and attracted sponsorship from TraveLodge, a budget motel chain. Simon moved into 1971 with mechanics Fred Sewall and Wally Peat, plus engine builder Keith Randol, working from Simon's base in Salt Lake City. Peat, a former Shelby fabricator, moved to Simon from the Vel's Parnelli Jones team, where he had worked on Al Unser's Colt, a car built by the VPJ team but copied from the 1968 Lola T150. To take advantage of Peat's knowledge, Simon bought a Lola T150 for 1971 from Roger Penske, previously Mark Donohue's backup at Indy in 1970, and Peat started work building a new car, to be called the Peat-Lola. The monocoque followed Lola principles, and it is said that this was fabricated for the team by two Englishmen, ex-Lola Can-Am mechanic Jim Chapman and ex-Lotus Indy mechanic Mike Underwood, but this was not acknowledged in press reports.
The new car was not ready until the California 500 at Ontario in September 1971, by which time it had a long nose, with radiators at the sides, as they were on the Colts, but given the rapid advances in aerodynamic practice during that 1971 season, the car had a McLaren M16-style rear wing instead of the side ramps of the Colt, and small wings on either side of the nose. He qualified comfortably but retired early from the race. The car was next used in early 1972, now with an even longer nose and its radiators housed in boxy sidepods. Simon used the car through most of the 1972 season, but results were not good, and he ordered one of the new 1972 Eagles from AAR, which arrived in time for the last race of the season. The Peat-Lola was sold to Tom Frantz, who used it in supermodified racing and then in a low-key season of Indy racing in 1975. The car was then used in supermodified racing at Bonneville circuit in Utah into the early 1980s.
If you can add to our understanding of this car, or have photographs that we can use, please email Allen at allen@oldracingcars.com.
Chassis
History
Current owner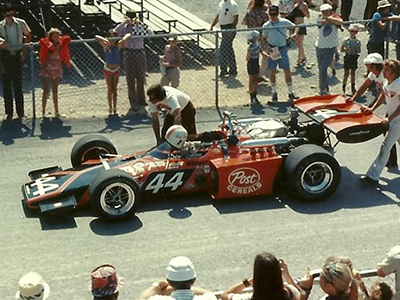 Built by Wally Peat for Dick Simon (Salt Lake City, UT) and first appeared at the Ontario race in September 1971 as the #10 TraveLodge Sleeper Special. Raced by Simon through 1972 until he acquired a new Eagle near the end of the season. The Peat-Lola was then sold to Tom Frantz (Littleton, CO) who entered it for the 1973 Indy 500 for Bruce Jacobi to drive, but was turned away. After using the car in supermodified racing, Frantz returned to Indy racing with the car in 1975 as the #96 Spirit of Idaho entry, using a Chevrolet engine. He may then have driven it briefly in 1976, but photographs found so far indicate that his #72 Custom Motor Home entry was an Eagle-Foyt. The next few years of the Peat-Lola's life are unknown, but by June 1980 it had been modified by Keith McArthur, to use in supermodified racing at Bonneville Raceway Park's ⅓-mile oval, "chopping" the chassis and modifying the aerodynamics. In July 1980, after McArthur had tested it a few times, it was acquired by Kent Knowley, Marc Sullivan and Wes Brunner Sr for Brunner's son, Wes Brunner Jr to race, and he quickly came to dominate local Salt Lake Valley Racing Association events. Brunner crashed the car heavily in early July 1981, but it was rebuilt by Knowley and Sullivan, and raced again in August. Brunner continued to race the car in 1982. After Brunner died in early 1984, the car was raced for Knowley and Sullivan by Jeff Nish, who set a new track record of 15.074s at BRP in May 1984. Its subsequent history is unknown, but some years later the car was acquired by Duncan Fox. At that time, it carried the name of Beehive Bail Bonds, owned by Gary Walton in Salt Lake City, suggesting it had remained in the Salt Lake area to the end of its racing career. Fox removed the engine and gearbox, and sold on the rest of the car.
Driven by: Dick Simon, Bruce Jacobi and Tom Frantz. First race: Ontario Motor Speedway (R10), 5 Sep 1971. Total of 14 recorded races.
Unknown
Acknowledgements
The Peat-Lola is a particularly poorly-known Indy car, with no reference made to it at all in many reference works. Tom Brown, a journalist with Salt Lake City's Deseret News, regularly followed Dick Simon's press announcements, and his stories have been a useful source, notably Fri 25 Dec 1970, which noted that Simon's Lola T150 was Donohue's backup car at Indy in 1970, 25 Feb 1971, 23 Aug 1971 and 27 Aug 1971. Dick Rosetta in The Salt Lake Tribune was also a useful source, particularly his articles on 30 May 1971, 1 July 1971 and 7 Mar 1972. Rosetta's articles were again a good source ten years later when Kent Knowley owned the car and it was raced as a supermodified.
Thanks also to Luis Mateus, Michael Ferner, Simon Hadfield, Simmo Iskül, Duncan Fox and Mike Lashmett for their input.
These histories last updated on .