Pygmée MDB17 car-by-car histories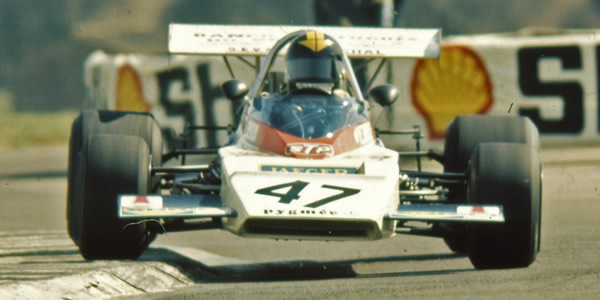 The 1972 Pygmée MDB17 was very similar to the 1971 MDB16, differing in detail only. Three cars were run as part of an ambitious Brazilian-financed English-based operation, but despite some early promise, it ended very badly.
Mike Earle had made his name as a team manager running Church Farm Racing in the late 1960s with patron Bernard 'The Colonel' Hender, driver Derek Bell, who was Hender's stepson, and ace mechanic Ray Wardell. When Bell was poached by Ferrari, Peter Gethin joined the team and Church Farm won the 1969 British Formula 5000 series. For 1972, Earle and Rodney Banting formed Banting & Earle Racing Team (BERT), doing a deal with the Pygmée team in Annecy, France, to run three new Pygmée MDB17s in the Formula 2 championship. The money for this deal was to come from Banco Português do Brasil, who were paying for drives for the highly-rated Brazilian Carlos Pace - also racing for Frank Williams in F1 - and another less well known Brazilian called Lian Duarté, who had been winning local races in a Porsche 910. Patrick Dal Bo, son of constructor Marius Dal Bo, would also drive of course.
The team's first race was at Thruxton, and Pace was a revelation, equalling the pole position time in practice for Heat 1 despite a broken spark plug cutting short his session. He took the lead on lap two of the heat and set a new lap record as he quickly established a commanding lead. Just three laps from the end of the heat, the Pygmée's engine started to misfire as it failed to pick up the last of its fuel, and he pulled up just two laps from the end. In the final, he went off onto the grass at the start, and collected Duarté, putting them both out. Dal Bo rescued the weekend with a fourth-place finish. Pace was again very fast at Hockenheim, and just as he was closing on the leader near the end of Heat 1, the Pygmée's BDA failed - the team's third engine failure of the weekend. With no time between the heats to change engine, not one MDB17 started Heat 2. Pace then had to fly home to Brazil, after the death of his father, and would not rejoin the team until July.
Dal Box qualified in an excellent fourth place at the Nürburgring at the end of April and ran in second place in the early stages before going off and badly damaging his car. Duarté damaged his car at the same race, in a first lap pile-up, incurring serious damage to the monocoque, and he was allowed to take over Pace's car. Behind the scenes, problems had already started, with disputes over the quality of the engines being rebuilt by Pygmée's engine shop in France, and also problems with the sponsorship money from Brazil. The upshot was that Pygmée reclaimed the Brazilians' two cars, and BERT continued to run one car for Dal Bo. Pace moved to the Surtees F2 team and took over John Surtees' usual Surtees TS10, which he immediately put on the front row at Enna in August and once again led until his engine failed. Later on in the year, the ex-Pace MDB17 was loaned to Jean-Louis Lafosse, but engine problems meant he could not even start.
If you can add to our understanding of these cars, or have photographs that we can use, please email Allen at allen@oldracingcars.com.
Chassis
History
Current owner
The fate of the MDB17s
Of the four MDB17s, only one was seen in 1973: the ex-Dal Bo car in the hands of the perennially under-financed Georges Schäfer. The factory produced new MDB18s for Migault and Patrick Dal Bo to race in F2 in 1973, using chassis and suspension identical to the MDB17 but with new Alpine-inspired bodywork drawn up by Dal Bo, and also produced a new lightweight MDB18L for Denis Rua to use in hillclimbs. The remaining two works MDB17s later went to Marc Regal, and he used one of those in hillclimbs with MDB18 bodywork in 1975.
The mystery cars
Chassis
History
Current owner
In 1979, Georges Bastit drove a Pygmée in the 1600cc class of French hillclimbs. His car was twice identified as a Pygmee MDB17. He raced in the Midi-Pyrénées and Languedoc-Roussillon regions (now both Occitanie) in the south-west of France. Nothing more known.
Driven by: Georges Bastit. First race: Valflaunès, 18 Mar 1979. Total of 5 recorded races.
Unknown
In addition to the above, an unknown Pygmée MDB17 was driven by Martel.
Please contact Allen Brown (allen@oldracingcars.com) if you can add anything to our understanding of these cars.
Acknowledgements
Much of the material in these histories is from period reports, Autosport, Motoring News and Sport Auto for Formula 2, and Echappement for courses de côte. However, a huge amount of research has been done on this subject by Didier Martin and Gérard Gamand, and a large part of what is known about the cars, and subsequent histories of each car, comes from their books on Pygmée. Didier's book Les Monoplaces Pygmée was published by Editions du Palmier in October 2002, and Gérard's Pygmée 1965-1973 was published by Autodiva in 2009. Both are highly recommended. Both Didier and Gérard post regularly on Gérard's Autodiva forum, where a very active thread on the subject of Pygmée is another regular source of new information.
These histories last updated on .