Rebaque HR100 history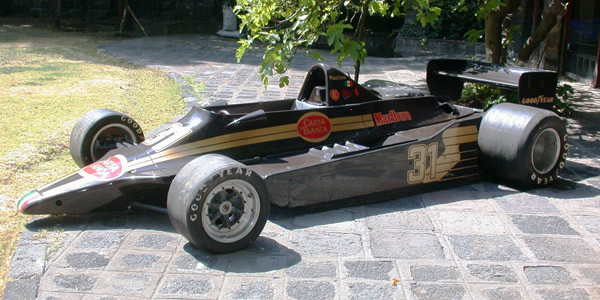 The Rebaque HR100 was a very short-lived design, used by Héctor Rebaque at the end of the 1979 season. It offered no advantage over his customer Lotus 79, so the Mexican accepted an offer to drive for Brabham in 1980.
Héctor Rebaque had been running Lotus chassis for a couple of seasons, starting with the prototype Lotus 78 and progressing to a Lotus 79 in 1979. With the works team in trouble, there was no obvious place to go for 1980 so Rebaque decided to build his own car. It was designed by Geoff Ferris and built by Penske at their Poole factory. It inevitably followed the lines of Rebaque's Lotus 79 and was intended as a development of that design, but Ferris had updated the sidepods and skirts, modified the front of the monocoque, and incorporated a larger fuel tank.
The car was unveiled at Zandvoort in August 1979 but it was far from finished, and was present in the paddock just to keep the sponsors happy. It ran for the first time at the Italian GP at Monza, where the HR100 suffered the inevitable teething problems and Héctor was slowest of all, well behind the Merzario. Ian Dawson had the car running properly for the Canadian GP and Rebaque was on the grid in 22nd spot. He ran very well in the early laps making up four places, but was soon in the pits and retired after 26 laps with a broken engine mount. The last GP of the season was at Watkins Glen, where the first practice session was rained off and the Rebaque just wasn't quick enough in the second.
Rebaque moved to the Brabham F1 team for 1980, taking the place of Ricardo Zunino from mid-season. He retained the drive for 1981, and then moved to CART, where he won at Road America in his first season. The HR100 remains on display at his home in Mexico.
Car
Total
Race
Starts
Grand
Prix
Starts
Grand
Prix
Wins
First Race
Present Location
1
1
Canadian Grand Prix
(30 Sep 1979)
Héctor Rebaque (Mexico) 2017
Please contact Allen Brown (allen@oldracingcars.com) if you can add anything to our understanding of this cars.
These histories last updated on .