Riley 1974 Indy history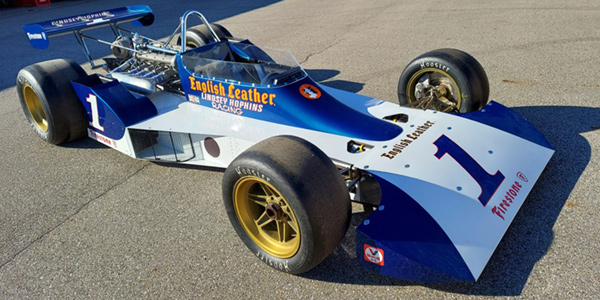 Designed by Bob Riley for Lindsey Hopkins in 1974, the 'Riley' was a development of his 1973 Coyote design. However, the team could never unravel the riddle of the car's aerodynamics and it was well off the pace.
Riley drew up the design for the car, and then mailed the drawings to Chuck Looper, who fabricated the car in California. Roger McCluskey's chief mechanic Don Koda then worked with Looper to construct the car. Riley was aiming for a very low centre of gravity, so the car was much lower and flatter than its rivals, with the tub at the front below the height of the wheel centres. At the back, it was even more unorthodox, where instead of a normal rear wing, Riley designed a wing mounted on the bottom edge of the tub, where wind-tunnel tests indicated that it would provide downforce without producing drag. The rear wing was soon abandoned for a conventional wing, but a lot of time was lost during practice at the Indy 500 and McCluskey only qualified 27th. An early retirement added to the team's woes, and after two more dreadful results, the team went back to the McLaren for a while.
In 1974, McCluskey raced the Riley seven times and the old McLaren M16B five times, but the only times McCluskey qualified higher than tenth was when he used the McLaren, and the only time he finished a race higher than tenth place was in the McLaren. Riley left the team to work for George Bignotti at Patrick Racing where he would build a further evolution of his thinking, this time with greater success.
The Hopkins team continued with the Riley into 1975 but Don Koda moved to AJ Watson's, leaving Chuck Looper and Don Brean as McCluskey's mechanics on the recalcitrant Riley. The revised team had much more success, McCluskey generally qualifying mid-grid, once as high as seventh, and reliability was also much improved, the car finishing fifth at Indianapolis, fourth at Pocono, and fifth at Michigan in September. Hopkins had a completely new design for 1976, so the Riley was kept as a backup. Mike Hiss was invited to drive it at the Indy 500, but failed to qualify when a team member mistakenly waved off a qualifying run that would have been fast enough to make the field.
McCluskey later said of this car, "We never even came close to figuring that car out. We worked on it day and night for months. It should have worked. We did all sorts of wind tunnel testing and so forth. It had all kinds of potential on paper". Bob Riley, talking to the author in 2021, said the car had too much weight at the rear, causing serious understeer.
If you can add to our understanding of this car, or have photographs that we can use, please email Allen at allen@oldracingcars.com.
Chassis
History
Current owner
New for the 1974 season and entered by Lindsey Hopkins as the #1 English Leather entry for his reigning USAC champion driver Roger McCluskey. Retained for 1975 when it was the #15 Silver Floss Sauerkraut entry for McCluskey. Retained as a backup for 1976 when Mike Hiss drove it as the #11 Hopkins entry at Indy but did not qualify. Chuck Looper told Pete Klain that Hopkins traded three cars to Rolla Vollstedt, including the Riley, and Vollstedt sold it to Kenny Hamilton (Boise, ID) who fitted a Chevy engine and ran it as the #63 Spirit of Idaho in 1981, failing to qualify at Indy but starting at Riverside later that year. It then went to Terry Nish (Salt Lake City, UT) who used the suspension on a sprint car or supermodified. The chassis and other parts passed through several more owners until sold by Gary Trout (Zionsville, Indiana) to Pete Klain (Beverly Hills, MI). Klain visited Nish and bought the original uprights and started work on a complete rebuild with original fabricator Chuck Looper. On display at the Historic Indycar Exhibition in May 2016 but still in pieces. Still owned by Klain in September 2020, when it was on display in Birmingham, MI.
Driven by: Roger McCluskey, Mike Hiss and Ken Hamilton. First race: Indianapolis Motor Speedway (R6), 26 May 1974. Total of 18 recorded races.
Pete Klain (USA) 2021
Acknowledgements
My thanks to original designer Bob Riley and current owner Pete Klain for the information they provided about this car. Thanks also to Jim Knerr and Dave Reese for the use of their pictures. The quotation from McCluskey is from the Santa Cruz Sentinel, 18 May 1978.
If you can add to our understanding of this car, or have photographs that we can use, please email Allen at allen@oldracingcars.com.
These histories last updated on .