Shadow DN5 car-by-car histories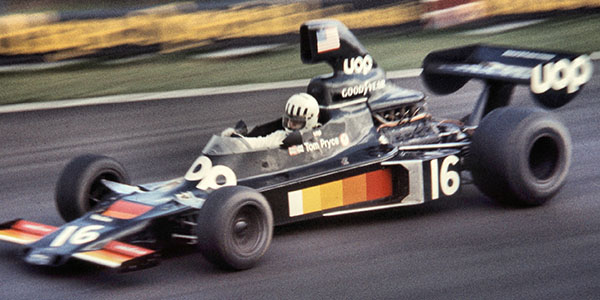 Jean-Pierre Jarier and Tom Pryce impressed greatly in 1975 with the Shadow DN5, but a string of retirements made the season a disappointment. A updated DN5B design was used in 1976, but fell off the pace.
The DN5 was unveiled in a presentation in Paris in December 1974, and had already been testing at Paul Ricard where it had set very quick times. Tony Southgate had continued the concept of his DN3 design but the DN5 used inboard springs at the front, actuated by hefty rocker arms that Southgate regarded as "a bit rude". In other respects, the layout was the same, with a small radiator in the nose, and two main hip radiators which had evolved from the DN3 to resemble those of the McLaren M23. Aerodynamics had been tidied up with new cockpit section, sidepods and radiator ducts, and the car proved much more effective in fast corners. Livery was still predominately black with UOP signwriting, but red, orange and yellow accents brought a flash of colour. The talented duo of Jean-Pierre Jarier and Tom Pryce were retained as drivers, with Jarier starting the season in the prototype DN5, and Pryce in an older DN3.
In South America, Jarier was a revelation, taking pole position in both races, but a final drive failed before the start in Argentina and a metering unit failed when he was leading comfortably in Brazil. Pryce won the non-championship Race of Champions in his new DN5, and Jarier scored the DN5's first points with a fourth place in Spain, but at Monaco both drivers crashed out after qualifying second and third. Thereafter the cars were always quick, Pryce even taking pole position at the British GP, and ran well in the race before something broke or the drivers went off. Jarier was second in Sweden when his engine failed, both drivers led the British GP but went off, Pryce ran second in Germany before a fuel leak, Jarier was leading by a mile in the Swiss GP before his transmission failed, and was in a safe third position at Watkins Glen when a wheel bearing failed. Shadow ended the season sixth in the Constructors Championship with just 9½ points.
Jarier started 1976 in similar form, setting fastest lap in Brazil and challenging for the lead before going off on oil and wrecking his new DN5B. After that, Shadow started to lose their way, especially after Southgate left for Lotus. The car's handling became unpredictable and Southgate's deputy Dave Wass could not find a solution. Jarier became very disillusioned and when the DN8 did finally appear, it was entrusted to Pryce.
According to contemporary sources, Shadow built six DN5 monocoques, but after Jarier's crash in DN5/6B in Brazil in 1976, its monocoque was repaired and used to rebuild DN5/4A into DN5/4B at the French GP. As a result, DN5/6B cannot exist today, but DN5/4A can exist as a distinct car from DN5/4B. If DN5/1A was also repaired, then six cars could exist today, but there are actually at least seven DN5s in existence today, which is very hard to explain.
The way Shadow used chassis plates on these cars adds to the difficulty in identifying the existing cars. When DN5/1A was wrecked at the Monaco GP in 1975, Jarier's replacement car, DN5/4A, used the chassis plate from DN5/1A for normal carnet reasons. When the two new 'B' specification cars were built for 1976, Jarier's DN5/6B inherited the "DN5/1A" chassis plate that had been on DN5/4A, and Pryce's DN5/5B took the plate from Pryce's previous car, DN5/2A. When DN5/4B was created later in 1976, it is likely that it took over the DN5/1A chassis plate, but that has not yet been determined. So if DN5/1A and DN5/4A were reconstituted as show cars, as seems likely, we cannot assume they would have carried their correct chassis plates. Similarly, when Don Nichols sold a car wearing the "DN5/2A" chassis plate to Warren Sankey in 1987, we cannot be certain the car he sold was actually DN5/2A. As this car was reskinned in 1996 after an accident in historic racing, the evidence may no longer exist to determine what it was.
Investigations continue into all of these cars, using photographs from 1975 and 1976 to compare specific physical features on the car with the cars that exist today. The most promising identifiers are the shapes of the fabricated front rollhoops used in 1975, the fixing points of the tubular front rollhoops used in 1976, the bobbins used to attach skirts to two of the cars in Austria 1976, and the welded extensions on the two cars used in 1977. It is increasingly clear that one of the Formula 5000 Shadow DN6s has been rebuilt as a DN5. As some identities remain unproven, several cars' current owners cannot yet be disclosed.
Please contact Allen Brown (allen@oldracingcars.com) if you can add anything to our understanding of these cars.
These histories last updated on .