Shadow DN9B car-by-car histories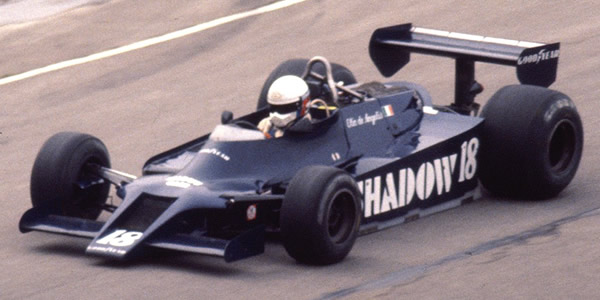 The Shadow team updated Tony Southgate's DN9 design for 1979 as the Shadow DN9B. Drivers Jan Lammers and Elio de Angelis tried hard, but the car was no longer competitive.
Tony Southgate had designed the original DN9 before he left for Arrows, and John Baldwin had been charged with developing the car during 1978. When he left for McLaren, Richard Owen did much of the development on the 1979 DN9B, before being joined by ex-ATS designer John Gentry. Vic Morris also had a hand in the DN9B, so design credit is hard to assign. The three remaining works DN9s were updated over the winter to DN9Bs, but there is no record of which DN9 became which DN9B, and a new numbering system was used, so these must be regarded as new cars using old monocoques. A fourth DN9B was built later, and the team took four cars to each race for a while in mid-season, but DN9/3B had two new monocoques during the season, and DN9/2B was rebuilt using one of the old Arrows FA1 monocoques. Reigning European F3 champion Jan Lammers and the previous year's Monaco F3 winner Elio de Angelis were brought in as drivers, but struggled to make an impression. There was one bright moment when the cars appeared transformed by a change to outboard rear brakes at the British GP, but the improvement was short-lived. The only points scored were in the final race, in the rain at Watkins Glen, where de Angelis had a fine run to fourth place.
Car
Total
Race
Starts
Grand
Prix
Starts
Grand
Prix
Wins
First Race
Present Location
6
5
Argentinian Grand Prix
(21 Jan 1979)
United Kingdom 2017
9
9
Argentinian Grand Prix
(21 Jan 1979)
Italy 2017
23
11
Brazilian Grand Prix
(4 Feb 1979)
United States 2021
1
1
Canadian Grand Prix
(30 Sep 1979)
United Kingdom 2023
Shadow DN9 '1B-R'
(no races recorded)
United Kingdom 2023
Shadow DN9 '3B-R'
(no races recorded)
United States 2022
In September 1979, Shadow sold DN9/3B to David Purley for the Aurora British F1 series, and that car can be traced through to the present day. The three other works DN9Bs were all at the Northampton factory when Shadow was bought by Theodore, and these were slowly dispersed, passing through numerous hands in the UK before starting to be restored for historic racing in the early 1990s. Like DN9/3B, these three cars all have traceable histories, but the exact identities of each of the three cars have been difficult to decipher. One of the DN9Bs has been rebuilt to 1978 DN9 specification and now runs in historic events in 1978 livery.
Meanwhile, a number of previously used DN9 and DN9B monocoques - and possibly Arrows FA1 monocoques - remained with Don Nichols in the US, and these were used to build up two further cars, one in 1993, and the other about 2001. These are listed here as "1B-R" and "3B-R". In 2017, another partly disassembled DN9 or DN9B monocoque was being built up by Nick Slade as a third DN9B reconstruction and is expected to claim the "4B" identity. If so, it will be shown here as "4B-R".
Please contact Allen Brown (allen@oldracingcars.com) if you have any further information on these cars.
These histories last updated on .