STP 1969 Indy car-by-car histories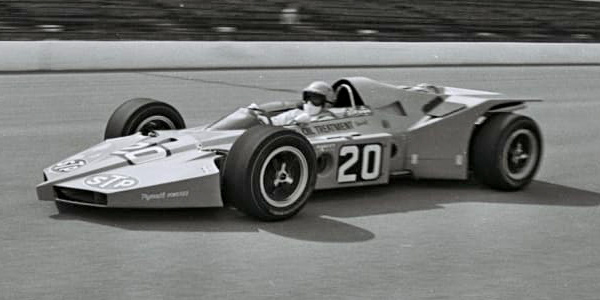 Andy Granatelli commissioned the construction of two STP Indy cars for 1969, using Lotus 56 monocoques with "Superwedge" bodywork and fitted with Plymouth stock block engines.
With the turbine engines that had powered the STP-Lotus 56s in 1968 now effectively outlawed, STP chief executive Andy Granatelli initiated two projects for 1969, one a continuation of his relationship with Lotus but now using Ford engines in new four-wheel-drive Lotuses, and another with Chrysler-Plymouth to use the company's stock block engine in new STP-built cars. Plymouth had lost their leading stock car driver to Ford, and had needed a new way to promote their product, so supplying engines to the highest-profile Indy team must have seemed a good idea. The deal was done in January, and as Granatelli and Lotus boss Colin Chapman negotiated a continuation of their contractual relationship for 1969, Vince Granatelli started the construction of two "new" cars at STP's workshops in Santa Monica, California. They were to have a particularly dramatic "super wedge" shape, designed for Granatelli by Gene Winfield, a styling consultant at AMT in Santa Monica, whose usual work was designing cars for TV shows. Although mention was made of the monocoques being fabricated using the products of the Harvey Aluminum Company, Lotus historian Michael Oliver is of the opinion that the two cars used existing Lotus 56 tubs, which were later restored by Vince Granatelli to Lotus 56 specification, which would explain why neither of the 1969 STP Specials exists today.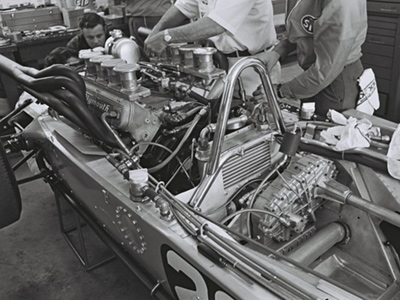 The engine provided by Chrysler-Plymouth was a dry-sump version of their 318 ci V8 unit using components developed for stock car racing. A modified version of Plymouth's own standard cast iron head was used at first, but Harry Weslake was also developing a separate alloy version following on from the work he had done on Dan Gurney's Ford engine in 1968, and these arrived at Indianapolis only a few days after the car was completed. Hilborn fuel injection was being used, but a Bosch system was also under consideration. The car also used a Chrysler-built four-speed transmission, modified to mate to the Lotus four-wheel-drive system. 27-year-old Pete Hutchinson was Plymouth's lead engineer on the project, and he revealed that the engine produced 500 bhp, somewhat less than expected, and weighed 620 lb with clutch and transmission, about the same as the turbo Offy. The engines were built at Keith Black Racing Engines in South Gate, California.
The STP team at the Indy 500 in 1969 was immense, comprising four new 4WD Lotus 64s, two new 4WD "Superwedge" cars built by STP, a conventional Gerhardt run by Grant King as a backup for Art Pollard, and Mario Andretti's backup, a 1968 Brawner-Hawk. As Andretti and his separate crew worked on his Lotus 64, and the Lotus mechanics assembled two more 64s for Graham Hill and Jochen Rindt, STP's in-house team scrambled to get the first Plymouth-powered "Superwedge" to the track on 13 May, Pollard taking his first laps in it the following day. By the end of the week, it had recorded a time of 157.5 mph, far behind the 171.7 mph of Andretti's Lotus 64 and still below the slowest qualifying speed from 1968. The publicity-grabbing bodywork was soon abandoned when it was found that the newly-arrived Weslake-Plymouth was too tall to fit under it, and original Lotus 56 panels were fitted instead. After the first qualifying weekend was rained off, Pollard improved to a respectable 164.594 mph the following Tuesday, but this was not as fast as the 166.667 mph that he had recorded in the Gerhardt-Offy. On 23 May, the Friday before the final weekend of qualifying, the STP-Plymouth was put to one side and Pollard took out the Offy-powered #40 for the first time, recording a speed of 163.539 mph. By this time, Andretti's Lotus 64 had been wrecked in an accident, so he was planning to qualify his year-old Hawk, and the works Lotus 64s had been withdrawn. The next day, Andretti qualified second in the Hawk-Ford and Pollard put the #40 STP-Offy on the fourth row with a speed of 167.123 mph. Carl Williams then added the #57 STP Gerhardt-Offy to the show on Sunday. Pollard retired from the race after only seven laps with a broken torque gear.
If you can add to our understanding of these cars, or have photographs that we can use, please email Allen at allen@oldracingcars.com.
Chassis
History
Current owner
Built in STP's premises at Santa Monica, CA, for the 1969 Indy 500 as the #20 entry for Art Pollard. It was fitted with the Plymouth 318ci V8 engine with Weslake heads. The car arrived late and Pollard was unable to get it up to speed. However, the qualifying runs were delayed by rain, allowing him time to get it up to 165 mph on 20 May, 5 mph slower than the fastest time recorded by teammate Mario Andretti's Lotus 64. The next day, Andretti demolished his Lotus when a faulty hub failed and Colin Chapman decided to withdraw the three remaining 64s. On Friday 23 May, the STP team decided the #20 STP-Plymouth did not have the speed, so completed the second car, the #40 Offy-powered car, and Pollard qualified and raced that car in the 500. The #20 Plymouth car first raced at Continental Divide in July, where Pollard suffered brake failure and damaged the car. It was raced by Sam Posey at IRP, then by Jim Malloy at Milwaukee and Dover Downs. It was fitted with an automatic transmission for Posey to drive at Brainerd, where he failed to start; in two races at Seattle in September, where he finished fourth and third; and at Riverside in December. The chassis from this car was later rebuilt to its original Lotus 56 form.
Driven by: Art Pollard, Sam Posey and Jim Malloy. First race: Continental Divide (R7), 6 Jul 1969. Total of 10 recorded races.
Rebuilt as Lotus 56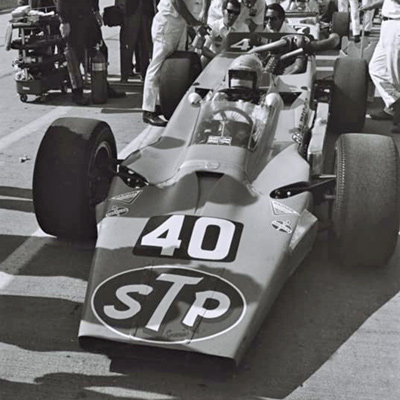 Built in STP's premises at Santa Monica, CA, for the 1969 Indy 500 as the #40 entry, a backup for Art Pollard. As insurance against the Plymouth not being ready, it was fitted with a turbo Offy engine. As Pollard focused on the Plymouth-powered sister car, this car was not completed until 23 May, just one day before the start of qualifying, but Pollard comfortably qualified it on the fourth row. With so little time to sort the car, it was no surprise when it retired early from the race. Pollard also raced this car at Milwaukee and Trenton, after which he moved back to his STP-sponsored Gerhardt and the #40 was raced by Joe Leonard and George Follmer later in the season. For its final race, at Riverside, the #40 was fitted with a Plymouth V8 and an automatic transmission. The chassis from this car was later rebuilt to its original Lotus 56 form.
Driven by: Art Pollard, Joe Leonard and George Follmer. First race: Indianapolis Motor Speedway (R3), 30 May 1969. Total of 5 recorded races.
Rebuilt as Lotus 56
Fall out
Granatelli had planned to buy the three remaining Lotus 64s after the 500, but he and Chapman fell out completely over the inflated cost of spare parts, so the Lotuses returned to England, and STP continued the season with Andretti in the Hawk and Pollard with his choice of the rest of the STP stable. Pollard used the STP-Offy at Milwaukee but crashed, then used the STP-Plymouth on the road course at Continental Divide, crashing again and this time badly damaging the car. After a broken drive shaft prevented him from starting the race at Trenton, Pollard moved over to the Gerhardt, which had by now been fitted with the Plymouth engine, and used that for the rest of the season, taking a surprise win at Dover Downs in August, the first by a Plymouth in a USAC championship race. Road racing specialist Sam Posey was brought in to drive the STP-Plymouth at Indianapolis Raceway Park in July, posting some solid results, and Joe Leonard and Jim Malloy drove the two STP cars on oval tracks. For Brainerd in September, Posey's STP-Plymouth was fitted with Chrysler-Plymouth's Torqueflite automatic transmission, developed for STP by Chrysler engineer George Wallace and adapted by Bob and Don Spar at B&M Racing & Performance Products in Van Nuys, California. A broken differential prevented Posey racing it at Brainerd, but he finished third and fourth in two races at Seattle in October with the automatic transmission. For the final race of the season, at Riverside, Posey and George Follmer drove the two STP cars, now both fitted with the latest Weslake evolution of the Plymouth V8 and with the automatic transmission, but neither went well.
Plymouth had managed to lure back their stock car driver for 1970, and diverted the remainder of their competition budget into a Trans-Am project with Dan Gurney's AAR, Pete Hutchinson again leading Plymouth's involvement. With his relationship with Lotus also in tatters and Mario Andretti's highly-regarded team of mechanics also choosing to leave, Granatelli had to start all over again and commissioned an obscure German company to build new Indycars for Andretti to drive in 1970.
Did the STP 69s really exist?
That may seem an odd question, given that photographs exist to prove their existence, but really the question is whether these two 1969 STP Specials were actually just modified Lotus 56s. Two of the Lotus 56s (56/2 and 56/3) had been damaged at the 1968 Indy 500 and 56/1 had been sold to Parnelli Jones, leaving Granatelli with only 56/4 through the summer of 1968. Andrew Ferguson referred in his book to 56/2 and 56/3 both being repaired at Hethel and returned to America but it is unclear what then happened to them. News reports show that Pollard damaged 56/4 in a test at Michigan on 2 October 1968, and further newspaper reports state that Pollard then used the ex-Graham Hill #70 car (56/3) at Hanford in November. Photographs suggest it was actually the other returning car, 56/2. Then at Riverside at the end of the season, the Parnelli and Granatelli 56s collided, damaging both. So by the end of 1968, Granatelli had at least two damaged 56s (56/4 and either 56/3 or 56/2), and maybe a third one returned from England but as yet unused (56/2 or 56/3). Those two damaged cars could well have formed the basis of the 1969 STP Specials. Karl Ludvigsen took photographs of the two 1969 cars being built at Santa Monica in early March, and those pictures appear to show a lot of new metal, but the very precise similarities to two of Granatelli's three existing Lotus 56s observed by Lotus historian Michael Oliver suggest that these were actually Lotus 56s being substantially reskinned.
Bill Munro, whose history of Ferguson ('Traction For Sale', Earlswood Press, 2019) is a magnificent work of scholarship, points out that the transfer case on the 1969 STP is oddly similar to that on the Lotus 56, another reason to believe the 1969 STPs were essentially Lotus 56s. However, Harry Ferguson Research (HFR) designer Derek Gardner, who designed the Ferguson transmission for the Lotus 56, mentioned in an interview doing work for Granatelli in 1969, so maybe he designed transfer cases for the 1969 car as part of HFR project P173 (file OC200C). Frustratingly, no documents relating to this project survive in HFR's archive.
All four Lotus 56s exist today but determining exactly which car is which in all cases has proved very difficult. If two of the Lotus 56s became the 1969 #20 STP-Plymouth and its #40 sister, then it could be argued that the Lotus 56s now rebuilt from their chassis are reconstructions. Michael Oliver has been working on this conundrum for many years, and will make his findings known in due course.
Acknowledgements
My thanks to Michael Oliver for his expertise on the Lotus 56s and their various derivatives, and to Doug Nye who edited and completed Andrew Ferguson's book 'Team Lotus: The Indianapolis Years' (Haynes Publishing 1996) after Ferguson's death in October 1994, and has provided further information. Although the book does not specifically cover the Granatelli-built 1969 STP Specials which are the subject of this page, it covers the Lotus 56s in great detail and gives many insights into the way Andy Granatelli operated, specifically the degree to which his determination to publicise STP could understate or even completely deny the role of Lotus in creating the STP Specials. Doug has also added his own observations on Vince Granatelli, who he interviewed for the book.
George Moore's 'Speaking of Speed' columns in the Indy Star provided much of the technical detail for this article. Moore, like many US journalists, initially referred to Weslake as "Harry Westlake". Thanks also to George M. Wallace for his recollections, posted on Autosport's TNF in September 2005. George was working at Chrysler and "was responsible for the interfaces between the STP chassis and the Plymouth engine/transmission and the Ferguson transfer case" on the STP 69, before moving to B&M Automotive Products as head of engineering in 1971. He died in April 2016.
If you can add to our understanding of these cars, or have photographs that we can use, please email Allen at allen@oldracingcars.com.
These histories last updated on .