Theodore TR1 car-by-car histories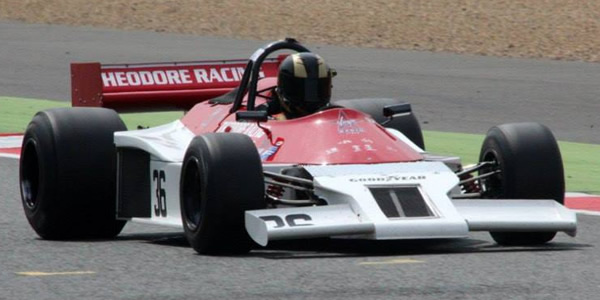 After running an Ensign N177 very successfully in 1977, Theodore Racing built its own car for 1978. Keke Rosberg took the Theodore TR1 to a surprise victory in the International Trophy, but otherwise it was not a success.
Fuelled by Teddy Yip's Macau casino fortune, Theodore Racing was formed in 1974 to support Vern Schuppan's F5000 season with a Lola T332. Car owner Sid Taylor became Yip's partner in the business, and the pair soon sets their sights on Formula 1, with Yip providing the finance for Schuppan to take over the drive in the Ensign team following Rikki von Opel's departure. This deal only lasted a few races in mid-1974, and Theodore Racing focused on F5000 in 1975 and 1976. In 1977, Yip financed an Indy 500 project, but also returned to F1 with an independently run Ensign N177 for Patrick Tambay. Tambay had an excellent season, often quicker than the Ensign works driver Clay Regazzoni, so Yip decided to expand in 1978 by becoming a constructor. An existing design was bought from Ralt constructor Ron Tauranac and the first car was built up at Theodore's new base, Ralt's former workshop at Snelgar Road in Woking. The car followed the lines of Tauranac's Ralt RT1, but bulked up for F1, and was highly conventional, to the point of being old fashioned, certainly in comparison with contemporaries such as Williams' new FW06.
When Derek Daly could not secure the necessary licence, American F2 driver Eddie Cheever was picked to drive the Theodore at the opening races of 1978, but failed to qualify for either. He fled to the Hesketh team, and was replaced by Keke Rosberg, who immediately wrecked the first car while testing in South Africa. With the second, improved, TR1 he qualified comfortably for the South African GP, and then scored an amazing win in soaking wet conditions at the non-championship International Trophy, where almost everyone else skated off the track. Thereafter the Theodore team had a demoralising time, failing to even pre-qualify at the Long Beach GP or at Monaco. After two more races where Rosberg looked no closer to getting on the grid, the TR1 was dropped and Yip bought a pair of 1977 Wolf F1 cars instead.
Car
Total
Race
Starts
Grand
Prix
Starts
Grand
Prix
Wins
First Race
Present Location
(Argentinian Grand Prix)
(15 Jan 1978)
Wrecked, Kyalami test session 1978
2
1
South African Grand Prix
(4 Mar 1978)
United Kingdom 2022
Theodore TR1/1-R
(no races recorded)
Italy 2023
After the 1978 season, the two TR1s were sold to Italy for the Aurora British F1 series, but after a test session, neither appeared again. In the 1980s, restoration began on both cars, but the older car was destroyed in a garage fire. The newer International Trophy winner was restored and appeared at the Monaco GP in 2008, and has since moved to the UK. The remains of the first car were used as the basis for the construction of a new car in Italy, which was completed in February 2018.
Please contact Allen Brown (allen@oldracingcars.com) if you can add anything to our understanding of these cars.
These histories last updated on .