Tipke 1972 Indy history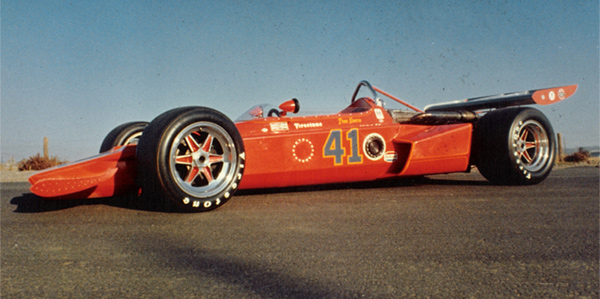 Designed and built by Jim Tipke in 1972 but not raced until 1973, the Tipke Indy car was beautifully engineered but simply did not have the speed. It did however help to launch the career of its driver Tom Sneva.
Jim Tipke designed and constructed some highly successful racing cars through the late 1960s and early 1970s in his workshop on North Perry Street, Spokane, Washington, mainly for the modified class and running in CAMRA events. He built a rear-engined wedge-shaped supermodified for Norm Ellefson in 1971, and his most remarkable project was probably the four-wheel-drive sprint car built for Edsol Sneva in 1970, and driven by his son Tom. Tipke's first Indy 500 experience had come as a member of Jim Hayhoe's team in 1968, and in 1972 he decided to build his own Indy car. This would be his most ambitious project, with total costs assessed as $75,000, including $30,000 for a rebuilt Offy engine, acquired from the McLaren team, and £2,295 for a five-speed transmission.
The car had a central monocoque section, fabricated using a wooden buck, with tube-frame sections at the front and rear. Total fuel capacity was 75 gallons, and the car was expected to weigh just under 1,400 lbs. It was constructed by Jim Tipke, assisted by crew chief Ed Sneva, Dave Bechtoll, and engine team Dick Flynn and Bob Kennedy. The car was owned by Spokane Championship Racers Inc, with Jim's father Larry Tipke as President, Vice President Ed Unicume, a property developer who backed the team, and Directors Jerry Marlowe, a Spokane car dealer who sponsored the four-wheel-drive car, Ed Sneva and Jim Tipke. The driver would be Tom Sneva, a 24-year-old local school teacher who was then regarded as Spokane's most promising driver. For USAC purposes, the Tipke's car owner was Larry, and the chief mechanic was Jim.
The car was completed in August 1972, just too late for its intended debut at the Ontario 500, so was taken to Trenton in September and Phoenix in November before embarking on a full season in 1973. The car went well in practice at Trenton, but a piston blew in the team's only Offy engine so Sneva could not start. There was similar disappointment at Phoenix where Sneva got the car up to 129.496 mph but it was not quite enough to qualify. The 1973 season started at Texas World Speedway in April, and the Tipke was now running much better, posting 18th fastest time out of 25 runners in qualifying, but unfortunately retired after only five laps. Plans to compete in the second round at Trenton were cancelled, and the team headed for the Indy 500. Sneva passed his rookie test without incident, but two hub breakages and a last-minute piston problem prevented him from getting the Tipke going any faster than 177 mph. No attempt was made to qualify, and team packed up and went home. The Tipke Indy car was not raced again and Sneva found employment with Carl Gehlhausen's team. Just ten years later, he would win the Indy 500.
If you can add to our understanding of these cars, or have photographs that we can use, please email Allen at allen@oldracingcars.com.
Chassis
History
Current owner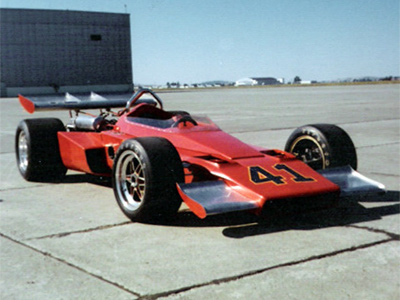 New for Tom Sneva to drive in Indy racing in 1972 as the #41 entry. After being narrowly too late for qualifying at Ontario, Sneva drove the car at Trenton in September and Phoenix in November, but was unable to start either race. He gave the car its race debut at Texas World Speedway in April 1973 but was then unable to qualify at the Indy 500. The car was not raced again after the Indy 500 but was retained by Tipke and displayed in car museums and at car shows. In 2014, the car was prepared to race again and taken to the IMS and driven there by Michael McKinney. It was entered again at the IMS Historic Exhibition in 2017. Still owned by the Tipke family in December 2021.
Driven by: Tom Sneva. First race: Texas World Speedway (R1), 7 Apr 1973. Only one recorded race.
Tipke family (USA) 2021
Restoration
Jim Tipke was eventually persuaded to rebuild the Tipke Indy car after he was invited to Spokane Raceway Park by Michael McKinney for a test of McKinney's Antares Indycar. Tipke and McKinney then embarked on a project to get the car and engine back in operational order. Jim's son Joel was present to see the car run for the first time in Joel's lifetime when it ran at Indy in 2014. It appeared at several more exhibitions before Jim died in 2015, after which Joel ran the car at Indy in 2016. It remains with the Tipke family but has not been on track again.
Acknowledgements
My thanks to Gerr Measures for information on this car and for passing on the images he received from Larry Tipke, and to Michael McKinney for information on the restoration of the car. Much of the information in this article is from the Spokane Daily Chronicle and The Spokesman Review, both of which covered the adventures of their local team
If you can add to our understanding of these cars, or have photographs that we can use, please email Allen at allen@oldracingcars.com.
These histories last updated on .