Tyrrell 001 history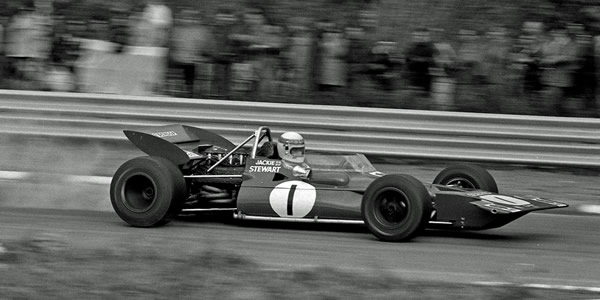 The first Tyrrell F1 car was built in complete secrecy while Team Tyrrell were using March 701s. Tyrrell 001 was ready in time for Jackie Stewart to drive in the Oulton Park Gold Cup in August 1970, and it appeared in three GP at the end of that year, leading two but retiring every time.
Ken Tyrrell had enjoyed a productive relationship with Matra in F1 in 1968 and 1969, and had no wish to build his own car. However, during 1970 he would use March 701s and his drivers had to share March's attention with March's own works drivers. This forced Tyrrell's hand: if his team was to be independent from the manufacturers and also have the full attention of the cars' constructor, he had to produce his own cars. Even before the March 701s had first raced, he employed Derek Gardner, an ex-Ferguson designer who had worked with Matra and Tyrrell on the Matra MS84 four-wheel-drive car in 1969. As March Engineering had to be kept on side in the meantime, the project had to be conducted in complete secrecy. Gardner designed the car and built the mockup at this home, and the monocoque was then produced by Mo Gomm's company. The car followed the basic outline of Bernard Boyer's Coke bottle-shaped Matra MS80, the car Tyrrell and Stewart had used in 1969. With its 18-gauge aluminium monocoque, outboard front suspension, Cosworth DFV engine and Hewland FG400 gearbox, the car was entirely conventional, but had a flat, wide, blade like nose above the intake for the front radiator.
'Motor Racing's Best-Kept Secret' was unveiled at Ford's premises in Regent Street, London, on 17 August and then taken to Oulton Park for the Gold Cup meeting the following weekend. Although the car had too many fuel system problems to get a good result, Jackie Stewart set fastest lap in the first heat. Stewart then started from pole position at the Canadian GP, and led comfortably until a stub axle failed. He led again at the US GP and lapped everyone up to the second placed BRM before an oil leak caused another retirement. The season ended with another impressive performance but retirement at the Mexican GP. Tyrrell built Stewart a new Tyrrell 003 for 1971, but the prototype 001 was raced at the South African GP and at several non-championship races before becoming Stewart's spare car. After it was retired, it remained with the team for many years until 1998, when the Tyrrell team was sold to BAR and the collection of show cars was auctioned off. Two of Tyrrell's grandchildren clubbed together to buy 001 for Ken, and it has stayed in the family ever since.
Car
Total
Race
Starts
Grand
Prix
Starts
Grand
Prix
Wins
First Race
Present Location
9
5
Gold Cup
(22 Aug 1970)
Tyrrell family (UK) 2023
Please contact Allen Brown (allen@oldracingcars.com) if you can add anything to our understanding of these cars.
These histories last updated on .