Tyrrell 009 car-by-car histories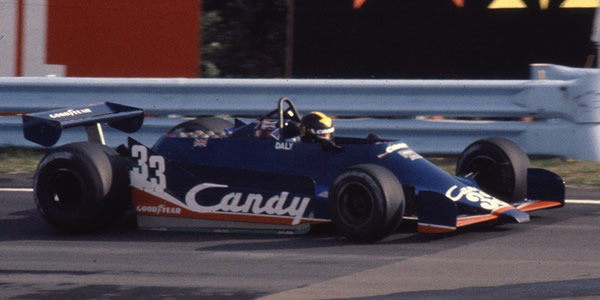 An unashamed copy of the Lotus 79, Maurice Philippe's 1979 Tyrrell 009 allowed Jean-Pierre Jarier and Didier Pironi to regularly qualify in the top ten. Although never in contention for victory, the pair picked up two podium finishes each, and Tyrrell finished fifth in the championship.
Tyrrell lost their Elf sponsorship for 1979, and also lost Patrick Depailler to Ligier. There was no longer the money to invest in Karl Kempf's active suspension ideas, and these were dropped. Lotus had shown the way forward with the Lotus 79, and on the grid for the Argentinian GP at the start of 1979, the Tyrrell 009 was only the most faithful of the various copies. The car was plain blue, with just 'Tyrrell' written on the side, and instant success was required to secure a new sponsor. Few other teams had their ground-effect cars ready, and only Ligier had got the formula right at this early stage of the season, although the McLaren M28 was quick at first. Turncoat Patrick Depailler was fastest in opening practice in the Ligier, but Jean-Pierre Jarier was a hugely encouraging second fastest in the 009. Jarier started from fourth on the final grid, and got away in second place before dropping back. He was unable to start the next race due to an electrical fault, but teammate Didier Pironi had a good run to finish fourth. Jarier then finished third in the South African GP, and the car's obvious promise helped Ken Tyrrell secure a sponsor, Candy bringing $3M to the team for the next 18 months. As Williams, Brabham and Ferrari got their ground-effect cars working, Tyrrell slipped back to mid-grid in the latter half of the season, but Pironi finished third in Belgium, and again at Watkins Glen at the end of the year, and Jarier finished third in the British GP.
Pironi had several major accidents during the year, writing off 009/2 in South Africa, and 009/4 in Monaco. However, Tyrrell continued to use the "009/4" chassis plate on 009/6 when it first appeared, and it kept that number even after Pironi virtually tore it in half in his practice accident in France. A test car, 009/5, was brought out to race at the end of the season, so Tyrrell ended up with four complete 009s. Four are known to have left the factory, and in April 2017, all four of those were in running condition. For a time, two separate cars carried the "009/1" chassis plate, but this has now been resolved and one of the two has been confidently identified as 009/6.
Car
Total
Race
Starts
Grand
Prix
Starts
Grand
Prix
Wins
First Race
Present Location
7
6
Argentinian Grand Prix
(21 Jan 1979)
France 2018
2
2
Argentinian Grand Prix
(21 Jan 1979)
Written off, South African GP (P) 1979
15
15
South African Grand Prix
(3 Mar 1979)
Australia 2017
1
1
Monaco Grand Prix
(27 May 1979)
Written off, Monaco GP 1979
2
2
Canadian Grand Prix
(30 Sep 1979)
Not disclosed
9
9
British Grand Prix
(14 Jul 1979)
United States 2021
Tyrrell 009/"7"
(no races recorded)
United States 2021
Please contact Allen Brown (allen@oldracingcars.com) if you can add anything to our understanding of these cars.
These histories last updated on .