Vollstedt 1965 Indy history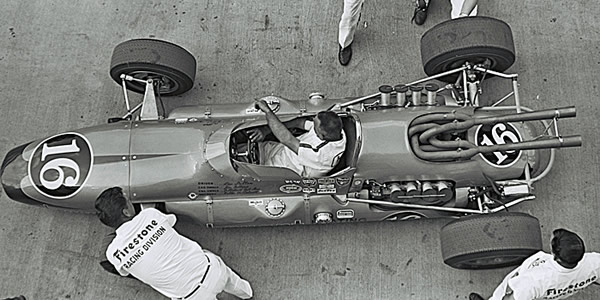 Rolla Vollstedt's 1965 Indy car was based heavily on the 1963-64 car, even using its chassis jig, but was designed for the newly-available Ford quad-cam engine. Len Sutton would drive the new car at the Indy 500.
For a car built by two men in a basement shop in Oregon, with a frame design that was based heavily on a set of photographs of the 1961 Cooper, the 1965 Vollstedt was a quite remarkably professional and highly effective car. The front suspension had fabricated upper A-arms with inboard springs and shock absorbers, while the rear had outboard springs and a single torsion bar. The rear uprights were cast magnesium. Harold Sperb, evidently a master fabricator, had welded the frame, and also fabricated the fuel tanks and all the bodywork. Jim Robbins funded the purchase of the engine, and Bryant Heating continued their sponsorship arrangement. Despite the car having not even started its engine until arriving in its Indianapolis garage, Sutton qualified 12th and, despite a long pit stop to clean out the fuel nozzles, finished in the same position. The car raced on for many years, including a spell in Supermodifieds with a young Tom Sneva behind the wheel. It was later immaculately restored by Vollstedt and is currently on display at the World of Speed Museum in Oregon, just 20 miles from its birthplace.
Please email Allen at allen@oldracingcars.com if you can add anything.
Chassis
History
Current owner
New for 1965 as Vollstedt Enterprises' #16 Bryant Heating & Cooling entry at the Indy 500 for Len Sutton. Raced by Sutton at Indy, Milwaukee and Lanhorne, and then by Billy Foster for the rest of the season. To Jim Robbins for 1966 as the #66 entry for Foster, Cale Yarborough, Bobby Unser, Mario Andretti and Chris Amon. To Hayhoe Racing Enterprises for 1967 and became their #62 Cleaver-Brooks Special, driven by Don Meacham, who did not qualify at the 500, and then by Bruce Walkup. Converted to a turbo Offy engine during this time. Retained by Hayhoe for the start of 1968, then unseen until sold to Bob Gregg in mid-1969 and fitted with a Chevy engine, appearing at west coast Indy races driven by Gregg and Dick Simon. Bought back by Vollstedt who reconditioned the car for Supermodified racing. Sold to Larry Kramer who entered it for Tom Sneva, who was hugely successful with it in the lower divisions. Photographs also show that this was Fred Corbett's "Eagle" at the 1971 USAC Road Racing event at Seattle in 1971. History then unknown until bought again by Volstedt, sold to Bruce Russell (Vancouver, WA) and then restored by Volstedt for Russell with a four-cam Ford. By 2003, the car was owned by Don Shervey (Portland, OR). Sold by Shervey to Gord Alberg (Saanich, British Columbia, Canada) in 2015. On display in the World of Speed Museum (Wilsonville, OR) when it opened in April 2015. Still on display in January 2016.
Driven by: Len Sutton, Billy Foster, Cale Yarborough, Ronnie Duman, Bobby Unser, Mario Andretti, Chris Amon, Don Meacham, Bruce Walkup, Bob Gregg, Dick Simon, Fred Corbett and Tom Sneva. First race: Indianapolis Motor Speedway (R3), 31 May 1965. Total of 22 recorded races.
Gord Alberg (USA) 2016
Sources for this history include Vollstedt. From Track Roadsters to Indy Cars: the Rolla Vollstedt Story, by Rolla Vollstedt with Ralph Zbarsky, 2003 (ISBN 0973366109), an excellent read well worth finding in the second-hand book market.
These histories last updated on .