Vollstedt 1966 Indy car-by-car histories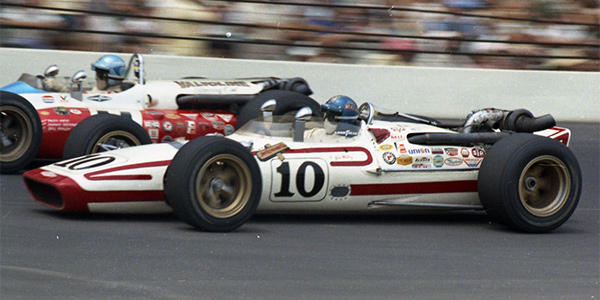 After the success of his spaceframe 1965 car, Rolla Vollstedt built a pair of monocoque cars for the 1966 season. Both cars raced well into the 1970s.
Rolla Vollstedt did the drawings for the new car, and then a wooden buck was made from the drawings. This was sent to California Metal Shaping, who used it to create aluminium panels. These were then assembled by Vollstedt's team into the finished monocoque. The car used rocker arm suspension with inboard springs at the front, and standard outboard springs at the rear. The first car was numbered #27, and was fitted with a Ford quad-cam V8 engine and four-speed Hewland transmission. The second car was numbered #17, and had a supercharged Offenhauser engine driving through a two-speed Halibrand transaxle. After Bob Mathouser failed to qualify the latter car for the Indy 500, the Offy was quickly replaced by a Ford V8.
Billy Foster raced the #27 during 1966, qualifying well at the Indy 500, and had a number of fine results, including second place at Atlanta in June, where he had qualified fourth, and fifth placed finishes at Langhorne and Milwaukee. The two 1966 cars were sold to The Jim Robbins Company, leaving Vollstedt to build new cars for 1967. Lucien Bianchi was recruited by Robbins to drive the #27 car, but at Phoenix at the start of 1967, he loaned the car to Mario Andretti, who had damaged his own Brawner-Hawk in practice. Unfortunately Andretti also crashed the Vollstedt and did not start. Bianchi qualified the #27 at the Indy 500, but was bumped, while Lee Roy Yarbrough qualified the sister car (the #17 now renumbered #67) but crashed early in the race. Jim Malloy drove the two cars for the rest of the 1967 season, and again in 1968, when he posted some impressive results: third at Continental Divide in June, third at Langhorne in July, and fourth and third places in the two races at Mont-Tremblant. This earned Malloy the #10 for 1969, and he achieved 11th place at Indy in 1969 with one of the 1966 Vollstedts, which was now fitted with a turbocharged Ford.
The Robbins team was then disbanded, and the old #27 car was sold to Frank Fiore, who entered it for a variety of drivers right up to 1974. The Fiore family still own the car. The old #17 was bought by Vollstedt as a backup car, and continued to race in supermodified racing in the Pacific northwest for some years.
Chassis
History
Current owner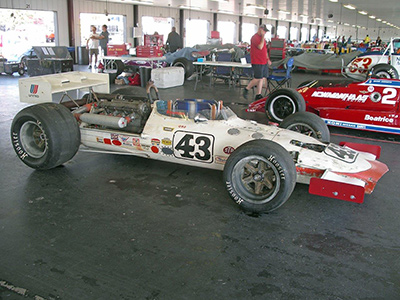 Built for 1966 and raced by Billy Foster as the #27 Jim Robbins entry. Retained for 1967 and intended to be raced by Lucien Bianchi in 1967 but borrowed by Mario Andretti for the opening race of the 1967 season, only to crash it in practice. Bianchi was later bumped at the Indy 500. Raced by Jim Malloy for the rest of 1967 and for occasional races in 1968 and 1969. To Frank J Fiore's Fiore Racing Enterprises for 1970 and raced as the #43 by Bob DeJong and then in 1971 by Denny Zimmerman. Later entered by Fiore as the #43 again for Al Loquasto in 1972, Jerry Karl and Bob Harkey in 1973, and Karl Busson in 1974. Later sold by Fiore and the car passed through several collectors until purchased by the Fiore family in 2001. Fiore died in 2007 but his son Frank Fiore Jr (Dallastown, PA) continued with the car's long-term restoration. The car appeared in public for the first time in 45 years at the Vintage Celebration at Pocono Raceway in August 2017.
Driven by: Billy Foster, Mario Andretti, Lucien Bianchi, Jim Malloy, Bob DeJong, Denny Zimmerman, Al Loquasto, Jerry Karl, Bob Harkey and Karl Busson. First race: Indianapolis Motor Speedway (R3), 30 May 1966. Total of 32 recorded races.
Frank Fiore Jr. (USA) 2017
Built for 1966 as the #17 Jim Robbins car and used by several drivers at Indy that year but did not qualify. Became the #67 in 1967 and raced by Lee Roy Yarbrough at the Indy 500. Raced by Jim Malloy at a few races later in the season and then as a regular entry through 1968. For Lee Roy Yarbrough again at the 1969 Indy 500 as the #27 Jim Robbins entry but did not qualify. Returned to Vollstedt for 1970 and run as the #17 on a few occasions in 1970 and early 1971. Sold by Vollstedt to the Crombie Brothers for 1976, and raced by Ed Crombie (Williams Lake, British Columbia) at Trenton on 2 May. Crashed in practice at the Speedway later that month and not raced again. According to Michael McKinney's research, it was acquired from Crombie by Jerry Proper (Spokane, WA), modified significantly, and raced in CAMRA (Canadian American Modified Racing Association) supermodified races in the Pacific North West and Western Canada in the 1980s and 1990s. Still in the same area, in unrestored condition.
Driven by: Billy Foster, Bob Mathouser, Ronnie Duman, Lee Roy Yarbrough, Jim Malloy, John Cannon, Larry Dickson, Johnny Rutherford and Ed Crombie. First race: Indianapolis Motor Speedway (R3), 31 May 1967. Total of 26 recorded races.
United States 2018
Sources for this history include Vollstedt. From Track Roadsters to Indy Cars: the Rolla Vollstedt Story, by Rolla Vollstedt with Ralph Zbarsky, 2003 (ISBN 0973366109), an excellent read well worth finding in the second-hand book market.
These histories last updated on .