Vollstedt 1967 Indy car-by-car histories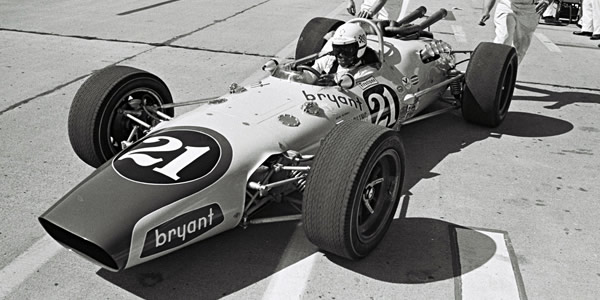 Two new Vollstedts were built for 1967, and one of these achieved a degree of fame when driven by Jim Clark at Riverside that November. The same cars were used for several more seasons and had occasional decent results in John Cannon's hands.
As the two 1966 cars had been sold to Jim Robbins, who was then killed in an aircraft accident in September 1966, Rolla Vollstedt built two new cars for the 1967 season. These differed by being slightly wider than the '66 cars, to make the engine area more accessible, and the front suspension was changed from the "Lotus pattern" inboard springs with rocker arms to the "Brabham pattern" outboard springs with upper and lower wishbones. The outer skins were again fabricated by California Metal Shaping using the same wooden buck used for the 1966 cars. The main sponsor was Phil Hedback's Bryant Heating and Cooling company.
Stock car Cale Yarborough, who had raced twice for Vollstedt in 1966 but crashed both times, was employed for the Indy 500, using the new #21 car with the sister #17 car intended as a backup. Yarborough qualified but crashed yet again in the race, and then went back to NASCAR racing, leaving the two Vollstedts to be raced by a number of hopefuls, the best qualified of whom were George Follmer and Carl Williams. At the last race of the season, at Riverside, circuit manager Les Richter and Firestone's racing director Bill McCrary did a deal to put Jim Clark in the #21 car with Follmer, another road racing expert, in the #17. Clark did what Clark always did, and transformed the Vollstedt's performance, qualifying in second place and passing Dan Gurney to lead the race. Unfortunately for the team, he over-revved the engine and damaged a valve, forcing his retirement, but Follmer had a good run to sixth place, the team's best finish of the season.
Rolla Vollstedt continued to run these two 1967 cars through 1968 and then fitted them with turbo Ford engines for a limited season in 1969, with John Cannon amongst the drivers. In 1970, Cannon continued in the #21 while the old #17 was renumbered #44 and raced by Dick Simon. For 1971, a deal was done with Gordy Johncock who owned a much more modern McLaren M15. When Johncock left to join McLaren's Indy team, the M15 stayed with Vollstedt and was raced by Denny Zimmerman, with the 1967 Vollstedts finally being retired at the end of that season.
If you can add anything to these histories, please contact Allen Brown (allen@oldracingcars.com).
Chassis
History
Current owner
Vollstedt 67
'A'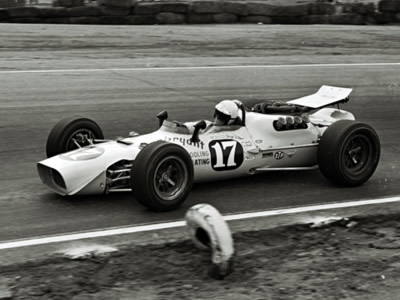 New for 1967 and run by Vollstedt Enterprises as the #17 Bryant Heating & Cooling Spl in 1967 and 1968 with a 255 ci Ford quad cam engine. Appeared at Indy in 1969, now with a turbo Ford but still as the #17 Bryant Heating & Cooling Spl. Dick Simon raced this car for the Vollstedt team at a few races late 1969 as the All Seasons Sports car and then acquired the car, which became his #44 entry in 1970 and then his #44 TraveLodge Sleeper backup in 1971. Retained as part of Simon's stable until the end of 1975 when it was sold to Art Sugai (Ontario, OR) and became his #90 Eastside Café entry for Frank Weiss in 1976. Sold in 1978 to Tom Black (Portland, OR) and Bob Ames and restored by them as the #21 ex-Jim Clark car after being incorrectly identified as that car by Rolla Vollstedt. Then to Don Mack and Hank Albers in 1979 and sold a year later via Eoin Young to Peter Briggs and put on display in his York Motor Museum in Western Australia. Offered for sale by Bonhams at Quail Lodge in August 2009 at which point it was correctly identified as the #17 car. Sold to Greg Smith in 2010. Still with Greg Smith in January 2015 when the car was for sale.
Driven by: Bob Johns, Jerry Daniels, George Follmer, Ronnie Duman, Jim Malloy, Arnie Knepper, Bobby Johns, Greg Weld, Henry Pens, Art Pollard, Jerry Grant, Dick Simon, Carlos Alberto Pairetti, John Mahler and Frank Weiss. First race: Indianapolis Raceway Park (R9), 23 Jul 1967. Total of 23 recorded races.
Greg Smith (Australia) 2015
Vollstedt 67
'B'
New for 1967 and run by Vollstedt Enterprises as the #21 Bryant Heating & Cooling Spl in 1967 and 1968 with a 255 ci Ford quad cam engine. Driven by Jim Clark as the #21 Sperex entry at Riverside in November 1967. Acquired a turbo engine in late 1968 and continued to run as the #21 Bryant Heating & Cooling Spl in 1969 and then as Vollstedt Enterprises' #21 car in 1970 and 1971. Raced by Gordon Johncock as the #7 on some occasions in 1971. Last seen at Phoenix in November 1971 when it was raced by Wally Dallenbach. Reported to have been sold to Art Sugai (Ontario, OR) and crashed by Kenny Hamilton in practice at Phoenix in November 1972 but confirmation of that has not yet been found. The crashed car went to local car builders Tom Fox and Ron Yurich in 1976 with the intention of making a Super Modified but it remained with them, still unrepaired, until 2007 when purchased from Yurich's son John by Michael McKinney (Kennewick WA) together with friends Ron Hjaltalin and Marc Prentice. The car was restored over the next few years and was run at Indianapolis in May 2011. Still with McKinney in January 2015. On display at the Historic Indycar Exhibitions in 2016 and 2019.
Driven by: Cale Yarborough, Carl Williams, Jim Clark, Arnie Knepper, Art Pollard, John Cannon, Larry Dickson, Wally Dallenbach, Tom Sneva, Gordon Johncock, Jerry Grant, Ronnie Bucknum, Tony Adamowicz and Ken Hamilton. First race: Indianapolis Motor Speedway (R3), 31 May 1967. Total of 32 recorded races.
Michael McKinney (USA) 2019
Sources for this history include Vollstedt. From Track Roadsters to Indy Cars: the Rolla Vollstedt Story, by Rolla Vollstedt with Ralph Zbarsky, 2003 (ISBN 0973366109), an excellent read well worth finding in the second-hand book market.
These histories last updated on .