Watson 1964 Indy car-by-car histories
AJ Watson's first rear-engined car was an unashamed copy of the very quick late-1963 Vollstedt design. Rodger Ward qualified on the front row for the 1964 Indy 500 and finished in second place.
Since 1959, AJ Watson had been one part of the most successful Indycar racing team of that era. With team owner Bob Wilke and driver Rodger Ward, the "3 W's" had won the Indy 500 and the national championship in 1959 and again in 1962. But then the Lotus 29s had arrived and after seeing Jim Clark dominate the Milwaukee 200 in August in the Lotus, Ward had insisted Watson build him a rear-engined car for 1963. Although AJ Watson was the most successful builder of roadsters, his cars having already won the Indianapolis 500 six times, his skills would not necessarily transfer to the new rear-engined "funny cars". However, Watson was not the only American trying to build such a car and at an Indy tyre testing session late in 1963, Rolla Vollstedt arrived with an extremely effective car based on a Brabham design. To short-cut his project, Watson copied the Vollstedt and had two new cars ready for Indy the following April. They qualified and Vollstedt's didn't and Rolla's dismay was deepened when the Indy 500 organisers awarded Watson the 'Builder Of The Year' trophy for 'his' innovation. Years later, he handed over the trophy to a rather indignant Vollstedt.
Watson built two different versions of his new car, one with a traditional Offenhauser engine for Don Branson and one with the newly-available Ford V8 for Rodger Ward. Ward's worked best, qualifying on the front row at Indianapolis and finishing second three times that season, at Indianapolis, Milwaukee and Phoenix, but the car never actually won a race.
Both cars survived and have now been restored to the 1964 specification. If you can add anything to these histories, please contact Allen Brown (allen@oldracingcars.com).
Chassis
History
Current owner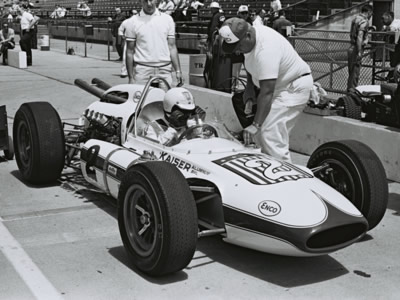 Built new by AJ Watson for Rodger Ward to race in 1964 for the Leader Card team as the #2 Kaiser Aluminum entry. Fitted with a Ford V8. Finished second at Indy that year and had two other second places later in the season. Taken by Leader Card to Indy again in 1965 as the #15 backup and used in practice by Jud Larson but wrecked and did not start. Brought back out later in the 1965 season for Bob Mathouser, and again for the same driver once at the start of 1966. Sold to Norm Hall over the 1966/67 close season who linked up with Barney Navarro to use the 199 ci 6-cylinder AMC Rambler turbo engine that Navarro had been developing. Appeared from 1967 to 1972 but, as a general rule, failed to qualify or failed to start. It appeared at Rafaela 1971 - only its fourth actual race start - driven by Dave Strickland and in practice at Indy that year by Les Scott. Jigger Sirois made another unsuccessful attempt to qualify the #50 Navarro-Rambler at the 1972 Indy 500. It was later acquired from Navarro by Rodger Ward and restored to its 1964 specification in the late 1980s. Subsequent history unknown until part of a display of Indycars at Monterey in August 2007 when it was owned by Tom Malloy and said to be "s/n 001" and then at Fontana in March 2008 alongside the Branson sister car. On display at The Malloy Foundation Collection (Corona, CA) in 2011. In November 2014, the #2 car was being dismantled for restoration. Back on display in April 2016.
Driven by: Rodger Ward, Bobby Marshman, Jud Larson, Bob Mathouser, Norm Hall, Les Scott, Jerry Titus, Al Loquasto, Dino Dioguardi, Arnie Knepper, Dave Strickland, John Cannon and Jigger Sirois. First race: Trenton Speedway (R2), 19 Apr 1964. Total of 18 recorded races.
Tom Malloy (USA) 2016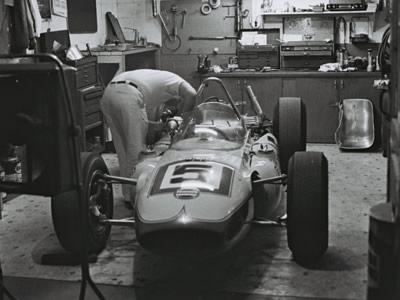 Built new by AJ Watson for Don Branson to race in 1964 for the Leader Card team as the #5 Wynn's Friction Proofing entry. Fitted with an Offenhauser engine. Rebuilt over the winter and sold to Gil Morcroft for Bob Wente to drive as the #67 GC Murphy car but crashed by Art Malone at Langhorne in August 1965 and not seen again. At some point reacquired by AJ Watson and restored to 1964 specification. Some time around 2000 the restored car was hanging from the roof of Watson's garage. Then unknown again until part of a display of Indycars at Fontana in March 2008 alongside the Ward sister car. In September 2014, restorer Walter Goodwin reported that both 1964 cars were owned by Tom Malloy (Villa Park, CA). The #5 Wynns car was shown being restored in the Malloy Collection in March 2022.
Driven by: Don Branson, Bob Wente, Art Malone and Johnny Rutherford. First race: Indianapolis Motor Speedway (R3), 30 May 1964. Total of 9 recorded races.
Tom Malloy (USA) 2022
These histories last updated on .