Watson 1965 Indy car-by-car histories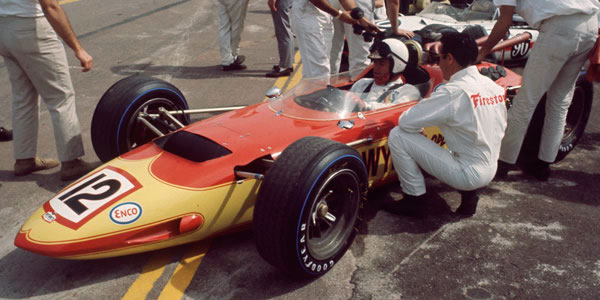 Unlike the 1964 car, the 1965 Watson was of monocoque design, utilising a very simple bathtub structure with inboard front springs and very slender rock arm suspension. The car had a very distinctive pointed nose.
For all its distinctive looks, the 1965 Watson was an evil-handling car with a dreadful case of bump steer. Such were the problems with the car at the Indy 500 that Ward could not even qualify for the race, a major contributing factor to his departure from the team shortly afterwards. Johnny Rutherford was brought in by Watson to replace Ward, despite Bob Wilke's reservations, and after wrecking the car before the start of his first race, fared much better at Atlanta, a track he greatly enjoyed, and qualified fifth. He duelled with AJ Foyt in the race and after the Texan retired, Rutherford took a surprise victory, the first – and only – by a Watson rear-engined car. Rutherford was due to stay with the team for 1966 but broke both arms in a crash at Eldora Speedway and had to sit out the 1966 season.
The ex-Ward car was destroyed in Chuck Rodee's fatal accident at the Speedway in 1966 but the ex-Branson car raced on for many years and has now been beautifully restored by William Davis. My thanks to www.quadcamford.com for the ownership history of this car. If you can add anything to these histories, please contact Allen Brown (allen@oldracingcars.com).
Chassis
History
Current owner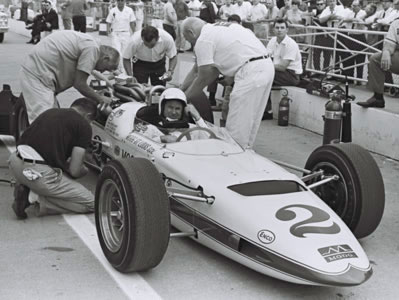 Built new by AJ Watson for Rodger Ward to race in 1965 for the Leader Card team as the #2 Moog St. Louis entry. Fitted with a Ford V8. Taken over by Johnny Rutherford when Ward left to join the new Mecom-Bignotti team in July 1965. Taken to the 1966 Indianapolis 500 for Chuck Rodee as the #92 entry but wrecked in practice and Rodee was killed. It has been reported that Bob Wilke had Watson remove the engine and running gear and then scrap the chassis.
Driven by: Rodger Ward, Joe Leonard, Johnny Rutherford, Chuck Hulse and Chuck Rodee. First race: Trenton Speedway (R2), 25 Apr 1965. Total of 9 recorded races.
Destroyed 1966
Built new by AJ Watson for Don Branson to race in 1965 for the Leader Card team as the #4 Wynn's entry. Fitted with a Ford V8 with Jud Phillips as chief mechanic. "Written off while tyre testing at the Speedway" (Wallen p309) in late June or early July 1965 but evidently survived as sold to Walter J. Flynn and entered for Ralph Liguori as the #35 Enterprise Machine Spl in 1966 and 1967. Unknown in 1968 but returned in 1969 owned by John Gavin (Winona, Minnesota), Patrick O'Reilly (Lake Crystal, Minnesota) and Mike DeMulling (St Paul, Minnesota) and entered as the Minnesota Serendipity. Appeared with ever decreasing regularity over the next four seasons, and last seen for sure at Milwaukee in August 1972, after which O'Reilly bought a 1971 Mongoose. The Watson was used to test an engine built by Ted Blair (North Hampton, MA) in 1973 and then sold to Blair. Passed on to his sons until sold to Don Danville (Storrs Mansfield, CT) in late 1977 and stored by him until 1990. To Walter Turell (North Easton, MA) 1990, then Harry Woodward (Camilla, GA) 1991 and Thomas W. Acker (Dunnellon, FL). Cleaned up by Acker and stored until sold to William Davis (Ortonville, MI) in 2000. Fully restored by William &amp Sharon Davis up to 2010 and appeared at the 2011 Amelia Island Concours d'Elegance. Appeared at a parade at the Pocono 500 in July 2014. Still owned by William & Sharon Davis in September 2014. Exhibited by William Davis at the 2017 Indycar Historic Exhibition at the IMS.
Driven by: Don Branson, Ralph Liguori, Cy Fairchild, Dee Jones and Al Miller. First race: Indianapolis Motor Speedway (R3), 31 May 1965. Total of 12 recorded races.
William & Sharon Davis (USA) 2017
These histories last updated on .