Watson 1977/78/79 Indy car-by-car histories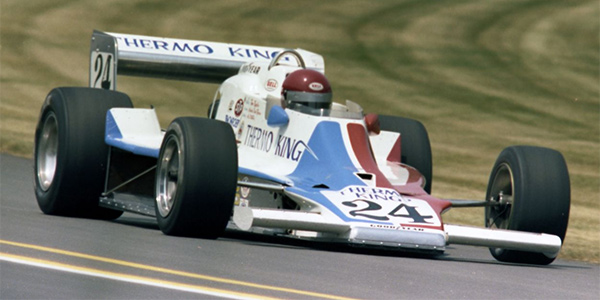 After seven seasons running Eagles, AJ Watson returned to building his own cars in 1977, with the first of a series of cars based on Lindsey Hopkins' Lightning.
Much had changed in the Leader Card Racers team since AJ Watson had last built his own cars in the 1960s. Bobby Unser fell out with Bob Wilke during 1970, and he and crew chief Jud Phillips left the team late in the season, Unser for AAR and Phillips for Jerry O'Connell's Sugaripe Prune team. Just a few weeks after their departure, Bob Wilke died suddenly from a heart attack, and his son Ralph took over the team. Chain store company G. C. Murphy, who had sponsored the team in 1970 and 1971, did not renew their deal and Ralph Wilke agreed with JC Agajanian that the veteran promoter would join the team for 1972, nominally as team manager, but really with the role of finding sponsorship. He brought in British camera maker Vivitar and in 1972 Watson ran the ancient ex-Bobby Unser Eagles using Agajanian's traditional number 98 in the blue-and-white livery of Vivitar. Mike Mosley performed remarkably well at the Indy 500 in the four-year-old Eagle and this led to generous sponsorship from property developers Lodestar for 1973 and 1974, allowing the team to buy three new Eagles and a F5000 Lola T332. However, Firestone's withdrawal from racing in August 1974 slashed the team's budget and when Mike Mosley walked out later in 1974, Leader Card was in a parlous state. Don Koda joined the team from Lindsey Hopkins' operation for the 1975 season, and he became AJ Watson's right-hand man in the Leader Card operation, but Agajanian left in mid-1975 and Lodestar at the end of that season.
One more season was squeezed out of the 1973/74 Eagles then for 1977 the Thermo King transport refrigeration company transferred its sponsorship from the defunct Gerhardt operation to Leader Card, giving Watson the funding to build a new car, a straight copy of the successful Lightning built by the Lindsey Hopkins team. The new Watson had only minor variations on the Lightning's design, with a slightly flatter nose and with the radiators further back in the chassis. During practice for the the 1977 Indy 500 Watson tried putting skirts on the side, as he was seeing other teams do, and Tom Bigelow reported that "it really sucks it down". Bigelow finished sixth in the race to win $29,000 for the team. He moved on to Sherman Armstrong at the end of the season and was replaced by Sheldon Kinser, who drove a new 1978 Watson, built along very similar lines, while Tom Bagley moved up from Formula Super Vee with his generous Kent Oil sponsorship to drive the older 1977 car. In 1979, the year of the USAC/CART split, Leader Card sided with USAC and were able to pick up some good results in USAC's meagre grids with drivers Billy Vukovich and Sheldon Kinser, despite the 1979 Watson with Drake V8 engine being a flop.
The 1977-79 Lightning-based cars continued in use during 1980 but Leader Card then teamed up with Dick Simon to build a copy of a Penske PC7 for 1981, and the old cars were not seen again.
If you can add to our understanding of these cars, or have photographs that we can use, please email Allen at allen@oldracingcars.com.
Chassis
History
Current owner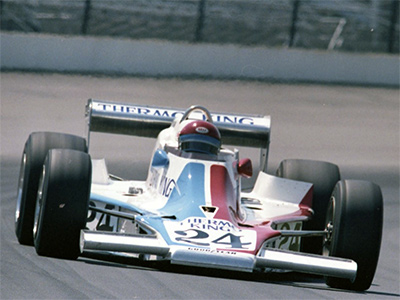 New for Tom Bigelow to drive as the Leader Card #24 Thermo King entry at the 1977 Indy 500. He qualified 22nd and finished sixth. Bigelow raced the Watson at six more races that season, but used one of the team's old Eagles at Mosport Park and at the short-track races. He was replaced by Sheldon Kinser for 1978, and he raced this car at the opening races before moving to the new 1978 car. Tom Bagley then took over the 1977 car for the rest of the season at was at his best on road courses, qualifying fifth at Mosport, seventh at Silverstone and eighth at Brands Hatch. Billy Vukovich took over the car for 1979, the year of the CART/USAC schism and achived several good placing in the poorly-supported USAC races, including second place at Milwaukee in June. The car was only seen a few times in 1980 and was then sold to Harry Schwartz' Rattlesnake Racing for Billy Vukovich to drive in 1981. In Bob McConnell's collection in October 2014.
Driven by: Tom Bigelow, Sheldon Kinser, Tom Bagley and Billy Vukovich. First race: Indianapolis Motor Speedway (R5), 29 May 1977. Total of 40 recorded races.
Bob McConnell (USA) 2014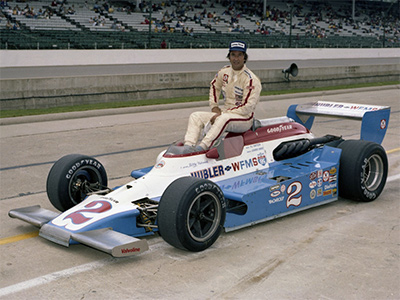 New for Sheldon Kinser to drive as the Leader Card #24 Thermo King entry at the 1978 Indy 500, and at races later in the season. Kinser continued to race this car for the team in 1979, now with Genesee Beer sponsorship. The car was updated for 1980 with "ground-effect" sidepods. Kinser started the season in it before moving over the the 1979 Watson, and Billy Vukovich then qualified it for the Indy 500, finishing 12th. Kinser and Vukovich both raced it later in the season, as the team rotated all three of the 1977-1979 cars. It was entered as a backup car for Dick Simon in his #22 Vermont American livery at the 1981 Indy 500 and was raced by Simon at Pocono and Milwaukee later that season. It was then sold to Rolla Vollstedt for Max "Rusty" Schmidt to attempt to qualify at the 1982 Indy 500. Vollstedt recalled selling it to a female Formula Ford racer in Portland whose cheque bounced. This must be the Amber Furst (Brightwood, OR) who entered a Watson-Offy for the 1983 Indy 500 with husband Tim Furst as chief mechanic but was refused a chance to take her rookie test. After Vollstedt got the car back he sold it to "a local fellow" who put a Chevy in it. Subsequent history unknown.
Driven by: Sheldon Kinser, Billy Vukovich, Joe Saldana, Dick Simon and Rusty Schmidt. First race: Indianapolis Motor Speedway (R5), 28 May 1978. Total of 24 recorded races.
Unknown
New for George Snider to drive as the Leader Card #40 Genesee Beer entry at the 1979 Indy 500, but its Drake V8 engine broke after half a lap and the car was withdrawn. It was not seen again that season but was rebuilt for the 1980 season with a Cosworth DFX engine. Sheldon Kinser qualified it for the 1980 Indy 500 but was bumped. He drove it in seven more races later in the season. Subsequent history unknown.
Driven by: George Snider, Sheldon Kinser and Billy Vukovich. First race: Milwaukee Mile (R3), 8 Jun 1980. Total of 7 recorded races.
Unknown
Acknowledgements
My thanks to Michael Ferner, Simmo Iskül, Gerry Measures, 'gbl' and Luis Mateus for their help on this subject. The 1977 car, and its debt to the Lightning, was described in the Indy Star 6 May 1977 page 9.
These histories last updated on .