Wheatcroft R18 car-by-car histories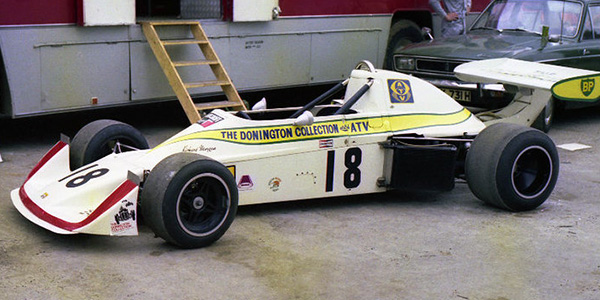 Designed by Mike Pilbeam for Tom Wheatcroft, the Wheatcroft R18 ran in F2 and Formula Atlantic in 1975, and proved a success in both. Two cars ran for many years in South Africa and a third raced in British F3 for several years.
After the death of his protégé Roger Williamson in 1973, Tom Wheatcroft returned to motor racing in 1975 with a Formula Atlantic project. The team would start the season with a Chevron B29 but he also commissioned freelance designer Mike Pilbeam, who had just left BRM to set up his own company, to design a completely new car to carry the Wheatcroft name. The driver chosen was Richard Morgan, the younger brother of David Morgan who had been very competitive in Formula Atlantic in 1974. Richard had dominated Formula Ford in Britain in 1974 with a Crosslé 25F and was quickly to the fore in his Wheatcroft Racing Chevron B29 at the start of the 1975 Formula Atlantic season. He won his second race, at Mallory Park, but some momentum was lost after an accident at Silverstone in April. The new Wheatcroft R18 was ready for the Brands Hatch race on 18 May. It had only been tested for a day at Snetterton but Morgan already felt that it was a better car than the Chevron. The R18 was a very compact car with all the fuel contained in a single fuel cell behind the driver and a rear wing support that housed the battery and spark box. The front suspension used a pullrod design that drew on Pilbeam's experience working on the Lotus 72, and the complete car was reported to be 150 pounds lighter than the Chevron. Morgan was second fastest in practice, behind the works Modus of Tony Brise, and gave the Wheatcroft marque the perfect start by leading the first lap, although he was to retire on that occasion. After Brian Henton wrote off the first car at Oulton Park in testing, Morgan continued the R18's promising start by leading from start to finish at Snetterton on 29 June and setting a new outright lap record. He won again at Brands Hatch two weeks later - again leading every lap! Although the R18's success was tempered in the next few races, Wheatcroft decided to convert the car to F2 specification for the race at Silverstone at the end of August, and recruited Henton to drive. It was fitted with extra tanks, the regulation deformable structures, a 2-litre Hart BDA, and 50 pounds of lead ballast to bring it up the minimum weight. Henton qualified in a magnificent third place and then led from the start, as the little R18 was prone to do. The lead only lasted a lap, but Tom Wheatcroft was delighted. Henton eventually finished third and was given the Formula Atlantic drive for the rest of the season; poor Morgan being dropped. Wheatcroft and Pilbeam soon started work on an ambitious F2 project for 1976, the Wheatcroft R26.
If you can add to our understanding of these cars, or have photographs that we can use, please email Allen at allen@oldracingcars.com.
Chassis
History
Current owner
Alex Blignaut ordered a new Wheatcroft R18, chassis 003, for the new South African Formula Atlantic championship in 1976, and also bought the ex-Morgan/Henton chassis 002 as a spare car. Other tubs had been completed and chassis 004 was given to John Bright so he could build it into a Formula 3 car. By the end of his time with it, after multiple accidents, it had become chassis 006, and this car was rebuilt as a Formula Atlantic for 1979. That same season, the two cars in South Africa, 002 and 003, were fitted with Mazda engines for Formula SA where they proved highly effective.
Acknowledgements
Thanks to Ian Hebblethwaite for information on the two cars in South Africa, to John Colley and Richard Barnes for the history of 006, to John again and to Ted Walker for the use of their photographs, and to Steve Wilkinson and Simon Hadfield for their help.
If you can add to our understanding of these cars, or have photographs that we can use, please email Allen at allen@oldracingcars.com.
These histories last updated on .