Wildcat Mk 1 1975 Indy car-by-car histories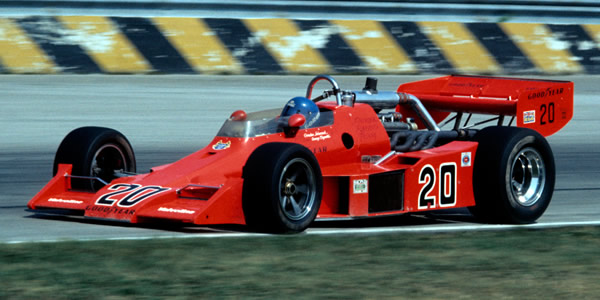 After two years of using customer Eagles, Patrick Racing Team constructed their own cars for 1975, called the Wildcat Mk 1.
As AAR was not planning to build new Eagles for 1975, George Bignotti, chief mechanic for the Patrick Racing Team, decided to build his own cars for 1975 and laid out a specification from which Bob Riley designed the car. Riley had previously been responsible for AJ Foyt's 1973 Coyote, and Foyt was quick to brand the Wildcat a copy, as he had with the car Riley had designed for Lindsey Hopkins in 1974. Bignotti had acquired a plant from Lou Meyer in Indianapolis's Northwest Industrial Park, and the new car was fabricated there. Louis 'Sonny' Meyer Jr took care of machining castings, machinist Wally Meskowski was responsible for suspension and drive train components, Eddie Kuzma was lured from retirement to do most of the metal bending, and the team also included Jackie Howerton, Ted Hall and George Huening. The car was tested by Patrick Racing's lead driver Gordon Johncock at Ontario Motor Speedway on 21 January and again two days later, achieving a speed of 189.5 mph, and the "Bignotti-Riley Wildcat" was then announced to the press on 21 February. It was powered by a new Drake-Goossen-Sparks (DGS) engine from Drake Engineering, designed by Leo Goossen before he died in December 1974 at the age of 82, and seen as a significant evolution of the venerable Offenhauser 'Offy' engine.
Patrick retained Johncock and Wally Dallenbach as drivers for a third season, but main sponsor STP had withdrawn, deciding to focus on stock car racing, and Sinmast took their place as title sponsor. The team retained the same STP red colour and STP's traditional numbers of #20 and #40. Johncock raced the prototype at Ontario's California 500 in early March and a second car was built for Dallenbach in time for the Indy 500, with the team's 1974 Eagles retained for short track races. Johncock won the first race for the Wildcat marque at Trenton in September. A new design, the Mk 2, was built for 1976, and the Mk 1s were retained for short tracks, Johncock winning at Trenton again in August 1976.
With new Wildcat Mk 3s being built for 1977, the two Mk 1s were considered redundant and were sold off to Bobby Hillin's new Longhorn Racing and to Frank Curtis's Wildcat Racing Associates. Both cars were used regularly into the 1980s, but the Dallenbach car is believed to have been wrecked in a towing accident late in 1980. The Johncock car was last seen in July 1981, and its current whereabouts are unknown.
If you can add to our understanding of these cars, know where either of them is today, or have photographs that we can use, please email Allen at allen@oldracingcars.com.
Chassis
History
Current owner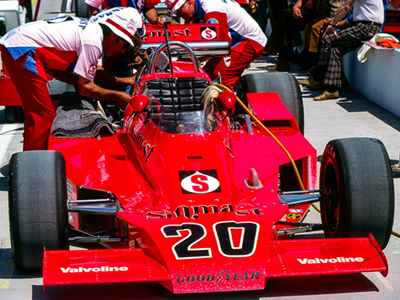 New for Gordy Johncock in 1975 as Patrick Racing's #20 Sinmast entry. Retained for 1976 and used by Johncock at short track events, winning at Trenton and twice finishing second at Milwaukee. Sold to Wildcat Racing Associates (Lynbrook, NY), a partnership of Frank Curtis, Gene Langsam and Walter Albert, with Curtis as chief mechanic and to be raced by Vern Schuppan as the #85 entry. The car was repossessed by lawyers at Pocono, and in August was sold to Danville barber Larry Cannon, who raced it for the rest of 1977 still entered as #85. Retained by Cannon for 1978, 1979 and 1980, qualifying for the Indy 500 in 1980. The car was again entered by Cannon in 1981 for guest drivers. Both Cannon's Wildcats were later bought by Maurice Kraines of Kraco and used as display cars at store openings and malls. Subsequent history unknown.
Driven by: Gordon Johncock, Vern Schuppan, Larry McCoy, Larry Cannon, Tom Frantz, Bob Harkey and Dick Ferguson. First race: Ontario Motor Speedway (R1), 2 Mar 1975. Total of 35 recorded races.
Unknown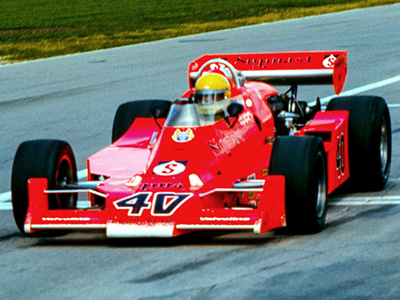 New for Wally Dallenbach in 1975 as Patrick Racing's #40 Sinmast entry. Retained for 1976 and used by Dallenbach in practice at the 1976 Indy 500 and raced by him at Trenton in August. Sold to Bobby Hillin's Longhorn Racing for 1977, and raced by George Snider as the #18 entry at most races that season, a 1974 Eagle being used at others. Retained by Longhorn for 1978, but neither Bubby Jones nor Billy Vukovich could get the car up to speed at the Indy 500 due to a handling problem. Jones raced it at Pocono in July, and then Canadian Cliff Hucul raced it at Ontario in September, but was eliminated in a collision with Steve Krisiloff. It appears that the Longhorn Wildcat was significantly remodelled during repairs, as it looked significantly different to a standard Wildcat Mk 1 when George Snider raced it at Phoenix in October. This remodelled car was owned and driven by Tom Frantz (Littleton, CO) in 1979, again wearing #18. It was sold to Ross Davis (Grand Junction, CO) for 1980, with backing from Jim Land and Jon Abrasom. He raced it at Ontario in March, but was refused a rookie test at Indy, and the drive was taken over by John Martin, who qualified but was bumped. Martin drove the car for the rest of the season. According to Bob Sawicki, "this car was destroyed when the trailer broke away from the truck and crash down a hill in 1980".
Driven by: Wally Dallenbach, George Snider, Billy Vukovich, Bubby Jones, Cliff Hucul, Tom Frantz, Bill Henderson, Ross Davis and John Martin. First race: Indianapolis Motor Speedway (R6), 25 May 1975. Total of 27 recorded races.
Destroyed? 1980
Acknowledgements
My thanks to Michael Ferner, Simmo Iskül and 'gbl' for their hard work and remarkable eye for detail working through photographs and other evidence to untangle the histories of these cars. George Moore's column in The Indy Star 19 Jan 1975 gave a good description of the new car.
If you can add to our understanding of these cars, know where either of them is today, or have photographs that we can use, please email Allen at allen@oldracingcars.com.
These histories last updated on .