Wildcat 'Mk 4' 1978 Indy car history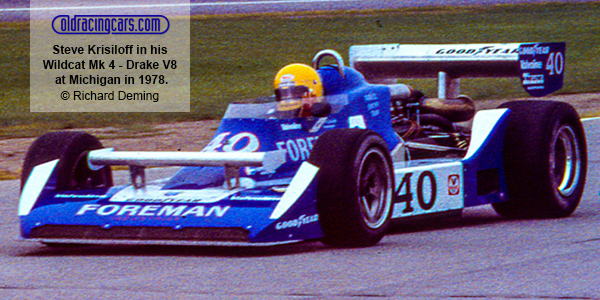 George Bignotti built a new Wildcat for 1978, similar to the Mk 2 but powered by the new Drake V8 engine. Although no model number was ever given for the car, this was effectively the Mk 4.
The car showed good speed in pre-season testing, but problems with the belt drive slowed development. Roger McCluskey put some race miles on it at Trenton in April, but it failed again quite early. Gordy Johncock then ran the car in practice at the Indy 500, but development of the engine was not going according to schedule, and he went back to a Mk 2 with four-banger Drake-Offy. There was talk of Mike Mosley attempting to qualify the V8, but nothing came of it. The car was then modified so that Johncock could race it at the Mosport Park race two weeks later. George Moore in the Indy Star described the main radiators being moved from the front to the rear, parallel to the car's centre line, and the oil cooler moving to the nose. Unfortunately for the Drake V8 project, Johncock crashed heavily at Turn 4 during practice and the car was a write-off. The intention was to do more testing at Pocono, but this setback delayed further running until Ontario. At this point Bignotti realised he was running out of time to design and build a new car for 1979, so arranged to buy three Penske PC6s for delivery at the end of the season and ordered six Cosworth V8s for 1979.
Another V8 car was built, and Johncock used it to qualify for the two British races that were taking place in October. Johncock and Krisiloff continued to use their regular Mk 2s until Ontario, with the only race appearance of the Mk 4 being when McCluskey ran it as the #60 entry at Ontario, the engine overheating after just 12 laps. Krisloff wrecked his Mk 2 at that race, so he had to use the Mk 4 at Michigan, where the engine failed after 21 laps. After borrowing a Mk 2 back from the Armstrong Mould team for Krisloff to drive at Trenton, the team then took their remaining Mk 3 to England for Johncock and the Mk 4 for Krisiloff. Krisiloff actually finished at Silverstone but wrecked the car in a practice accident at Brands Hatch. Bignotti then gave up on the Drake V8 project and when the surviving Mk 4 was next seen it had been converted to an orthodox 4-cylinder engine.
If you can add to our understanding of these cars, or have photographs that we can use, please email Allen at allen@oldracingcars.com.
Chassis
History
Current owner
New for 1978 for the new Drake DT-160 V8 engine. First raced at Trenton in April, where Roger McCluskey raced it as the #60 entry, then used in practice by Gordon Johncock at the Indy 500, and then converted for road racing at Mosport in June but crashed heavily by Johncock in practice and "written off".
Driven by: Roger McCluskey and Gordon Johncock. First race: Trenton International Speedway (R4), 23 Apr 1978. Only one recorded race.
Wrecked 1978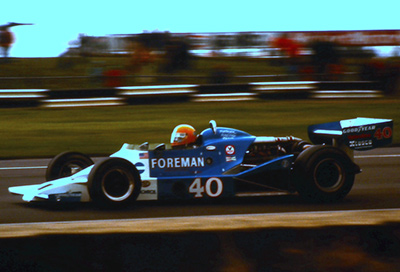 A new car to continue the development of the Drake V8 engine, replacing the original car "written off" at Mosport Park in June 1978. First raced by Roger McCluskey at Ontario in September, then by Steve Krisiloff at Michigan. Then taken to England for Krisiloff to race at Silverstone and Brands Hatch, but Krisiloff crashed it after practice at Brands Hatch. Next seen in 1981, when it had been acquired by Ross Davis (Grand Junction, CO) and was run from Atlanta in late June onwards. Subsequent history unknown.
Driven by: Roger McCluskey, Steve Krisiloff and Ross Davis. First race: Ontario Motor Speedway (R13), 3 Sep 1978. Total of 6 recorded races.
Unknown
Acknowledgements
My thanks to Michael Ferner, Simmo Iskül and 'gbl' for their hard work and remarkable eye for detail working through photographs and other evidence to untangle the histories of these cars. My thanks also to car designer Bob Riley for his recollections of the project.
These histories last updated on .