Wildcat 'Mk 5' 1979 Indy car history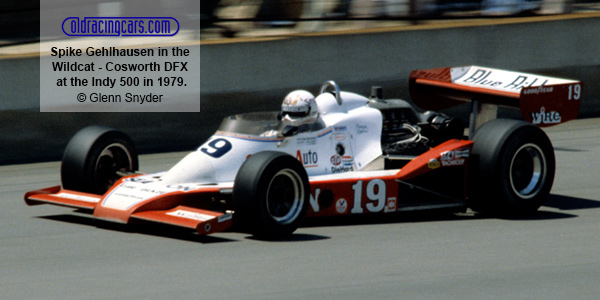 Patrick Racing produced a one-off Wildcat with Cosworth DFX engine for the start of the 1979 season, but the car was rarely used. Logically, this would have been the Wildcat Mk 5.
George Bignotti had put a lot of Patrick Racing's resources into the development of the Drake V8 engine during 1978, leaving him with limited time to design and build a new car for 1979. He ordered a pair of Penske PC6s and six Cosworth DFX engines for 1979, and prior to the opening race of the 1979 season fitted one of the Cosworths into a Wildcat chassis. The chassis used looked a lot like the Drake V8 car from 1978, except that it had side radiators and a quite different nose. Gordon Kirby's report for Autosport on the Phoenix race in March said that the Cosworth replaced "the Drake V8 which originally lived in this particular chassis", but Carl Hungness's Yearbook described it as a 1979 Wildcat with no previous history. It seems likely that this was a chassis built for the V8 project but not previously used. No mark number was ever mentioned in connection with this car, or even with the Drake V8 car, but it is logical to refer to it as the Mk 5.
The team entered Gordon Johncock and Dallenbach in the Penske PC6s for the Indy 500, but the Wildcat-DFX was entered as a backup car at #90, in Dallenbach's red-and-white Foreman livery. After qualifying his Penske on the first weekend with a speed of 189.753 mpg, Johncock tried out the Wildcat on 18 May and set a time of 189.235 mph, the fastest lap of the day. Spike Gehlhausen, whose Eagle had been bumped, was then given the chance the qualify the Wildcat on the second weekend, and got on the grid with a speed of 185.061 mph, with one lap at 187.7 mph. The car was renumbered to his usual #19 for the race, and his sponsors' logos added.
If you can add to our understanding of these cars, or have photographs that we can use, please email Allen at allen@oldracingcars.com.
Chassis
History
Current owner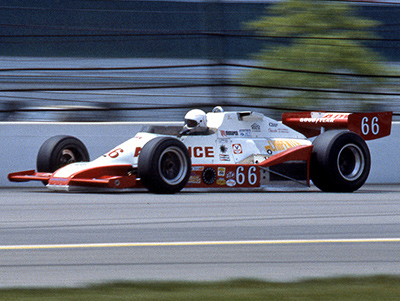 New for Wally Dallenbach at Phoenix in March 1979 as the Patrick Racing #40 entry, where Autosport described it as a chassis previously fitted with a Drake V8. Practiced by Gordon Johncock at the Indy 500 as Patrick Racing's #90 Foreman Industries entry, and then qualified by Spike Gehlhausen on the back row. It raced as #19 with backing from Sta-On Car Glaze, Guarantee Auto and WIRE. Johncock and Dallenbach used their Penske PC6s through the rest of 1979, but it is possible the Wildcat was used, unbilled, at one or more short track races. The "Wildcat-Cosworth" that Dallenbach raced at Phoenix in October was presumably this car. Sold to Roger Rager (Mound, MN) for 1980, and fitted with a 355 ci Chevrolet V8 engine, described as being from a school bus. Retained for 1981. Subsequent history unknown.
Driven by: Wally Dallenbach, Gordon Johncock, Spike Gehlhausen, Roger Rager and Orio Trice. First race: Phoenix International Raceway, 11 Mar 1979. Total of 16 recorded races.
Unknown
Acknowledgements
My thanks to Michael Ferner, Simmo Iskül and 'gbl' for their hard work and remarkable eye for detail working through photographs and other evidence to untangle the histories of these cars.
These histories last updated on .