Wildcat 'Mk 6' 1980 Indy car history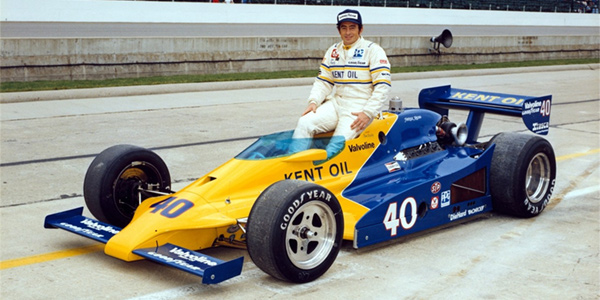 The Patrick Racing Team produced a new Wildcat 'wing car' for 1980, but it was quickly replaced by the team's Phoenix cars, and was only used as a backup car for the rest of the season. It was referred to in some places as the Mk IV, effectively airbrushing out the unsuccessful 1978 and 1979 Wildcats, but it was logically the 'Mk 6'.
Patrick Racing had used customer Penske PC6s during 1979, and both Pat Patrick and George Bignotti were determined to return to building the team's own cars for 1980. Unfortunately for the team, Patrick and Bignotti were not in agreement on how to do this, and three projects were started. Firstly, Bignotti worked with his usual designer Bob Riley to create a 'wing car'; also Pat Patrick commissioned Gordon Kimball to design a new ground-effect 'Patrick PR001' as a copy of the dominant Chaparral 2K, and later on Bignotti ordered a new Phoenix ground-effect car from John Thompson in England.
The Riley-designed Wildcat was the first to be completed and was ready to be tested at Ontario Motor Speedway by the start of December. Veteran fabricators Harold Sperb and Roger Beck had built the car, and initial impressions were that it was "a beauty". Sperb, Beck and Alec Greaves would later be awarded the Cecil C. Peck award for race car preparation for the Wildcat. Unfortunately, testing did not go well, lead driver Gordon Johncock telling Autosport's Gordon Kirby that it had no traction at the front or the rear. Bob Riley recalled to the author in 2021 that the car was not stiff enough, specifically between the front bulkhead and the dash bulkhead, and this led to handling that discomforted the drivers. Johncock drove it in the opening race of the 1980 season, at Ontario in April, and although he was eighth in practice and a creditable third in the race, he had no desire to drive it again. At the Indy 500, the Wildcat was in Johncock's livery but he focused his efforts on the new 'Patrick PR001', leaving team No 2 driver Tom Bagley to drive the Wildcat until the newly-arrived Phoenix was ready for him to use. Bagley set some very impressive times in practice in the Wildcat, but after just a few days of practice, Johncock wrecked the 'PR001', cracking a bone in his foot. This left the team with just the Riley 'wing car', the largely untried Phoenix, and a 1979 non-ground-effect Penske PC6, and very little time before the first weekend of qualifying. Johncock elected to take over the Wildcat 'wing car' and Bagley was moved to the Phoenix, but in the few hours on Saturday morning before the start of qualifying, Johncock decide he didn't like the 'wing car'. Bagley's Phoenix was put out of commission by a cross-threaded rear wheel hub, so a decision was made that Bagley would qualify the Wildcat 'wing car' and Johncock would dust off the old Penske. Bagley duly qualified comfortably in the Riley Wildcat but it was still wearing Johncock's #20 North American Van Lines livery so he avoided the normal post-qualifying photograph to allow the car to be renumbered and repainted in his #40 Kent Oil livery. Johncock safely qualified the Penske the next day, before letting the team's third driver Gordon Smiley use the Phoenix, which he also easily qualified on the second weekend. Both Bagley and Smiley retired early, but Johncock managed an impressive fourth place finish despite racing with his left foot in a cast.
If you can add to our understanding of this car or have photographs that we can use, please email Allen at allen@oldracingcars.com.
Chassis
History
Current owner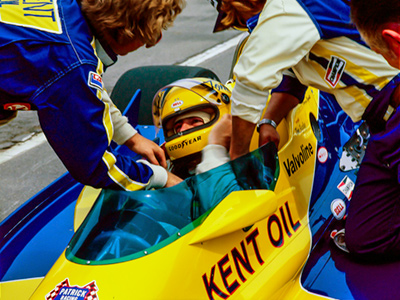 New for Gordy Johncock in 1980 as Patrick Racing's #20 North American Van Lines entry. Raced by Johncock at Ontario in April, finishing third, but Johncock moved to the "Patrick PR001" until an accident, after which he tried the Wildcat briefly before turning to his old Penske PC6 for the race. The Wildcat became the #40 Kent Oils entry for teammate Tom Bagley in the Indy 500. Both Patrick Racing drivers settled on using the team's two Phoenix chassis in the following races, and the Wildcat became a backup car, but was raced by Bagley at Pocono in June, Michigan in July, Ontario in August and Michigan again in September. The car was retained as a show car in 1981, appearing mocked up in Essex livery outside Lotus's Ketteringham Hall with somebody wearing new Patrick driver Mario Andretti's helmet, and also appearing in red and blue STP and Bosch livery in an advert. In 1984, it was on display in Indianapolis wearing STP and 'Old Milwaukee' decals, the beer company having been Chip Ganassi's sponsor in the team in 1983 and 1984, so the car was still a current Patrick Racing show car. Subsequent history unknown.
Driven by: Gordon Johncock and Tom Bagley. First race: Ontario Motor Speedway (R1), 13 Apr 1980. Total of 6 recorded races.
Unknown
After the Indy 500
With the 'Patrick PR001' junk, Bignotti put together his second Phoenix and Johncock put that on pole at Milwaukee a week later, with Bagley in the Phoenix that Smily had driven at the Speedway. Just as the team appeared to have settled on a design, both Johncock and Bagley crashed their Phoenices in practice at Pocono. Johncock preferred not to start over the option of the Riley Wildcat, so Bagley drove that car again and Johncock went home. Both Phoenices were repaired in time for Mid-Ohio but there was no backup car available, so when Bagley again crashed in practice, he was a non-starter. That same weekend, Bignotti's departure from the Patrick team was announced, effective after the Watkins Glen race in August. Bagley's Phoenix was sent to England for repairs, so at Michigan, Patrick Racing used two backup cars, Johncock in the Penske and Bagley in the Wildcat 'wing car' again. Both drivers had their Phoenices at Watkins Glen and Milwaukee, but Bagley was relegated to the backup Wildcat at Ontario and Michigan, but was relieved to get his Phoenix back for the remaining races of the season. The Riley 'wing car' was seen as a show car a couple more times, but its eventual fate is unknown.
Pat Patrick reorganised his team for 1981, bringing in Jim McGee, the crew chief who had overseen the development of the Penske PC9 ground-effect car for Roger Penske, Mario Andretti as second driver alongside Johncock, and Gordon Kimball as full-time designer to replace Riley and design new Wildcat Mk 8s. Patrick Racing also secured sponsorship from STP again. Riley moved back to AJ Foyt's team to design a new Coyote for 1981, and Bignotti created a new team with Dan Cotter, driver Tom Sneva and new March 81Cs.
Patrick Petroleum made significant losses during 1983 when oil prices fell significantly, and in March 1984 sold all its oil and gas assets for $202 million to Ladd Petroleum Corp, a subsidiary of General Electric, using the proceeds to pay off debts. The plan was to liquidate the company, but Patrick changed his mind and continued in oil exploration with the smaller company. As Patrick Racing was owned personally by U. E. "Pat" Patrick, it continued but it did at that point stop trying to build its own cars and became a March customer. At the end of 1989, Patrick sold the team to Chip Ganassi and it still exists today as Chip Ganassi Racing. However, Patrick changed his mind about retiring and formed a new team for 1990, starting with the Alfa Romeo Indy project, and he sold that second team to Bobby Rahal and Carl Hogan at the end of 1991, who renamed it Rahal-Hogan Racing, which also still exists today. The third team called Patrick Racing was started in 1994 and continued until it was folded in 2004. Pat Patrick died in 2021, aged 91.
Acknowledgements
My thanks to Bob Riley for his recollections of this car, and to Michael Ferner, Simmo Iskül and 'gbl' for managing to untangle the histories of this car from the 'Patrick PR001', the Phoenix, the various Patrick Penskes, and whatever else Bignotti was planning. Thanks also to Patrick Racing crew member Dave Flick for his recollections.
If you can add to our understanding of this car or have photographs that we can use, please email Allen at allen@oldracingcars.com.
These histories last updated on .