Williams FW06 car-by-car histories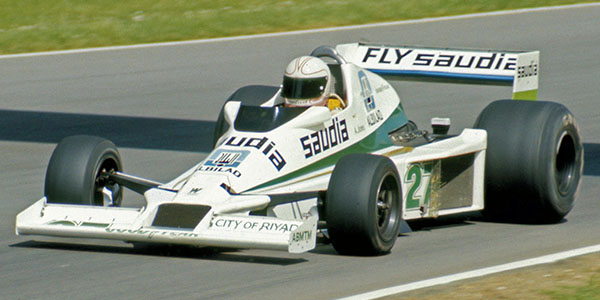 The first car produced by the new Williams Grand Prix Engineering, the Williams FW06 proved highly effective in the hands of Alan Jones during the 1978 season.
Patrick Head's first F1 design was broadly conventional but with excellent attention to detail. It was built on a sloping, tapering aluminium monocoque with inboard front suspension and a nose-mounted oil radiator. Uprights front and rear were cast in magnesium, and bottom wishbones were steel fabrications. The main radiators were flush to the side of the engine, and with its carbon fibre end-plate mounted rear wing, the FW06 had very clean lines. Saudi Arabian Airlines were the main sponsor, but Frank had also secured support from clothing maker Fruit of the Loom, Personal steering wheels, and a long-term backer of the team, Ted Williams of ABMTM (Associated British Machine Tool Makers). Saudi royal family trading company Albilad followed at the South African GP, but Personal's logos were gone by the British GP. The car was small and light, reportedly needing ballast when it was first weighed.
Alan Jones was recruited from Shadow to drive the new car, and it immediately proved more competitive than any previous Williams. Jones qualified eighth in Brazil and finished fourth in South Africa to start the season strongly, and was a regular front-runner in the latter half of the season, qualifying in the top six five times in the last seven races of the season. The team's inexperience contributed to poor reliability, meaning few points were scored. Jones' best result came at Watkins Glen, where he qualified third and finished second.
The Williams FW06s were retained for the opening races of the 1979 season, where yet more sponsorship had been added. Dallah was another Saudi Arabian trading company, as was M&M (Mouaffak al Midani and Prince Mohammed) and USI (United Saudi Industries). Encotrade, Baroom and Bin Laden were all involved in the Saudi construction industry. TAG (Techniques d'Avant Garde) was a Paris-based aviation firm that would later become part owner of McLaren.
Problems with the identification of FW06s started in early 1979 when the three cars taken out to South America were said to be chassis 003, 004 and 005. Two of these were definitely new, but chassis 005 was reported elsewhere to be chassis 002 renumbered. After the FW07 was introduced, the FW06s were redundant, and two were promptly sold to Giacomo Agostini to use in the Aurora British F1 series. These were identified as chassis 001 and 002, despite 002 having previously been said to have become chassis 005. Later in the season, chassis FW06/004 was sold to Lella Lombardi's backer in Italy and was also used in Aurora. The remaining FW06, which would logically have been chassis 003, remained with Williams until early 1980, when it was sold to a casino owner in Majorca.
Williams later bought back two of the Aurora FW06s for display purposes, keeping one for the factory collection and selling the other for historic racing. The third of the Aurora cars stayed in Italy until the early 1990s, when it was acquired for historic racing, and the other FW06 remained in Majorca until later in the decade, before also entering historic racing in 2004. Although all four FW06s have solid histories, there may have been some juggling of chassis numbers, and there remains some doubt over which is chassis 002 and which is 003.
Please get in touch with Allen Brown (allen@oldracingcars.com) if you can add anything to our understanding of these cars.
These histories last updated on .