Williams FX3 car-by-car histories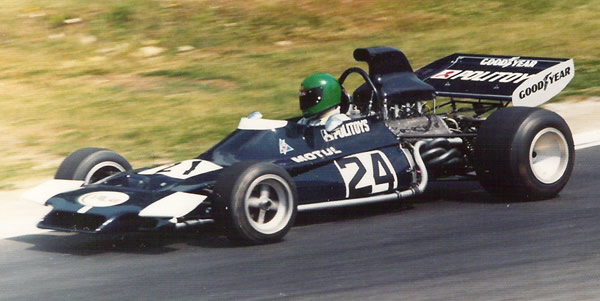 The Politoys FX3 was designed by Len Bailey for Frank Williams to run in the 1971 season, but a lack of finance delayed its debut until mid-1972. The cars were renamed Iso-Marlboro FX3Bs for 1973.
Len Bailey had developed his reputation as a designer on the Ford GT40 project, and his F1 design for Frank Williams was a highly conventional car following the "Coke-bottle" layout popularised by the 1969 Matra MS80 and 1970 Tyrrell 001. The monocoque was built by Mo Gomm, who had also built the Tyrrell 001, and the car was completed at Frank Williams' premises in Reading. It was intended to establish Williams as a constructor, following on from his De Tomaso cars in 1970, but despite an injection of £40,000 from sponsor Politoys, the car remained incomplete and Williams used a March 711 in 1971. Williams continued with March F1 cars in 1972, buying a March 721 for Henri Pescarolo to drive, but after the Frenchman wrecked the March at the French GP, the Politoys was finally completed for the British GP. Ron Tauranac, formerly of Brabham, had been brought in the "extensively rethink" the car, but it had only had a brief test at Goodwood before arriving at Brands Hatch for the Grand Prix. After engine and handling problems, Pescarolo started from the back of the grid. After just seven laps, something broke in the suspension or steering, and the car was pitched into the barrier, doing significant damage.
The car was repaired by the end of the season and was raced by Chris Amon in the John Player Challenge Trophy, but it had not markedly improved. A second car was built for 1973 to a revised FX3B specification with revised suspension geometry for Howden Ganley to drive, and the original car was updated for 'Nanni' Galli. With Politoys gone, the car was now named Iso-Marlboro for the team's new sponsors. As the car had been designed two years earlier, it did not meet the requirement for deformable structures that came into force in April 1973, so the FX3Bs were only seen a few more times in F1. One was converted to Formula 5000 specification, but was only used in libre racing. In more recent times, it was converted back to F1 and has appeared in historic racing. The other car retired to a museum in Yorkshire until the late 1990s, and then found a home with an Iso collector in the Netherlands, before moving to the US in 2012 and being rebuilt for historic racing.
Car
Total
Race
Starts
Grand
Prix
Starts
Grand
Prix
Wins
First Race
Present Location
6
4
British Grand Prix
(15 Jul 1972)
United States 2021
7
3
Argentinian Grand Prix
(28 Jan 1973)
Luxembourg 2018
Please contact Allen Brown (allen@oldracingcars.com) if you can add anything to our understanding of these cars.
These histories last updated on .