Arrows A5 history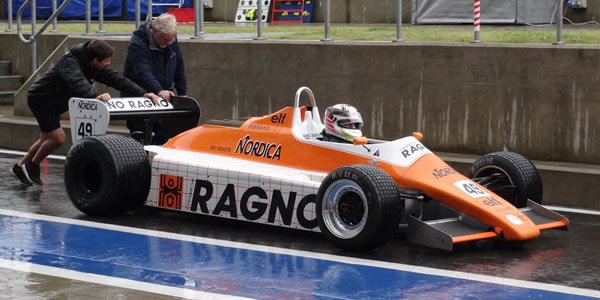 Produced late in 1982 as a test car, the Arrows A5 was effectively a copy of the Williams FW08. It was only used for a few races, and the sole A5 was rebuilt as an A6 for 1983.
The Arrows A5 was only ever intended as an interim model between the uncompetitive A4 and the definitive model intended for a turbocharged engine in 1983. The car was so similar to the Williams FW08, that Giorgio Piola's description of the car in Grand Prix International had to highlight the position of the anti-roll bar as the only difference. The A5 had the FW08's pull-rod front suspension, replacing the rocker arms used by every previous Arrows. Marc Surer drove the car on its debut at Dijon and qualified in 14th, running as high as 11th before a lengthy pitstop for a replacement skirt dropped him to the back of the field. Mauro Baldi, who had failed to qualify his A4 at Dijon, was given the A5 for the Italian GP and qualified on the penultimate row before finishing last. Surer was back in the seat at Caesars Palace, and qualified 19th. His race was troubled by a serious vibration, but as the cars ahead of retired, he brought the A5's brief career to an end with a seventh placed finish. Surer was encouraged by the A5 and decided to stay with Arrows, his long connections with BMW being thought to give Arrows a chance of securing BMW's turbo engines for 1983. It was not to be, and Arrows would use Cosworth DFV engine again in the flat-bottomed 1983 A6.
Car
Total
Race
Starts
Grand
Prix
Starts
Grand
Prix
Wins
First Race
Present Location
3
3
Grosser Preis der Schweiz
(29 Aug 1982)
Rebuilt as A6/1
The sole A5 was rebuilt as a "flat-bottomed" Arrows A6 for 1983, and its history is continued there. However, during its very long career in historic racing - 68 races at the time of writing, and still going - it was rebuilt back to full 1982 ground-effect A5 specification.
Please contact Allen Brown (allen@oldracingcars.com) if you can add anything to our understanding of these cars.
These histories last updated on .